7 Beauty Products To Ditch Before College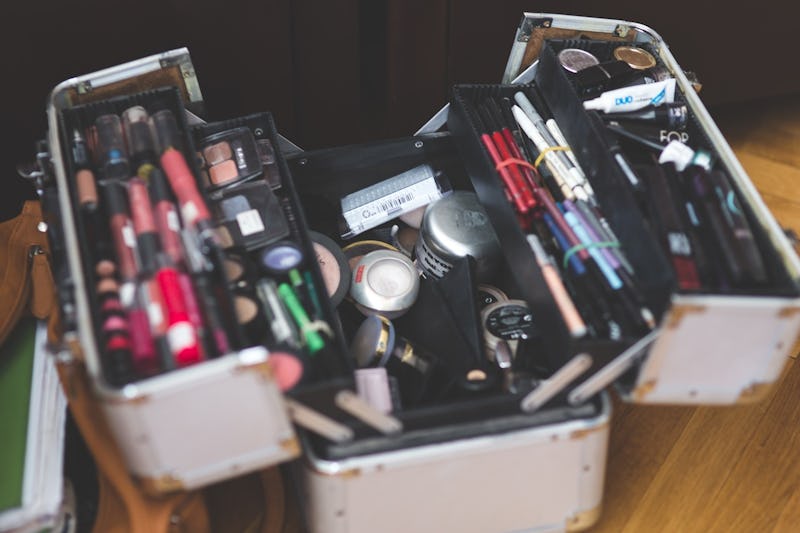 College can be a jam-packed, crazy busy, unbelievably good time. When packing for college, it's all about utility: if it isn't going to help you ace tests or look fabulous at formal, it probably doesn't need to come with you. To help you out, I'm going to tell you which beauty products to never bring to college, because you'll appreciate the extra space. Believe me.
The number one tip for keeping your limited (or shared) vanity space clutter-free is storing seasonal products. Beach spray, bronzer, or signature fall makeup can be stored away in cabinets when you aren't using them daily. I've already covered what beauty products you absolutely need for college, and chances are you are using those daily no matter what the season is.
Below, I rounded up the products you probably don't need to pack for college. Chances are you already have too many duplicates of these products. If you just have too much makeup in general, know that your beauty routine will be happier, healthier (and cleaner!) without these items you can ditch.
1. Makeup Brushes
Chances are you have enough makeup brushes to equip Kim Kardashian's glam team. With the limited space you'll have in college, whether you're in a dorm or sharing an apartment, you won't have the space to accommodate all those tools. Cull any old worn out ones (you can tell by the bristles - they'll look worn like an old tooth brush) and pick 5 you use everyday.
2. Blow Dryer
This is a stretch, but stay with us: the less heat you apply to your hair, the healthier and stronger it will grow. Now is the time to kick your hot tools habit, starting with a blow dryer. Aim to share one with whomever you're shackin' with this year, and vow to only use it every other day at the most. A house full of girls and a hair dryer for each will take up tons of space, and fast. Natural drying is so much easier these days, and looks better in the long run!
4. Nail Polish
Choose one signature polish color to take with you to college. If you've only painted your nails that neon lavender one time, it definitely needs to stay behind. A seasonal neutral will be your ride or die.
(OPI Chiffon My Mind, opi.com)
5. Outdated Products
Mascara is the worst of the outdated culprits, taking up space in your makeup kit. Toss any dry or empty, or nearly empty tubes of anything. If it's flaky, broken, empty, outdated, or out of trend, trash it.
6. Extra Hair Products
Opt for multi-tasking hair products, like 2-in-1 shampoo and conditioners or texturizing and holding spray. Go for more bang for your buck!
7. Lotions
Like any woman, you likely have a lotion in every scent and formula. No need to pack all those with you. Throw out the old ones, and choose a multi-purpose face moisturizer and body lotion.
Ponds Crema S Nourishing Moisturizer, $8.98, target.com
Image: Kaboom_pics/Pixabay