Frankie Muniz Has Been Busy Since You Last Saw Him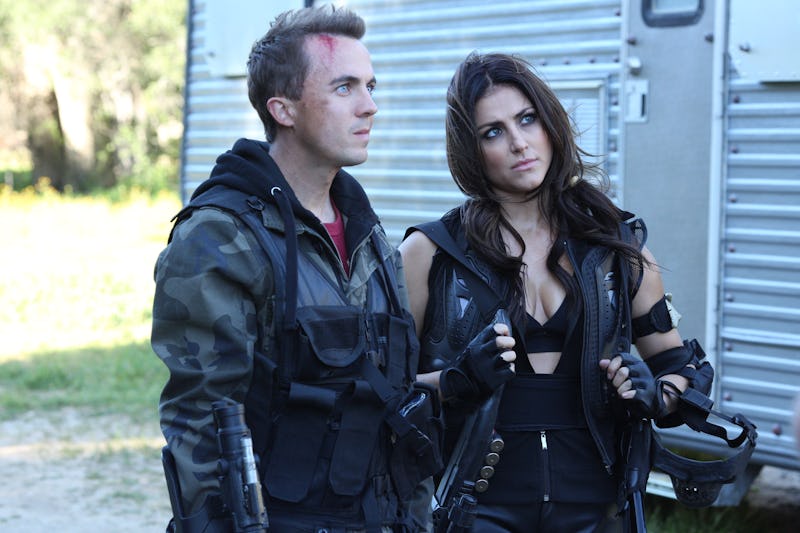 As if you need another reason to watch Sharknado 3: Oh Hell No! on Wednesday night, look no further. In addition to sharks, tornadoes, President Mark Cuban, and an exclamation point in the title, the Syfy TV movie also features Frankie Muniz who has been up to a lot since you last saw him. You remember Frankie Muniz, right? I mean, how could you forget?! Just to jog your memory, he starred in the movie My Dog Skip, and he was the titular character in the TV series Malcolm in the Middle — which, brace yourself, premiered 15 years ago. He also co-starred in movies with both Disney Channel darling Hilary Duff and Nickelodeon queen bee Amanda Bynes! If you were a kid in the 2000s, you definitely were acquainted with/a fan of Muniz's work.
Muniz sort of retired from acting 10 years ago (in a tweet he said he retired at age 19 with $40 million), but what has the now 29-year-old been up to since then? Well, he has traveled, took on new jobs, landed some cameo appearances, and found romance. It seems Muniz has been keeping himself pretty busy. Here are all of the adventures he's gotten into since Malcolm in the Middle ended in 2006!
He Took Up Racecar Driving
On the heels of his acting career, Muniz became a professional racecar driver in 2007.
He's Engaged
In 2011, Muniz announced his engagement to Elycia Marie. The couple currently lives in Arizona together.
He Was On Don't Trust the B---- in Apartment 23
Where he did a pretty hilarious job playing himself.
He Bought A Hairless Rat
Cute?
He's Had A Couple Of Medical Scares
Muniz suffered two mini-strokes in 2012 and 2013. Fortunately he seems to be doing much better now!
He Played In A Band
Muniz was the drummer in the band Kingsfoil.
He Became A Golfer
He recently participated in the BMW Charity Pro-Am.
He Was Sad To See The Malcolm in the Middle House Torn Down
But, with the end of one show comes another, and now we all get to see Muniz back on our TV screens with Sharknado 3 on July 22!
Images: Syfy; Getty Images (4),