Learn How To Manage Thick Hair With These Tips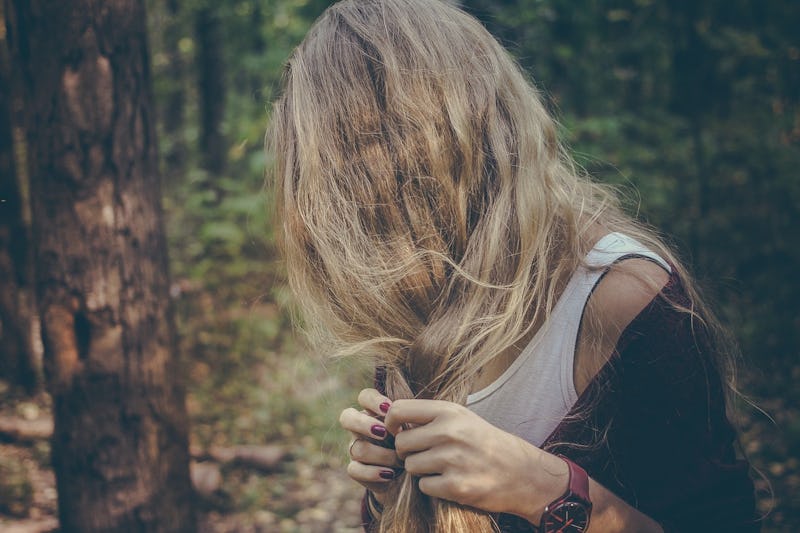 As nice as it can be to have thick hair, it can sure be a pain to deal with. That's why we need all the help we can get from tricks to make thick hair more manageable. Because the struggle to do any sort of styling with thick hair is real. Thank goodness different types of braids are what's in now, because that is something thick hair can handle. But back when hair claws and scrunchies were all the rage? Forget it. Maybe a claw can hold half a head of thick hair, but all those twisted updos? Not a chance. And why is it that scrunchies didn't offer enough support if twisted twice, but couldn't actually fit around a thick ponytail if you tried three turns? (Clearly my childhood has jaded me in the use of hair accessories.)
But even though hair styling trends have changed, time still hasn't done anything about the frizz and drying time that are points of frustration for ladies with thicker locks. So if you're tired of having to coddle and wait on your hair, here are seven tips to help manage thick and unruly tresses. Because hair, at least, should be under your control.
1. Use Bobby Pins the Right Way
It always seems to take way more bobby pins than it should to pin down a section of hair. To make your pins do more work, always insert them with the wavy side down, and use hairspray on them so that they stick better.
2. Try A Drying Catalyst
If you have thick hair, you're probably used to your hair-drying being an all-day event. If you prefer to air-dry, speed up the process by using a head-wrap towel that will absorb more moisture than a regular towel. And if you prefer to blow-dry, try a primer that will reduce the time it takes to fully dry hair.
3. Use the Right Blow-Dryer
To have the fastest drying time, wattage and ions are important. According to Allure,you should look for an ionic dryer with at least 1800 watts so hair will dry faster with less damage and frizz.
4. Look For Extra-Grip Products
Those flimsy hair ties just don't work. Trendy hair ties stretch out way too quickly. And straight-up rubber bands aren't good for hair. Try elastics (and other hair accessories) that are specially designed to grip without causing breakage. They can be annoying to find, but they do exist.
5. Use the Right Brush
Because thick hair can also come with a side of extra frizz, static from regular brushes is just icing on an unkempt cake. According to Cosmopolitan, a boar bristle brush will distribute the hair's natural oils, which adds shine and helps manage frizziness.
6. Braid It
Braids look stunning with thick hair, and you don't have to worry about trying to add volume. If your hair is just not behaving, weave it into shape.
7. When All Else Fails, Thin It Out
If it just isn't working anymore though, ask a stylist to thin your hair. They'll know what to do. Small layers can be hidden on the underside of hair to make locks feel thinner but still look uniform. I had this done once and my hair looked exactly the same, but felt half as thick.
Who needs scrunchies, anyway?
Images: Sergei Zolkin/Unsplash