Katniss Vs. Snow In 'Mockingjay' Is Epic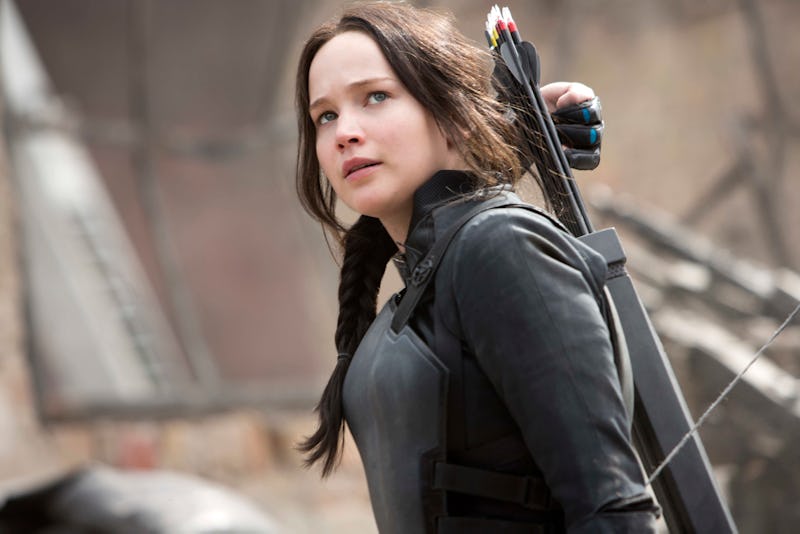 Steel yourselves Hunger Games fans, Katniss Everdeen's journey is coming to an end and there will be blood. The Hunger Games: Mockingjay Part 2 full trailer has landed and it teases the long-awaited battle between Katniss and President Snow in the most epic manner possible. "I've been watching you, and you watching me," President Snow intones. "Make no mistake, my dear Ms. Everdeen, the game is coming to its end." Yes, I am officially afraid of Donald Sutherland now. Badass that she is, Katniss is no longer living in fear of Snow though, and she has an army of people behind her to prove just how ready she is to end Snow's reign.
While Snow sits in his enclave, Katniss leads people from all 13 districts into the Capitol in a shot so epic you might have to scrape your jaw off the floor once you see it. Sure, the Capitol has been turned into an actual minefield after the gamemakers had their way with it, but Katniss and her crew know their way around The Hunger Games. Snow is seriously underestimating Katniss if he thinks what looks like a giant oil spill, creepy sewer mutants, and explosions are going to stop her from getting to him. "Nothing good is safe while he's alive," Katniss says. "Snow has to pay for what he's done."
I have to give the trailer major props with the way it sets up the impending showdown between Snow and Katniss. By never showing them in the same place, the tension ramps up with every scene. Katniss is still on the ground dodging bullets and leading an entire army while Snow remains sequestered in his luxurious digs. The way the trailer juxtapositions the two characters, you can sense how amazing it will be when they come face to face.
You can feel the showdown coming though. What does Snow have to hide behind once all of the trappings of his civilized life are stripped away. He can only pretend he can squash the rebellion for so long. The trailer sets both Snow and Katniss up as titans, but Katniss is more than that, she is also a warrior. She won't stop this time. Her desire to end Snow is palpable. She knows that he has die if the people of Panem have any hope of building a future without fear. Katniss is the epitome of a big damn hero and every scene she's in is chill-inducing. She is a woman on a mission, and all of the buildup to this movie is about to pay off.
Excited yet? If you somehow have not managed to completely flip out over the awesomeness coming on November 20, then check out the trailer below. It might look familiar if you were lucky enough to attend Comic-Con, but for everyone else, enjoy your first major look at the battle between Katniss and Snow. No one will blame you of you break out The Hunger Games whistle during the trailer. It's so cool, it practically demands you honor it in true Panem fashion.
Images: Lionsgate; Lionsgate/Youtube (3)