Domenico Vacca Unveils Lavish New Retail Concept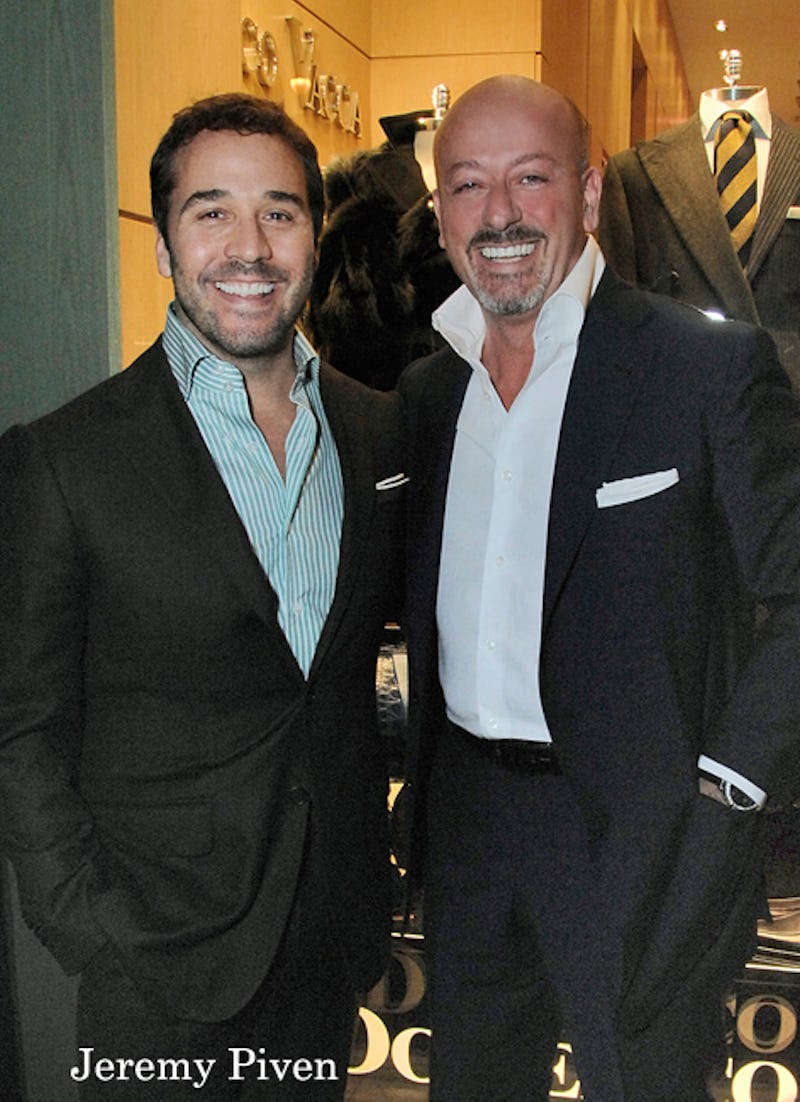 Groucho Marx once said "I don't care to belong to any club that will have me as a member." For the record, that saying does not apply to the Domenico Vacca's new, members-only club that the Hollywood designer and tailor will open above his brand new storefront in NYC this September, which I would join in a heartbeat if I had the funds. A $20,000 annual membership fee (BRB, gotta go sell all my stuff) gives members unlimited year-round access to The DV Club, where they can enjoy top-shelf open bar and bites in the marble-and-mahogany space, or out on the rooftop patio, in the newly renovated The Domenico Vacca building. Because, as Vacca puts it, speaking to Bustle, "it's not just about shopping, it's about socializing."
But, it'll take more than just a pretty penny to become a member. Aside from the fee, candidates are vetted and those that make the cut are selected for their achievements — professional and personal — and no doubt for impeccable style, as well.
And it's so worth it if you have the means; aside from top-notch service — Vacca promises that staff will not only know your name, but also your birthday, where you live, and how you take your martini — the club will be the only one in NYC to offer amenities like a complimentary chauffeur, customized birthday parties (complimentary as well), and more.
Once you pay the yearly fee, you can leave your wallet at home; it covers for access, drinks, light fare, and service for members and up to three of their guests.
The DV Club sits right atop the designer's new 8,000 square-foot store, which also includes an on-site cafe, barbershop and hair salon. It's all part of the recently-renovated building at 15 West 55th Street, which until Vacca took over, was formerly known as the city's worst illegal hotel in the otherwise perfectly posh neighborhood. Vacca has since set up shop, so to speak, rehabbing the 12-story building and dubbing it "The Domenico Vacca." Thirty long-term, furnished residences that are open to the public are also in the works.
So, is this extravagant take on shopping the future of retail? Vacca seems to think so. Here are five of the designer-turned-actor's (you may recognize him from a cameo in Entourage) views on luxury, indulgence, and how Hillary Clinton should dress up those famous pantsuits.
1.) Retail Is About To Get A Major Makeover
It seems merely opening another store wasn't going to cut it for the designer. For Vacca, who was born in Puglia and now splits his time between Italy, NYC and LA, it's all about the experience.
"In looking for the perfect location, I asked myself 'What's the future of fashion retail and retail in general?'" Vacca tells Bustle over the phone. "Online, brick and mortar... How do we make it more exciting, how do we have more people leaving their computers and coming to the stores. I wanted something that was more about the experience of shopping, where people would be engaging with the brand, instead of just opening another store."
2.) He's About Building A Connection
The DV Club will be a bottle-service-and-pushy-staff-free zone. "In some of the private clubs that I'm a member of, you find staff that changes very often; they don't know your name, what you like to drink, your habits," Vacca explains. "If you pay a fee to belong to a club, you should have a relationship other than just going to a nightclub or bar or lounge, and you should be able to order your favorite drink without having to explain it every time." This concept transcends the world of high-end nightclubs — even mainstream retailers know that making a connection with customers is key to building relationships.
3.) Restore, Don't Rebuild
"Being Italian, we don't usually build, we restore. This was built one hundred years ago, and we're rediscovering a strong building, we're restoring it back to it's glory," he says.
Renderings of the space, from the dusty pink exterior to the stoic, classic design inside, have a distinctly Wes Anderson characteristic about them, a certain sturdy brand of European architecture, saccharine colors, and studied symmetry that Vacca attributes to his Italian roots.
The interiors, which Vacca describes as "very cool and modern" and "classic with a twist", are light and airy, and include finishes like beautiful walnut wood and glossy, colorful marble — a departure from more traditional, if not stuffier, marble interiors.
4.) Expert Tailoring Can Take You Places — Like The Set Of Entourage
When he's not reviving storied buildings or criss-crossing the globe between his handful of homes and stores, Vacca has a side-job: Hollywood. The designer has outfitted stars like Denzel Washington, Daniel Day Lewis, and Glenn Close for movies and red carpets alike (Day Lewis accepted an Oscar in a Domenico Vacca suit), and he's been making suits for Jeremy Piven's Entourage alter ego since Season 1, even appearing in the show a handful of times. This Spring, he had his first speaking role, a cameo alongside Piven, who is by now one of the designer's close personal friends, in the Entourage movie.
5.) He's A Fan Of Hillary Clinton's Pantsuits
"I think Hillary's suits are appropriate for her; she's a politician, she's a candidate for president, she's dynamic and on the run — she goes from the plane to the car to meetings. I would just add a bit of European flair to it — I think that right now she should get to the next level. Before five o'clock, the suit look for is great, even a skirt instead of pants — a blazer, monotone, no blouse underneath. But then after five, she should be more feminine: a silk blouse or top with a great pair of pants, different materials."
So is he up for the challenge?
"It would be fun to develop that, to create something in womenswear that is more presidential. Presidentcore!"
The store and club are slated to open in September — just in time for the arrival of the international jet set for Fashion Week, and the residences shortly thereafter.
Supervising the construction, keeping everything on schedule, and exploring new territory like food service, hospitality, and the beauty sector is no easy task, but Vacca isn't daunted by it; rather, he's excited about the new digs, and the new chapter.
"Sometimes in life you need to do something you've never done before."
Images : Domenico Vacca(4)