I Made My Own Face Mist & Deodorant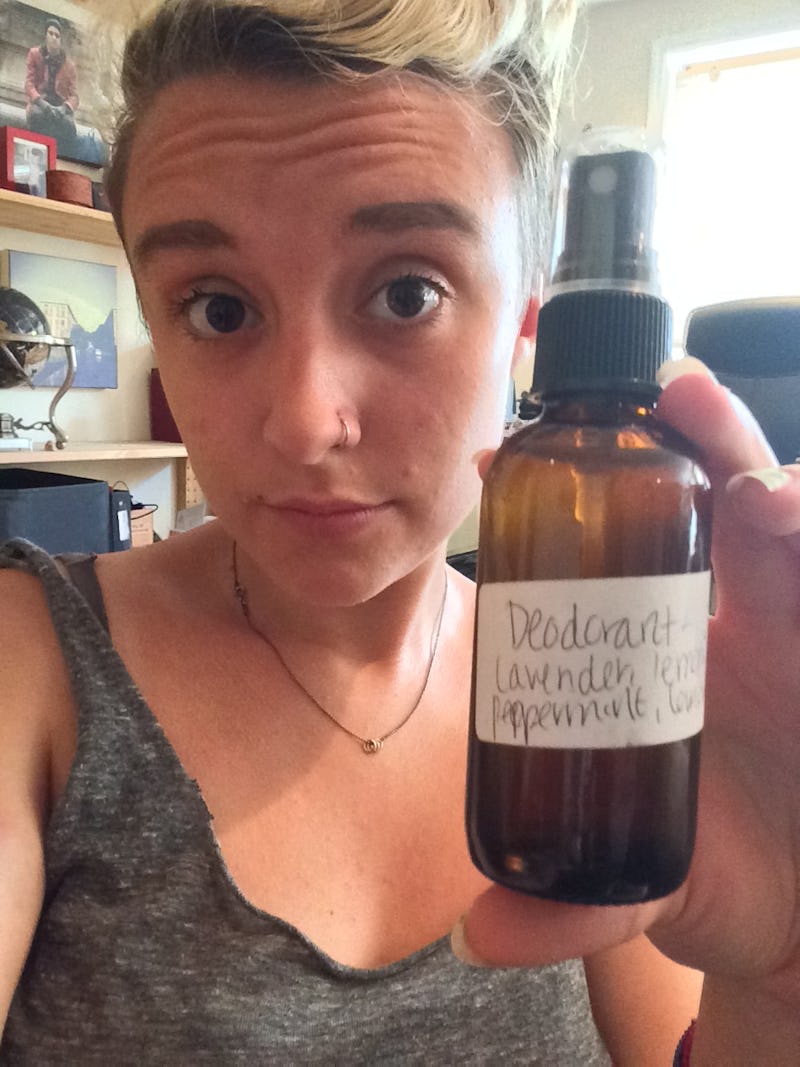 A couple of months ago, I was able to make my own face mist and deodorant. As an all natural skincare enthusiast and a lover of all things DIY, the experience was pretty rewarding. At a summer event hosted by Tara Pelletier of the natural skincare company Meow Meow Tweet in New York City, the focus was placed on educating consumers about the benefits of botanical waters and essential oils. Having since experimented with both myself, I can definitely say they're a worthy addition to your everyday beauty routine.
"Botanical waters (hydrosols) are an essential part of a daily skincare regime," Pelletier tells me at the event, "Because they provide hydration directly to the pores, which helps the skin cells function properly mainly to cleanse and regenerate themselves." This means things like rosewater and lavender water actually do wonders for your skin (including delivering antioxidants, balancing pH, and helping natural oil production).
I also learned that essential oils are necessary for your own skin's oil production, even if you have oily skin. Much of the time, when your skin is oily, it's your face's reaction to not being hydrated enough (this blew my mind). Super knowledgable about all things floral and natural, Pelletier taught us about the process of making hydrosols and essential oils, and which ones were best for certain uses and skin types. She then instructed us all on creating our own products (a refreshing face mist, after-sun spray, and deodorant), modeled after her own natural Meow Meow Tweet products.
Meow Meow Tweet Face Toner, $24, meowmeowtweet.myshopify.com
We were given a huge variety of ingredients to work with, but all are surprisingly simple to acquire. There was vegetable glycerin and aloe gel, both meant to serve as moisturizing agents. There were hydrosols like lavender water, rosewater, and cucumber water, which are the watered-down and gentler versions of their essential oil counterparts.
Of course, she had just about every kind of essential oil as well, from basil and geranium to lemon and ginger. Since essential oils are way more potent than their hydrosol counterparts, we were advised to use only about six or seven drops of it in our own concoctions.
We were all given spray bottles of our own, and got to work on creating our own formulas. I definitely knew that I wanted to make deodorant, since I've been pretty obsessed with natural ones as of late. Because I also love face mists, I wanted to make one exactly catering to my own skincare needs.
The truth is, I have a million skin concerns, but had many different products at home I'd already been utilizing for things like oil production and acne. So I decided to make the most refreshing face mist I could that would moisturize my tired face after a day in the sun while also calming and soothing redness.
I began with lavender water, the ultimate calming agent. Besides the fact that lavender is a gentle-on-your-skin herb, I also just adore its smell. The idea of spraying a lavender concoction all over my face sounded incredibly relaxing. I then added chamomile and tulsi basil hydrosols, both of which are good for reducing redness and inflammation on and around problem areas. With about a third of the bottle topped off with aloe vera and vegetable glycerin, my face mist was good to go.
I then moved on to my deodorant. This one didn't need any moisturizing agents like vegetable glycerin and aloe vera (because who wants to further moisturize their sweaty underarms?). The deodorant was made from lavender, peppermint, and lemon verbena hydrosols, with a few drops of geranium and lemongrass essential oils. It smelled refreshing and citrusy, and for that reason also doubled as a bug spray.
You can get your own essential oils and hydrosols at health food stores, or purchase them from natural hydrosol and essential oil providers like Mountain Rose Herbs.
Considering that many beauty products have unpronounceable ingredients in them these days despite that a lot of skin is incredibly sensitive, it makes sense to go back to basics by making your own natural products tailor-crafted for your needs. You can also check out natural skincare brands like Meow Meow Tweet for products that are effective and much more suitable for sensitive skin.
In the time since my venture into homemade beauty, I have found these products to be quite effective. The best part of making your own stuff, however, is that the possibilities are so endless.
Here is the simple Tara Pelletier recipe for a two-ounce skin spray for all skin types to get you started.
1 tablespoon vegetable glycerin
1/4 cup lavender water
7 drops of geranium essential oil
Easy, right?
Images: Meg Zulch