How To Fit Everything In One Carry On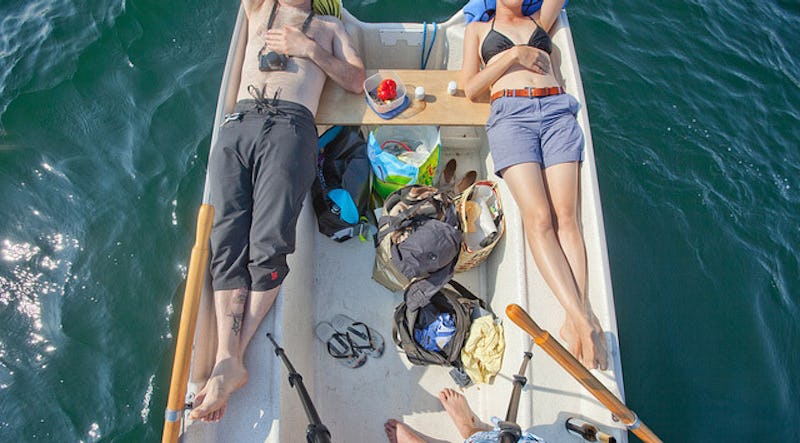 Vacations are the best. What is not the best, however, is trying to figure out how to pack everything in a carry on. Game time decisions get critical the night before your flight. You're trying to be realistic about how many pairs of platform sandals you need, but it's so hard to choose. Bringing only one pair just seems irresponsible, right? There's clearly a reason the universe invented fashion, and that reason was to look good on vacation.
Unfortunately, the airline industry is not so supportive of your fashion needs. There's only one airline left that allows free checked baggage (thank you, Southwest). Just recently, the only other fee-free airline — JetBlue — jumped ship for the profit gain that is baggage fees. Womp.
Why do you care? Because you deserve to spend that hard-earned money on vacation fun. And honestly, unless you're going overseas for more than 2 weeks, you can fit it all in a carry on. Whether you're adventuring alone, taking a sexy lover vacay, or having a girl gang reunion, keeping it simple is the way. Trust me, all you need is a little strategy and you can have it all. We're gonna help you pack smart so you look divine, remain well-organized, and never pay for a checked bag again.
Read on for the savvy girl's guide to getting it all in.
1. Have A Smart Shoe Strategy
It's painful to not bring ALL the shoes. I mean, they work hard too, they deserve a nice vacation. But the reality is — at absolute MOST — you only need four pairs of shoes for a quick getaway:
One darling, versatile pair to live in. Should be equally cute with cutoffs or snazzy little dress. (Think: fashion sneakers)
Sneakers for your fitness habit (or do yoga and skip the sneaks altogether)
If vacation involves revelry, ONE pair of party heels that are actually danceable
For beach locales, a pair of flip flops
Take these shoes and fill the waiting space inside with socks, belts, chonies — whatever is small and stuffable and won't take up space elsewhere. Plan to wear the heaviest pair on the plane.
3. Embrace The "No Makeup" Makeup Look
If you're planning to toss in your regular makeup bag and call it good, it's time for an intervention. Bring minimal makeup on the road. You only need powder or foundation, one blush, one eyeliner, one mascara, one brow pencil, one shadow roller or small palette, and one lipstick. I know you want to bring every lipstick. Don't.
Unless you're going to Vegas for two weeks of glamour raging, simple is the way. This will also super streamline your getting ready process in the morning. As for personal hygiene, scope the essential list for packing toiletries and you will be made in the shade.
4. Only Pack The Clothes You Actually Need
One cute dress to rule them all
Denim shirt or light jacket to layer for warmth
Floaty scarf that looks terrific and doubles as sun protection and an evening wrap
Swimsuit
One pair of fabulous jeans (unless you're going to humidity central)
Long skirt or short skirt in adorable pattern
Fun cut-offs
Two tank tops or t-shirts in neutral layer-able colors
Exercise clothes (one shirt, sports bra, bottoms)
Jammies (I always forget and am always sad)
Two funky statement necklaces and one everyday necklace (this will totally change up the look of your top when worn with shorts, skirt, or jeans)
5. Have A Packing Strategy
Employing a serious packing strategy is where the magic happens. Many people endorse rolling clothing, or folding them. I love the layering strategy and with it, have fit more in a carry on than I could lift over my head. Watch the above video for a simple how-to tutorial. Leave no space unused. Think belts unrolled and tucked around the perimeter, shoes filled with socks, shirts lain flat out one on top of another, and bras cupping the edges of your goods. It's like a Christmas miracle. Lay your hanging makeup bag across the top of the whole shebang like the icing on a cake.
6. Carry A Trusty Purse
Maybe it's a tote, who knows. But your "personal item" is best for wallet, small electronics, medications, journal, and all those tasty snacks you're gonna pack cause nobody even gives you peanuts on board anymore.
Now get out there and start relaxing!
Images: Nate Bolt/Flickr