The Only List You Need For Packing Toiletries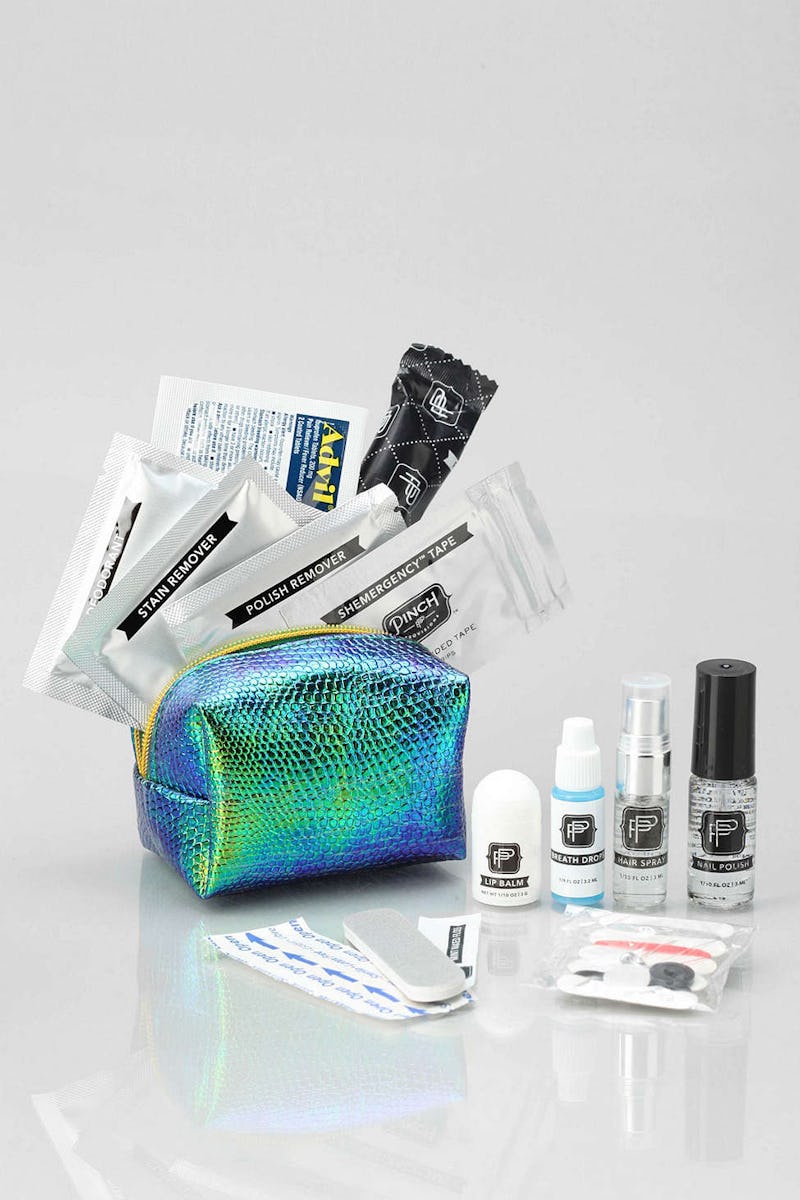 When it comes to packing toiletries for vacation, something is always left behind. But to avoid the inevitable panic attack that happens during the hustle and bustle of preparing for vacation, everyone needs a fool proof, ultimate-toiletry-packing-list to remind them of what they need and what not to forget. Thankfully, I have your back.
I cannot tell you how many times I've prepared my toiletry bag for vacation, confident that I had everything I needed. Yet, every single time, without fail, once I arrive at my final destination I realized I forgot something. Whether it's a toothbrush, tweezers, or razor, however small (bobby pins) or however big (curling iron), I know I will forget at least one item. And while I don't consider myself a forgetful person, it's the stress and anxiety of traveling that has everyone acting whack.
Although most places have stores and shops that sell most of what everyone needs in their toiletry bag, it's always a chore to have to cut into your vacation plans just to pick up floss. But those days are over, so stress no more. Here are the only items you need in your toiletry bag, conveniently organized into nine groups. So stop stuffing everything you own in your luggage, and just follow this list. This is what you need and this is what you'll want. And what you might (probably... for sure) forget.
1. Hair Ties, Bobby Pins, Hair Brush
Bobby pins and hair ties are pesky little items that love to disappear, especially when you're away from home. Pin your bobby pins (can also be used for cute hairstyles) to your hair ties so they stay together, and make sure to also grab your hair brush while you're at it.
When I'm abroad, I don't like to worry too much about my hair. But, of course, if you're not willing to sacrifice your hair routine even when you're on vacation, pack a product that does multiple things, or pack travel sized items. And try and keep to those rules for all of the products you pack, so you reduce items and save space. Because the chances that your luggage is already bursting with stuff are very high. Amirite?
2. Tweezers, Mirror, Razor
The last thing you want to worry about on vacation is a stray eyebrow hair that you're convinced everyone is looking at. Unless you really prepared for your holiday with a waxing appointment before heading abroad, hair is still a major concern. While a razor might be at the top of your list, don't forget to pack a tweezer with it. Even if your eyebrows are on fleek, you never know when you'll need to pluck something — whether it's a hang nail or a splinter.
While it might seem unnecessary, I would also pack a handheld mirror with your tweezers and razor. I definitely take my natural lighting and mirrors at home for granted. Most hotels really fail at providing a good area to apply makeup or pluck your eyebrows. If you're staying at one of those, keeping a handheld mirror on you might be the best decision you have ever made.
3. Toothbrush, Toothpaste, Floss
Quite arguably the easiest item to forget when traveling is a toothbrush. Why is it that we neglect our teeth so? I guess it's not on purpose; it just happens. But you won't forget your toothbrush this time, and especially not if you grab your toothpaste and floss at the same time. While dental hygiene is not nearly as glamorous as your summer beach getaway, it's still important.
4. Cleanser, Toner, Moisturizer, Sun Block
Everyone has their specific skincare regime, but it's not always practical when you're on vacation. Consider what you really need with you, and leave behind other unnecessary items like masks, gels, or oils. Stick to the basics, like a good cleanser that also removes your makeup, a full moisturizer for face and body, and a good toner to help clean your skin after lots of travel and outdoor activities.
And of course, don't forget sunscreen. The summer sun is relentless, no matter where you're going and no matter what time of year it is. Traveling with sunblock is never a bad idea, so pack one with sufficient SPF that is also good for your whole body. Trust me, your skin will thank you.
5. First Aid, Pills
Traveling can be stressful, and after hours getting ready and hours in a plane, train, bus, or car, the only thing that can keep your head from pounding is an Advil. I recommend keeping a few of these helpful pills in your bag, along with your prescriptions (think birth control pills), but also storing a few in your toiletry bag. Even if you don't end up using them all, taking an extra few is only a little bit of space.
And on that note, it might also be a good call to pack some band aids and sanitary wipes. Being a huge klutz, I keep a couple of band aids on me at all times. But when you're abroad, panic can ensue without one. So it's better to be safe than sorry, because let's be real, a band aid can fix anything.
6. Soap, Body Wash, Loofah, Deodorant
Maybe it's just me, but one reason why I hate being abroad is that it totally changes up my shower routine. I like a leisurely shower, and exfoliation is part of my shower regime. So when I walk into a hotel and see the absence of a loofah, I'm pretty disappointed. While that might not be the case for everyone, having an extra bar of soap or body wash never hurts. Especially when you're traveling somewhere you're not too familiar with. And no explanation necessary for deodorant. Let's just say, terror would ensue without it.
7. Lip Balm, Contacts, Glasses, Cotton Products
This category might be a little odd, but I figure they're all relatively small items so they make sense together. If you're anything like me, you need to have a tube of lip balm on you at all times. While you will probably have one in your handbag, having a backup in your toiletry bag will save you a headache when you inevitably loose the one that's supposed to be in your bag.
And for all the four eyes out there, you know the drill. Don't forget your contacts case, solution, or a pair of glasses — as we all know, eyeballs are sensitive and they love to freak out at the most inopportune times. Having a kit to take care of them will guarantee they don't bother you for long. And Q-tips and cotton pads are light and easy enough to pack, too.
8. Pads, Tampons
We all know how our reproductive systems like to surprise us, so it's best to be prepared. Since my periods are pretty irregular, I like traveling with a whole wad of stuff in addition to the stash in my handbag. As inconvenient as it sounds to get your period on vacation, at least it won't be a hassle to take care of while you're abroad.
9. Other (Absolute) Necessities
And lastly, because you probably have so much more space in your toiletry bag than you usually do, you're welcome to also add anything else you think you might need while you're away. If you're a nail person, this might be the time to add in some polish remover, a nail file, or a top coat. If you're not willing to sacrifice straight, sleek hair, add in your straightener (but make sure to remember your electrical converter if you're traveling internationally). Here's your chance to add whatever you feel you absolutely can't live without.
No, no you can't pack Ryan Gosling with you on vacation. But you can enjoy this GIF.
Images: Urban Outfitters; Melodi Erdogan; Giphy