New 'X-Files' Teaser is Here & The Truth is Blurry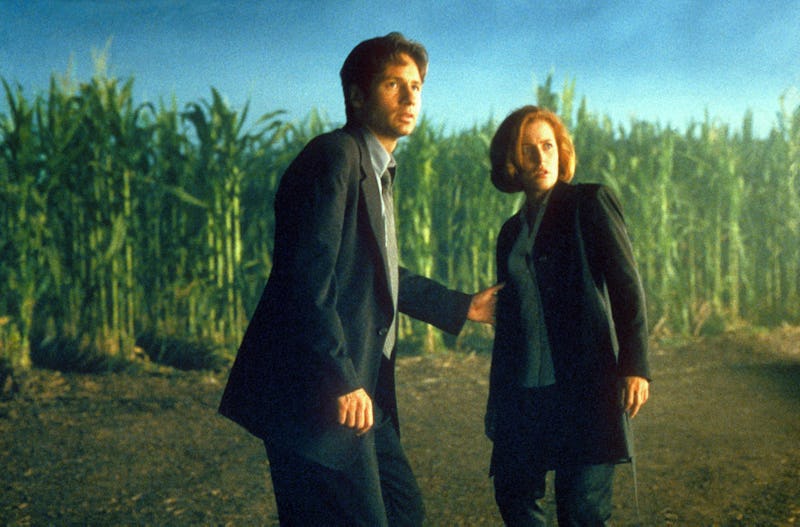 Moviestore Collection/Shutterstock
We may be a little more than five months away from the return of The X-Files , but the excitement over the sci-fi drama is as palpable as ever. Agents Fox Mulder and Dana Scully will be back on television come January 2016 for a six-episode run of alien investigations and plenty of paranormal activity. The first X-Files reboot teaser was dropped last week after an episode of Wayward Pines and Fox has decided to drop a few more crumbs for hungry fans. On Thursday, a new X-Files teaser was released and though it doesn't reveal much, it's still a tantalizing treat. Just seeing Mulder and Scully back together, doing what they do best... well, it brings such joy to an X-Files fan's heart.
In the short, and I mean short clip, a stubbly Mulder asks his partner, "Are you ready for this, Scully?" to which she perfectly responds, "I don't think I have a choice." OH THE JUICY, JUICY TEASER. There are dusty roads, lines of police, a truly hideous-looking medical device, and so, so many questions left in this clip. Even though I've heard the theme music to this show dozens of times, hearing it at the end of this video sent chills down my spine. It's as familiar as it is eerie and unsettling. Gah. I can't wait for the return.
Here are some burning questions I have about the latest X-Files sneak peek:
What's Going On With This Dusty Road?
A spaceship totally crash landed somewhere, right. RIGHT?
What Special Forces Unit is This?
AND WHO IS THE GUY IN THE SUIT, HMM?
Are Those Dead Human Bodies Or Dead Alien Bodies?
And what the heck kind of vehicle is that? Sinister.
WHAT IS THIS HIDEOUS THING?
BRB having nightmares forever.
What is This Person Being Injected With!?
And whose arm is that!? It had better not be Scully's... she's been through enough!
What Had Happened to Mulder To Make Those Eyes So Sad?
Don't be cry, Mulder.
Will Scully's Religious Beliefs Come Into Play?
She might be more clinical than Mulder, but she still has her faith.
I'm usually not a winter person, but I am really looking forward to January. There's been an X-Files-shaped hole in television for far, far too long. I am strangely glad that these teasers are so minimalistic. The X-Files is all about mystery and the unknown, so why spoil what's to come?
Images: Fox (8)