'Jenny's Wedding Has An Important Story Behind It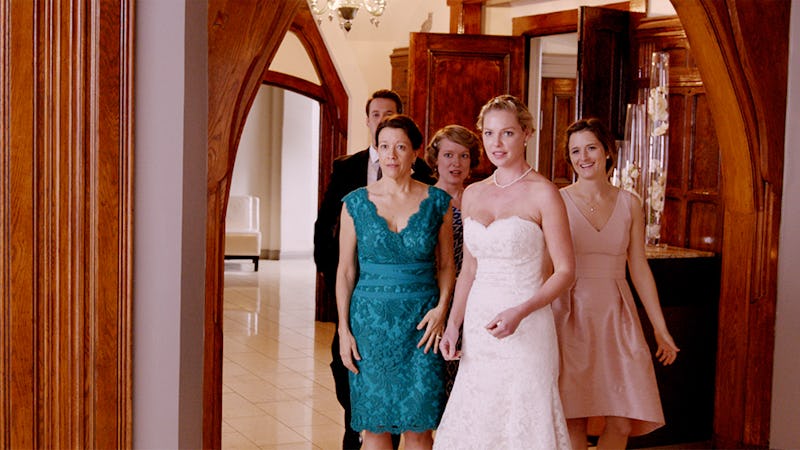 The summer movie season usually brings to mind seat-shaking blockbuster sequels like Jurassic World or star-packed comedies like Trainwreck, but that doesn't mean that there aren't still friendly pockets for low-budget character studies that will get families talking. Jenny's Wedding is an independent drama starring Katherine Heigl and Alexis Bledel as an engaged couple coping with both event planning and Heigl's character's very traditional upbringing. The film is written and directed by Mary Agnes Donoghue, known for her work on Beaches, Veronica Guerin, and White Oleander. While countless families can surely relate to this story of identity, love, and acceptance, Donoghue has a strong personal connection to this screenplay. So, is Jenny's Wedding based on a true story?
The movie is actually a fictionalized account of the nuptials of Donoghue's niece, whose name inspired the film's title. Donoghue told Lesbian.com how the real Jenny and her mother inspired her to make this movie:
Jenny, the real Jenny (I used her real name), was completely at ease with being gay. She came out when she was younger, although she didn't tell the rest of her family. I think her siblings knew, but no one else. What inspired me is that my sister is a very conventional person, and I was stunned when Jenny wanted to get married, and the distance they went to; they never denied her. There was never a rupture between her parents and Jenny, but I suspected what went on behind the scenes for them as people, and I was impressed by it. I was impressed by the lengths they went to, and it was huge.
The best pieces of movie-making prompt moments of recognition and empathy. Jenny's Wedding tells a specific but universal story, one that inspired prospective fans to back the film and its soundtrack through crowdfunding. It's really a movie that already belongs to the masses, not just to Donoghue and her niece. Bledel, who plays Jenny's partner Kitty, told After Ellen about the wide appeal of Jenny's Wedding :
I think most people who see the film will be able to relate to it, at least from the point of view of one of the characters, whether they're a parent of a daughter who just got married or a young person who's trying to start their life with someone. It's a story about a family.
In fact, a portion of all the contributions to the IndieGoGo campaign that funded the movie were donated to PFLAG Cleveland, a chapter of the national organization for families and allies of individuals who are "lesbian, gay, bisexual, transgender or queer." Jenny's Wedding was filmed in and around that city, so cheers to the filmmakers for using their platform to support that community.
Backers and new fans alike will have the opportunity to see Jenny's story come to life when Jenny's Wedding is released in select theaters on July 31.
Image: IFC Films; Giphy