Jason Segel Could Be An Oscar Winner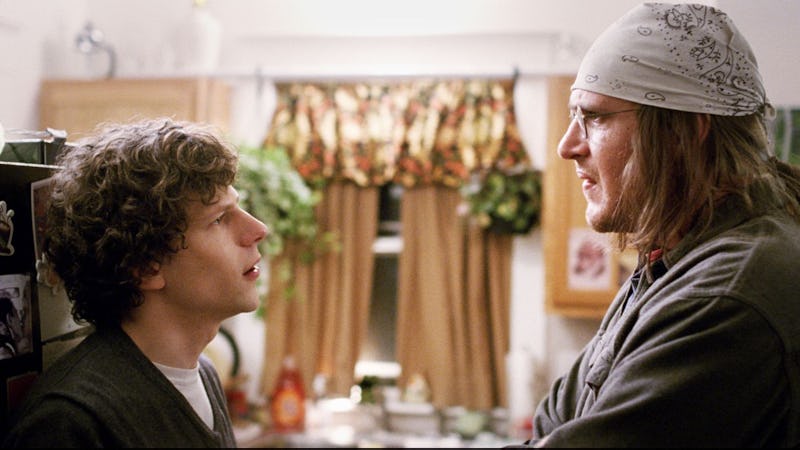 While part of me will always cherish Jason Segel as Marshall "Marshmallow" Eriksen of How I Met Your Mother and Lindsay Weir's overbearing love interest Nick Andopolis of Freaks & Geeks, clearly the actor is itching to branch out, dramatically. The End Of The Tour stars Segel as troubled writer David Foster Wallace, whose work and mystique continue to inspire passionate fans seven years after he took his own life at the age of 46. The film, out July 31, fictionalizes the five-day interaction in 1996 between Wallace and Rolling Stone reporter David Lipsky (Jesse Eisenberg), who was writing a profile of the author at the time. And though it may be early to talk awards, there are clear elements of this movie that are right in line with past Academy recognition, especially its lead actor's performance. Will Jason Segel win an Oscar for The End Of The Tour ?
At the very least, a nomination certainly seems likely. Biopics usually pull down a proportionally high number of nods, especially when it comes to performances. Out of the last 11 Oscar winners for Best Actor, a whopping eight of them were awarded for portrayals of real people. (Jamie Foxx for Ray; Philip Seymour Hoffman for Capote; Forest Whitaker for The Last King Of Scotland; Sean Penn for Milk; Colin Firth for The King's Speech; Daniel Day-Lewis for Lincoln; Matthew McConaughey for Dallas Buyers Club; and Eddie Redmayne for The Theory Of Everything.) Plus, Segel is mostly regarded as a comic actor. The Academy loves to see performers challenge the industry's perception of them.
Still, playing a real person does not lock down an Academy Award win. (So hold off on composing that speech for now, Segel.) These performances, while well-praised and nominated, did not win these actors that precious Oscar.
1. Benedict Cumberbatch In The Imitation Game
Tumblr's Prom King went mainstream in 2014 with his first Oscar nomination for the incredible and tragic true story of mathematician and code-breaker Alan Turing. Cumberbatch lost out to his pal Eddie Redmayne (The Theory of Everything), but is likely to find himself on the ballot in the future. Oscar loves Brits.
2. Chiwetel Ejiofor In 12 Years A Slave
Ejiofor became a known, if often mispronounced, name when he took on the role of Solomon Northup, the free man whose unlawful imprisonment was brought to the screen by director Steve McQueen. The film took the Best Picture, Best Adapted Screenplay, and Best Supporting Actress (Lupita Nyong'o) Oscars, but Dallas Buyers Club's Matthew McConaughey was handed the Best Actor trophy that year.
3. Jesse Eisenberg In The Social Network
Like it or not, Mark Zuckerberg has changed the internet, privacy, and how people relate to each other forever. Jesse Eisenberg didn't shy away from showing the worst of the Facebook mastermind in the David Fincher biopic, but neither he nor the film could beat the more traditional award fare that was Colin Firth and The King's Speech.
4. Will Smith In The Pursuit Of Happyness
Smith brought his heart, soul, and son to this rags-to-riches tale of Chris Gardner, a formerly homeless entrepreneur and motivational speaker. Forest Whitaker won the 2006 Oscar for playing a far less likable individual: former Ugandan president and human rights violator Idi Amin in The Last King of Scotland.
5. Joaquin Phoenix In Walk The Line
Co-star Reese Witherspoon claimed Oscar glory for playing June Carter Cash, the love of Johnny Cash's life. But despite his impressive vocal impersonation and looking terrific in a black suit, Phoenix went home empty-handed. The late Philip Seymour Hoffman won instead, for Capote.
Whether Segel wins the Oscar or is even nominated, the early buzz on The End Of The Tour promises one incredible performance.
Images: A24 Films; Giphy (5)