What Will Shelli Do Without Clay On 'BB'?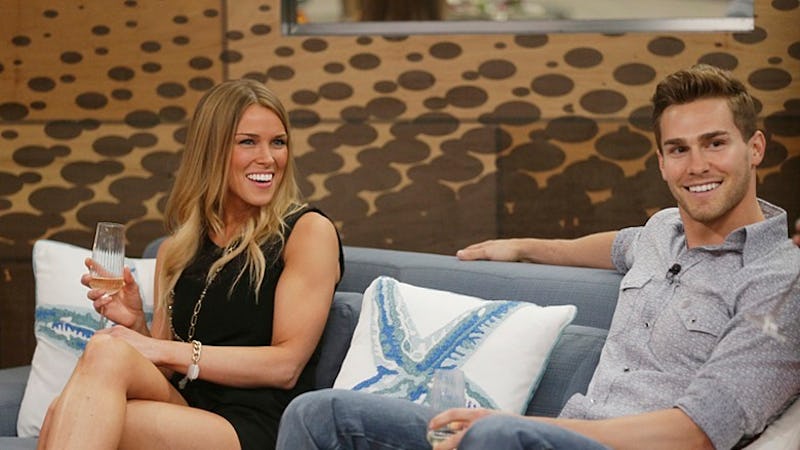 Clay and Shelli fans, the unthinkable has happened: Clay was put up for eviction. He won't go home this week but his near-miss makes me wonder what will happen if/when Clay does leave. If Clay goes, we will not only be left without any man candy to look at (sorry Jason, James, and Austin... you just don't hold a candle to Clay) but Shelli will also be left without a partner in crime. What will Shelli do if Clay is evicted from Big Brother 17?
I want to believe that Shelli will rise to the occasion and spread her wings and soar. Clay's departure from the game could re-invigorate her own desire to win Big Brother. Before, it was just herself that she was trying to win for. Now, she's in this for both her and her fallen partner. And for Team Slay.
Shelli will prevail. She will succeed without Clay. She will win. She has to. I can picture exactly how things will go down if Clay is evicted. Let me walk you through the series of events that will occur if Clay is evicted from Big Brother and Shelli is left all by her lonesome.
Shelli Will (Finally) Kiss Clay When She Tells Him Goodbye
After teasing us (and Clay) for weeks, Shelli will finally plant a kiss upon those perfect lips and give Clay a sendoff that will make all his wildest dreams come true
Shelli Will Cry
First the grief will hit. Shelli will see Clay leave the house and immediately collapse into tears. After having a steadfast partner for so long, she will feel abandoned and alone in the house.
Shelli Will Use Her Grief As a Motivator
Shelli will get back into the game with a vengeance, a renewed fervor, perhaps even a taste for blood. This isn't just about her anymore. Her opponents messed with the wrong alliance.
Shelli Will Continue To Be Loyal To Her Alliance
Once through the initial stages of grief, Shelli will start strategizing with her remaining allies.
Shelli Will Win Comps
Shelli has already proven herself to be a fierce competitor and we will get to see her more competitive side emerge as she kicks her game up a notch.
Shelli Will Be HoH Again
Shelli has already had a few turns as HoH but her reign is far from over. She will win HoH again, possibly multiple times, and she won't be afraid of pissing people off next time around.
Shelli Will Win Big Brother
Shelli has proven herself to be quite the smart game player. She is successful at comps without being so successful that it makes her a target. Her sweet, sincere personality also makes her a good friend and ally, making it more difficult for her opponents to go against her. These two attributes will ultimately lead to her winning Big Brother and getting the ultimate vengeance for Clay in the form of 500k.
Shelli Will Use Some of Her Winnings To Make An LDR With Clay Work
Speaking from experience, LDRs blow. They are emotionally and financially draining and it takes a lot to make it work. However, having a 500 grand travel fund might make the distance between Shelli and Clay just a touch easier. Though the distance between Shelli and Clay will challenge their relationship, Shelli can bankroll their travels so they can see each other often.
Shelli and Clay Will Get Married And Live Happily Ever After With Their Blonde Haired Children With Perfect Teeth
Shelli and Clay will defeat the odds and be a Big Brother showmance that lasts. They will live happily ever after and have loads of babies who come out of the womb with abs and a perfectly straight set of pearly whites.
Images: Sonja Flemming/CBS; Giphy