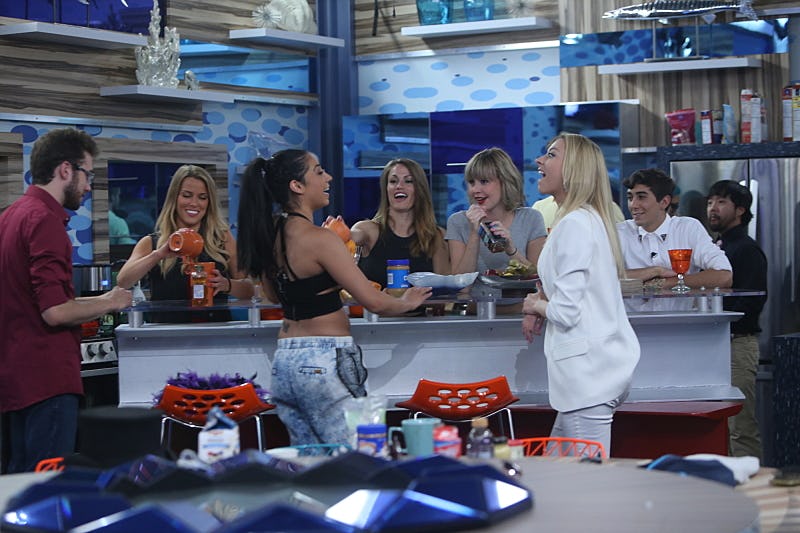 I'm not sure who played the game better this week on Big Brother: Vanessa who is working all of the angles and creating alliances like it's her job, or Liz who, completely on her own (even if she didn't realize it) pulled herself off of the chopping block during this week's challenge. All of the twin news has made its way through the house at this point, with everyone catching on to Liz and Julia being the Big Brother twin twist. Vanessa and Jackie worked together as Head of Household to get rid of the people who are threats to them both. In a very smart move, Vanessa even told Jackie she would be fine having her team lose the challenge so Jackie could stay HoH (though really she just wants Jackie to do the dirty work). The two decide to target Austin, which means getting Liz on the chopping block. They set up the challenge so that Liz is sure to fail, with Jason agreeing to throw the game.
In an impressive twist (and a nail biting paint/letters game) Liz won the Block Party challenge on Big Brother and got herself immunity. This is actually a huge deal for her. When she makes it through one more eviction, a space in the house will open up and Julia can now join Liz in the Big Brother house. That's right, we will have both sisters in the house playing as two different challengers. That means a stronger alliance and endless sabotage opportunity. Having Julia in the house will give Liz a stronger relationship to leverage. If she can manage to get Austin and Julia on the same team, we may just be looking at the new champion.
We'll still have to wait and see if Julia makes it on full time (it's Big Brother, nothing is guaranteed) but if she does my money is on Liz to win the whole thing. For more Big Brother 17 predictions, check out Bustle's podcast The Diary Room.
Image: Monty Brinton/CBS