18 Chocolate Perfumes For Fall 2023 That Smell Mouthwatering & Modern
From decadent dark cocoa to creamy white chocolate notes.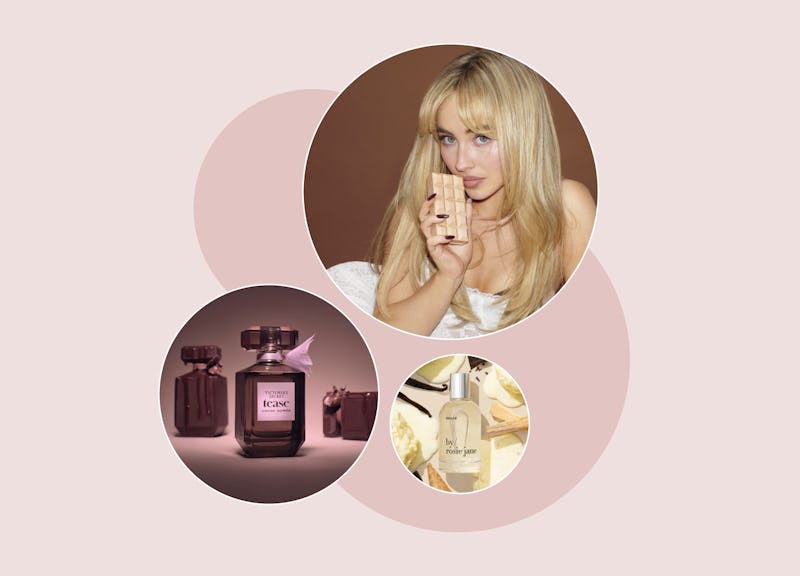 We may receive a portion of sales if you purchase a product through a link in this article.
No matter the season (or weather), chocolate lovers would likely agree that the yummy aroma of decadent iced mochas and rich hot cocoa topped with whipped cream is all things soothing and enticing to the senses. And while heavier gourmand aromas like chocolate are often associated with the colder months in perfumery, different expressions of the yummy note can make it a perfect fragrance for any time of year.
ICYWW, the term "gourmand" refers to any fragrance that is delectable, and most often features yummy notes of vanilla, caramel, marshmallow, and the like. Chocolate, of course, is very much in that so-good-you-want-to-taste-it category. Frank Voelkl, the Firmenich perfumer who created Victoria's Secret's newest launch, Tease Cocoa Soirée, shares with Bustle that "chocolate notes can be expressed in many ways." What's more, "a natural cocoa extract has a little bit of a bitter aspect, and the flavor and headspace ingredients [that are unique to Firmenich] bring more of the sweet, creamy, and gourmand facets."
While chocolate is a note that's present in quite a few classic scents — namely Mugler's Angel, which in fact created the gourmand category back in 1992 — the delicious note is found in quite a few celeb-fronted perfumes, too.
A few worth mentioning? Billie Eilish's first fragrance offering, Eilish, is enriched with warm cocoa, Sabrina Carpenter's Sweet Tooth Caramel Dream features dark chocolate bean, and Ariana Grande's MOD Vanilla is made all the more soft and dreamy with creamy cocoa.
Craving a brand new scent for the fall and winter months ahead? Below, find 18 chocolate-filled perfumes for your every mood.