Starbucks Just Added TWO New Frapps To Its Permanent Menu & The Flavors Are So Extra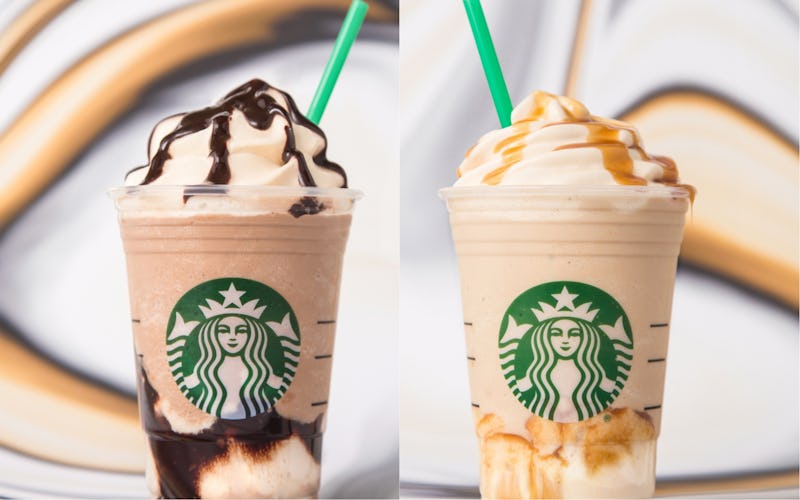 Starbucks
Big news for fans of frozen, coffee-spiked beverages: The Starbucks permanent menu has just gained not one, but two new Frappuccinos. The Ultra Caramel Frappuccino and Triple Mocha Frappuccino both take old favorites and, in the immortal words of Nigel Tufnel, dial them up to 11 — and what's more, they do it with the help of yet another new menu addition: Sweet Cold Brew Whipped Cream. And starting today — May 1, also known as May Day and It's Gonna Be May Day, depending on how into memes and/or NSYNC you are — they can all be yours.
When Starbucks Frappuccinos first launched back in 1995, just two flavors were available: Coffee and Mocha. Since then, dozens of new flavors have been added, tested, and tried out; between both the limited-edition versions that hit the menu every so often and the myriad options available on the permanent menu, there's a little something for everyone — whether you're into the taste of coffee or not. But while limited edition Frapps have been bountiful in recent years, it's been a hot second since a new Frappuccino has been added to the permanent menu — and now we've got two in one go. Heck, and yes.
Before we talk about what's in the two Frappuccinos, we have to talk about the whipped cream (since, y'know, it's a core component of them and all). The mighty 'Bux has toyed around with flavored whipped creams before; the original edition of the Birthday Cake Frappuccino, which was released way back in 2015 (that is, forever ago in Frappuccino time), came topped with raspberry-infused whipped cream, for example, while Pumpkin Spice Whipped Cream all too briefly appeared on the menu in the fall of 2016. This time, though, they've outdone themselves: The Sweet Cold Brew Whipped Cream combines cold brew coffee, dark caramel sauce, and white chocolate mocha sauce with cloud-like whipped cream to create the fluffy dessert topping of your most decadent dreams.
It would not be an exaggeration to say that I would like to top every dessert I eat this summer with that whipped cream.
So, knowing that, we can now tackle the composition of the Frappuccinos themselves. Think of them as variations on a theme: They both share the same basic design, with some of the details being tweaked for each unique drink. The Ultra Caramel Frappuccino starts out with a layer of the Sweet Cold Brew Whipped Cream dolloped into your cup; then a swirl of dark caramel sauce gets added to the mix. The main body of the Frappuccino comes next — in this case, it's a dark caramel coffee-flavored Frappuccino — and then, lastly, the topping: Another layer of Sweet Cold Brew Whipped Cream and more dark caramel sauce finish the whole thing off.
Like the Ultra Caramel Frapp, the Triple Mocha Frappuccino also begins with a layer of Sweet Cold Brew Whipped Cream — but instead of dark caramel sauce, a swirl of dark mocha sauce tops it off. The Frappuccino flavor used in this one is a beloved classic, the mocha coffee Frappuccino; then, after the Frapp has filled the cup, more Sweet Cold Brew Whipped Cream and another dark mocha sauce swirl top off the treat.
Debbie Antonio, senior manager for Starbucks R&D, noted that the Sweet Cold Brew Whipped Cream adds a whole new flavor to these two Frappuccinos. "Right away, you taste something different with the … whipped cream," she said in a press release. With the Ultra Caramel Frappuccino, she said, "Sip after sip, you get the blended coffee and the lighter whip with the dark caramel threaded all the way through"; meanwhile, with the Triple Mocha Frappuccino, she added, "You can have mocha in every sip. You get both white chocolate and rich dark mocha, layered with cold brew whipped cream for contrast [and] texture."
Both Frapps are available at Starbucks locations in the United States and Canada starting May 1 — and so, for that matter, is the Sweet Cold Brew Whipped Cream: You can add the new whipped topping to any drink on the Starbucks menu for an additional 50 cents, according to a press release. Oh, and if you're interested in trying the new Frapps, but aren't quite sure you want to go all out for them, the latest incarnation of the Starbucks Happy Hour series — which was discontinued in its original form earlier in 2018 — is coming in just a few days: On Thursday, May 3, Starbucks patrons who have signed up to receive special offers can get 50 percent off any Grande- or Venti-sized Frappuccino after 3pm.
Cheers!