Why Daario Naharis Was Recast In Game Of Thrones Season 4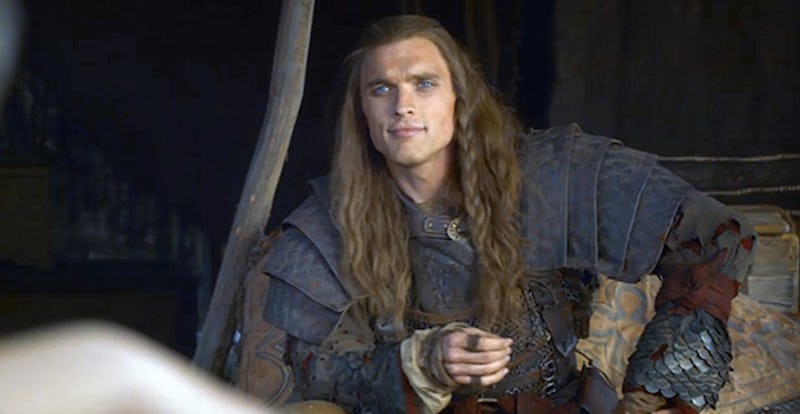 HBO
Your eyes aren't deceiving you: that is a completely different actor playing Daario Naharis in Game of Thrones Season 4. Though the character was originally played by British actor Ed Skrein in Season 3, Dutch actor Michiel Huisman (The Haunting of Hill House, The Flight Attendant) was recast in the role for Seasons 4 through 6.
There's never been a clear answer as to why Skrein left the series. One rumor was that he'd been unpopular with fans, while others suggested the change was due to a scheduling conflict: Skrein was cast to replace Jason Statham as Frank Martin in the Transporter movie The Transporter Refueled. However, Skrein shot down the scheduling rumor in a 2015 interview with Entertainment Weekly. "That's what been reported in the press but it was a lot more political than that," he said at the time. "My plan was to stay with Game of Thrones for the long haul. That was always my plan. I would have loved to. It was a wonderful experience, but politics led to us parting ways. And from there I just said, 'OK, look forward, be positive. Keep calm and carry on.'"
Skrein commented on the recasting in other interviews, but his answers were all similarly vague. "This is a complicated industry and there's always politics involved. I never really look back. My journey has been unorthodox in many ways. All I do is count my blessings and try to be as present as I can and I'm thankful for every step of this journey," he told TooFab, also in 2015. The same year, he told Digital Spy: "It wasn't as straightforward a decision as it's been made out in the press. In a lot of ways, I would have loved to have carried on and stayed working on [Game of Thrones], because it's a fantastic TV series. It's an incredible crew that I worked with. I've made a lifelong friend in Jacob Anderson, who plays Greyworm. But the most important thing in my life is my family, so each project is important but only to a point."
Regardless of the reasoning for the shake-up, Skrein went on to enjoy a fruitful career outside of the Game of Thrones universe. He broke big as Francis Freeman/Ajax in the blockbuster 2016 film Deadpool, and went on to appear in Barry Jenkins' 2018 Oscar-winning drama If Beale Street Could Talk as well as the 2019 cyberpunk action film Alita: Battle Angel and Maleficent: Mistress of Evil, the sequel to Disney's Maleficent in which he starred alongside Angelina Jolie.
Meanwhile, Huisman took up the mantle of Daario. The onscreen change was quite noticeable: whereas Skrein's version of the character was clean-shaven with long, blonde hair, Huisman's was scruffy with shorter dark hair and more brooding. As was set up in Season 3 when Daario killed two of his fellow captains who were planning to kill Daenerys and presented her with their heads, he became a romantic interest for the mother of dragons, convincing her to take him as a lover in Season 4. But after years of service to her, Daario was eventually left to keep the peace in Meereen in Season 6 while Daenerys sailed off to reclaim the iron throne in Westeros.
"When I signed on to [Game of Thones], I hadn't even watched the show," Huisman later told Collider. "I knew that it was a thing, but I had no idea that it was going to be or that it was already such a big thing, and I had no idea that it would have such an impact on my career and the opportunities after that show."
This article was originally published on