1923 Season 2 Will Reportedly Start Filming This Spring
Here's everything to know about the latest Yellowstone prequel.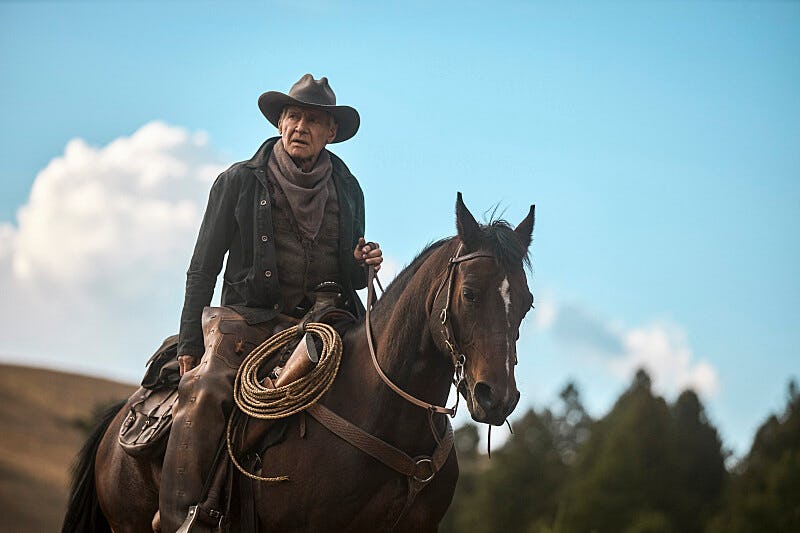 Emerson Miller/Paramount+
Like the endless Montana landscape it calls "home," the Yellowstone franchise stretches in every direction — to the future with reported star-studded continuations of the modern story, and to the past with prequel spinoffs 1883 and 1923. Creator Taylor Sheridan has described both projects as "close-ended ... peek[s] through the window" of the past. This definitely explains why 1883 only had one season (with a very sad ending), but what about 1923?
Fortunately, there will be a 1923 Season 2. That isn't to say that the story is any less contained than its predecessor — Sheridan just needed more space to tell it. Back in October, Deadline reported that 1923 would run the course of two seasons of eight episodes apiece. (The second set of eight was officially renewed this February.) However, Sheridan himself told the outlet that he sees the upcoming episodes as "really the second half of the season," signaling that the next installment will truly complete the story.
Semantics aside, when will 1923 Season 2 come out? Here's everything to know so far.
1923 Season 2 Cast
So far, Harrison Ford and Helen Mirren have been confirmed to return to the 1923 Season 2 cast. That's not too surprising, given the actors' passion for the project. "I have been very satisfied and encouraged and challenged by the work at hand," Ford told The Hollywood Reporter before the renewal. "We have another season, I hope, to get to know this character and see him in different circumstances. But I'm having a great time. I'm really enjoying it."
Sheridan told Deadline that the leads "only signed on originally for one season," but "were so eager to continue it."
1923 Season 2 Plot
Sheridan hasn't shared plot specifics yet, but he has been open about how the century-old setting of 1923 has plenty of modern parallels. "I studied Montana's history and the history of the world," he told Deadline, of brainstorming the series. "COVID was ending, which is a very similar thing to World War I," he added.
The creator also said that the 1920s are often "skipped" in history class, "but it's incredibly decadent, desperate," he said. "There were all these pockets in America that were experiencing a famine and depression that would ultimately culminate in the dust bowl later and all these things that altered the landscape of America."
1923 Season 2 Potential Premiere Date
The Wall Street Journal reports that the latest installment will begin filming this spring. The first season began filming in Montana in late summer of 2022, per Butte's KXLF, in time for a December premiere. If Season 2 production takes a similar amount of time, viewers can likely look forward to more 1923 by later this year or early 2024.
This post will be updated with the trailer, release date, and additional plot details as more information on 1923 Season 2 becomes available.