Every Awkward Zoom Mishap From The 2021 Golden Globes
Zoom calls are uncomfortable...even when they're happening live at an awards show.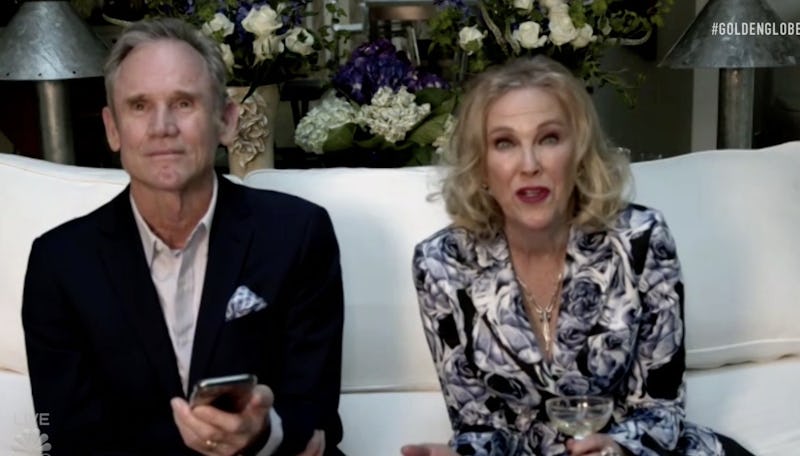 NBC
Zoom calls are awkward and uncomfortable, even when they're happening at the 2021 Golden Globes. Sure, a few unwieldy moments are expected at awards shows, but that's especially true when everyone is calling in from across the globe and at the mercy of their WiFi connection. Hosts Amy Poehler and Tina Fey acknowledged that a little technological malfunction was expected as the night unfolded, and it wasn't long before they were proven right.
Here are the highlights, from families cramming into the Zoom frame to a few glitchy connections.
Daniel Kaluuya forgot to unmute
Daniel Kaluuya won Best Supporting Actor for his performance as Chairman Fred Hampton in Judas and the Black Messiah. But when the show cut to his speech, he opened his mouth and started talking ... and no sound came out.
A minute later, he was able to give a speech paying homage to the real life activist he played and the movie's director, Shaka King.
Catherine O'Hara won ... and did a bit
Catherine O'Hara will never miss an opportunity to make us laugh. While giving her victory speech for Best Supporting Actress in a Comedy for her performance in Schitt's Creek, O'Hara's husband started periodically playing music from his phone. She would politely thank him and keep going, but he only picked up the pace towards the end. By the time O'Hara's speech wrapped up, both of them were trying to hold back a smile while everyone at home looked on, confused.
Uncomfortable celebrity reactions
Throughout the night, the Golden Globes cut to celebrities who were on what is likely one of the world's biggest and longest Zoom calls. Awkwardly, they didn't always know they were on camera (as is the case when O'Hara and her husband were looking at their phones), or even knew what to do as the camera lingered on them. Take a look at the opening zoom "pan-away:"
Jason Sudeikis is probably the only Golden Globes winner to accept his award wearing a tie dye hoodie. In a speech that quoted Tolstoy, Sudeikis reminded us that we're only as good as the person we're with and also made the internet feel very seen.
Soundtrack winners got their speeches clipped
When Trent Reznor, Atticus Ross, and Jon Batiste accepted their Golden Globe for Best Original Score, their pre-recorded speeches started playing after a bit of introduction from Tracy Morgan. Unfortunately, that lead-in cut off the beginnings of some of the speeches. Not great, but also seems like a technical malfunction that could've been avoided. Plus, Atticus Ross delivered his victory speech with all the zeal of a hostage video.