Amanda Bynes' Conservatorship Is "No Longer Required"
Her lawyer recently discussed Britney Spears' conservatorship case.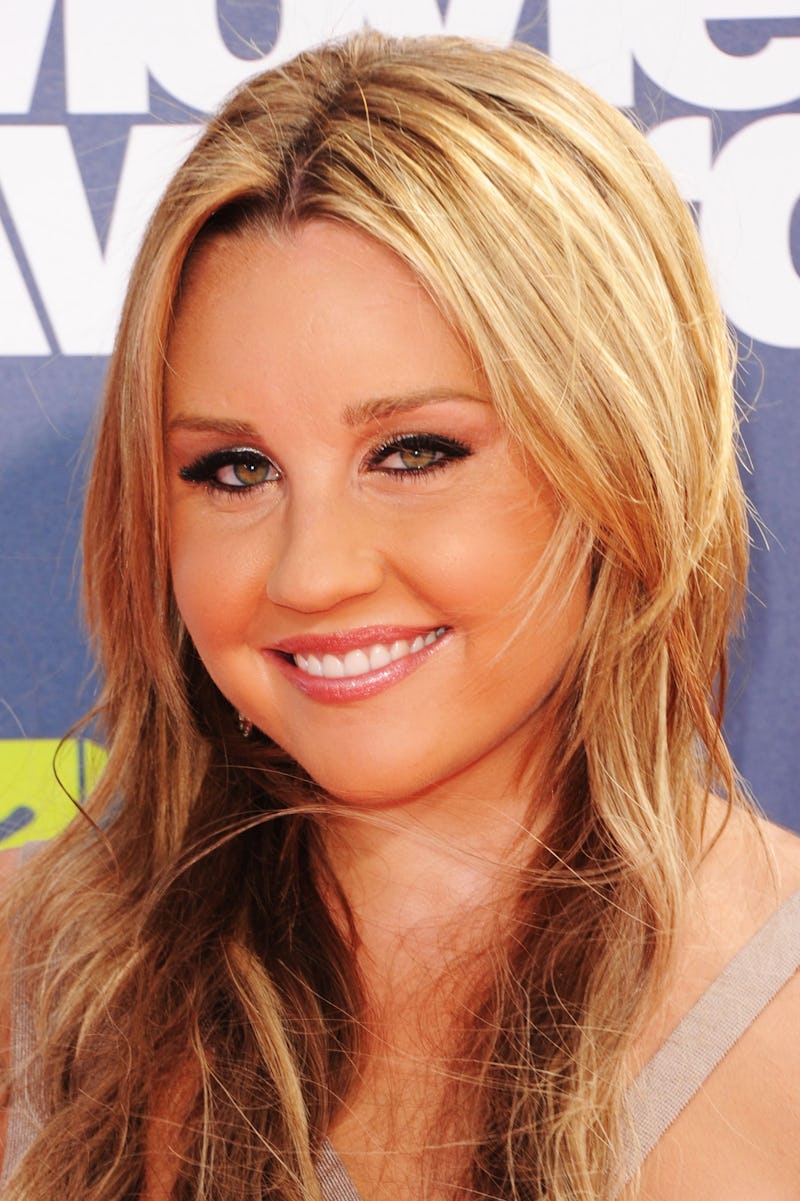 Jason Merritt/TERM/Getty Images Entertainment/Getty Images
If you've been keeping up with Amanda Bynes in the decade-plus since Easy A, you know that the beloved comic actor has struggled with mental health and substance abuse, which resulted in a long-running conservatorship. But as Page Six first reported, Bynes is now gearing up to end that conservatorship with a March 22 hearing — and she's sharing her journey online.
Ahead, a timeline of Bynes' conservatorship and her journey out of it.
2013: Bynes' Conservatorship Begins
According to NBC, Bynes' conservatorship began in 2013 "following a dark period of her life fueled by substance abuse."
2018: She Opens Up About Sobriety And Her Plans For The Future In Paper
In Bynes' first major interview since her conservatorship began, the She's the Man star revealed to Paper that she had been sober for four years — and was looking forward to a more independent path. "I have no fear of the future," she said at the time. "I've been through the worst and came out the other end and survived it, so I just feel like it's only up from here." She also thanked her parents for "helping [her] get back on track" and shared that she was studying at the Fashion Institute of Design and Merchandising, or FIDM.
2021: Bynes' Conservatorship Is Extended
Bynes' conservatorship was extended to 2023 last year, per Us Weekly. However, "the judge was satisfied with how Amanda [was] progressing," and according to her attorney, David A. Esquibias, she was "doing great."
"Everyone would love to see Amanda not under a conservatorship," he continued. "I think that is the goal between myself, her mother, her father, and her care providers. Amanda would love to be unconserved. She's expressed it over and over. The timing is not right at the moment, so she's working toward that direction. We all are working toward that direction, and one day we all hope to see it." The extension followed a new streak of sobriety for Bynes, who shared in 2020 that she was sober for over a year after a "stress-induced relapse," per TMZ.
2022: Bynes Seeks To End Her Conservatorship — And Her Lawyer Says It's Not About Britney Spears
Posting under a new Instagram account, Bynes first announced her upcoming hearing in a March 7 video — tagging E!, People, and Us Weekly — and took the opportunity to acknowledge those rallying for her. "What's up, Instagram. Amanda Bynes, here. My court date is coming up in two weeks. I want to thank you all so much for your love and support," she said in the brief clip. "Peace out."
She also shared updates on removing the heart-shaped tattoo on her face and dyeing her hair ahead of her virtual court date.
Bynes' hearing is taking place just four months after Britney Spears won her own, much-publicized conservatorship battle. Her attorney clarified to TMZ that her own move toward legal independence wasn't inspired by Spears and that the timing is "purely coincidental," as Bynes' conservatorship was always intended to be temporary.
According to the Los Angeles Times, Judge Roger L. Lund issued a tentative ruling on Monday, March 21, declaring that the conservatorship is "no longer required." "The court determines that the conservatorship is no longer required and that grounds for establishment of a conservatorship of the person no longer exist," the ruling states.
Bynes' parents are ready for the conservatorship to end, including her mother Lynn, who currently controls her finances and medical matters. "Amanda Bynes' parents are very happy for her," a source told Entertainment Tonight. "They can't wait to see the next chapter of her life. They are excited at how well she is doing. They are ready to move forward and for the conservatorship to end as well."
In the official court hearing for Bynes' petition to end her conservatorship, which took place on March 22, the judge granted her request. "She's done everything the court has asked over a long period of time," Judge Roger L. Lund said, according to the New York Times. Tamar Arminak, Bynes' parents' lawyer, said she is now free to make decisions on her own behalf, including getting married to her fiancé, Paul Michael, who she reportedly plans to move in with.
"Following today's decision by the judge to terminate my conservatorship, I would like to thank my fans for their love and well wishes during this time," Bynes said in a statement shared with People on March 22. "I would also like to thank my lawyer and my parents for their support over the last nine years."
"In the last several years, I have been working hard to improve my health so that I can live and work independently, and I will continue to prioritize my well-being in this next chapter," she continued. "I am excited about my upcoming endeavors — including my fragrance line — and look forward to sharing more when I can."
If you or someone you know is seeking help for mental health concerns, visit the National Alliance on Mental Illness (NAMI) website, or call 1-800-950-NAMI(6264). For confidential treatment referrals, visit the Substance Abuse and Mental Health Services Administration (SAMHSA) website, or call the National Helpline at 1-800-662-HELP(4357). In an emergency, contact the National Suicide Prevention Lifeline at 1-800-273-TALK(8255) or call 911.
This article was originally published on