Anastasia From The Bachelor Joked About "Milking It" On The Show
Her social media fuels new rumors in the Feb. 13 episode.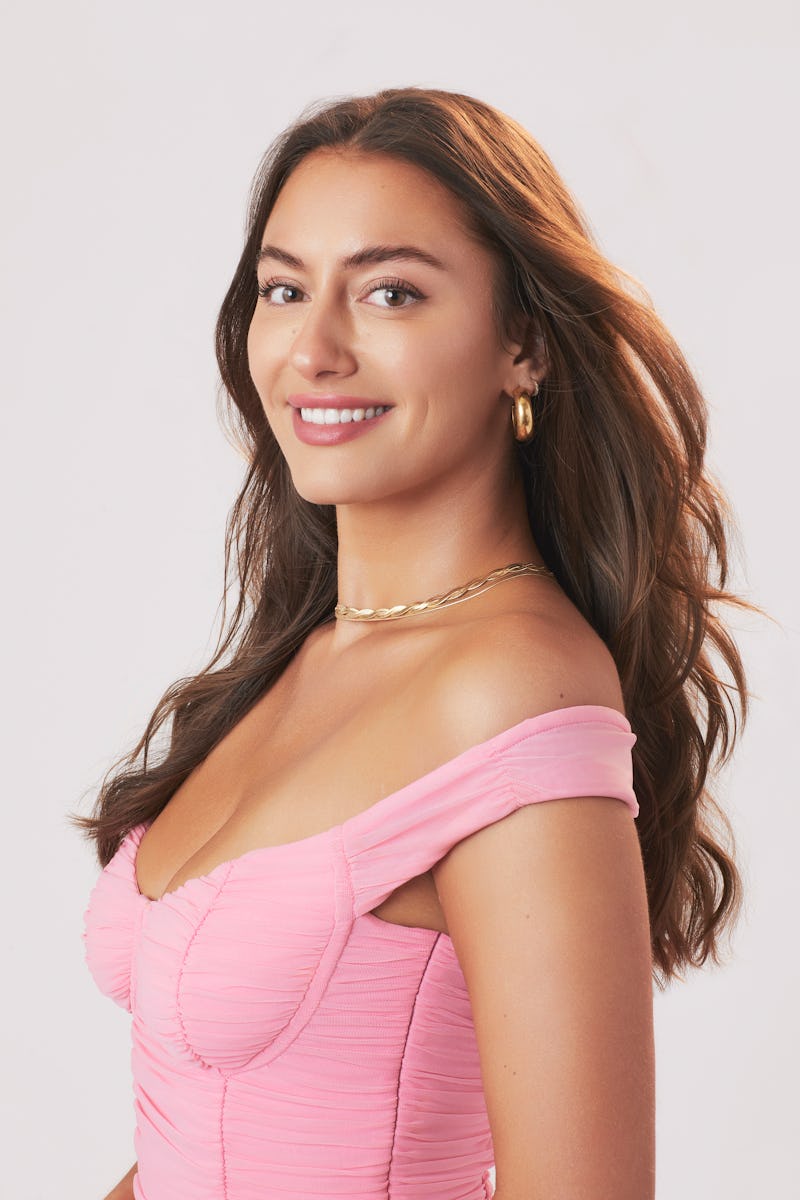 Ricky Middlesworth/Disney General Entertainment Content/Getty Images
When one source of drama exits, another will always replace it — such is the circle of life on The Bachelor. After Zach Shallcross sent home Christina Mandrell over concerns about her "intimidation" of other contestants in Episode 3, a sneak peek of the Feb. 13 Bachelor episode saw Anastasia Keramidas face rumors of her own. "She's constantly always talking about the amount of Instagram followers that she's going to get while being here," Kylee Russell tells Zach in the clip, to which he says that "freaks [him] the f*ck out."
It's a surprising turn of events because Anastasia's Bachelor journey has been fairly drama-free so far. But because the latest drama involves claims about her social media, it's only natural to wonder about Anastasia's Instagram, job, and online presence. Here's everything to know.
Anastasia's Instagram
Anastasia currently has more than 20,000 followers on her Instagram account, @anastasiamidas. She is pretty active and uses the page to document fashion, travel, and lifestyle content. She shared snaps of her trip to Seattle in September, for example, which seems to have been her last post before heading to the Bachelor Mansion.
Since arriving on the show, Anastasia has crafted several playful posts about her Bachelor journey — whether she's giving her own wardrobe a shoutout, or joking about her injury during the Episode 3 Bachelor Bowl. To recap: she hit the ground just after kickoff, and her fellow players thought she was "in a daze" until Zach came to her aid and, well, she perked right up. Brooklyn Willie (and a lot of viewers) thought Anastasia might have been "milking it" for Zach's attention, and Anastasia didn't seem to have a problem with that assertion. In fact, she captioned a Feb. 10 post, "Milking it 🥛🚑🏈🚨😉."
Anastasia's Job
According to her Bachelor bio, Anastasia's job is officially listed as content marketing manager. On what appears to be her LinkedIn account, that role is listed at Mint Mobile. But it seems that Anastasia's side hustle is tied to social media influencing. Several of her posts are tagged #revolveambassador, for example, a program in which ambassadors are paid cash or store credit for sharing product links on their social media.
Other brands and discount codes frequently appear on Anastasia's Instagram, too. It should be noted that Bachelor Nation contestants partnering with brands on social media is nothing new! But of course, it can definitely get you into dubious "right reasons" territory, as viewers are seeing on Zach's season.