Memes & Tweets About Christina Mandrell's Bachelor Exit
Christina was eliminated during the Feb. 6 episode — a week after scoring the season's first one-on-one date.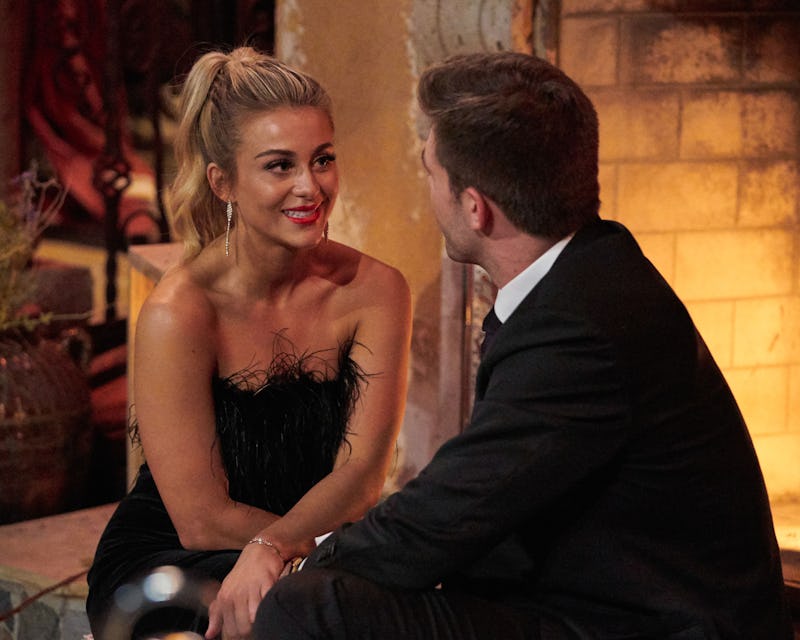 ABC/Craig Sjodin
From the very beginning of Zach Shallcross' Bachelor season, fans (and spoilers) predicted that Christina Mandrell might have a villain moment on the show — and during the Feb. 6 episode, that's exactly what happened. After being on the winning team for the football game group date, Christina spent some quality time with Zach. "We are still getting to know each other a little bit more than, maybe, a lot of the other relationships I have," Zach said. "So trust me, nothing is guaranteed, and we're trying to figure this out together, but..."
Christina felt the same way and told the other women that her previous one-on-one date (the first of the season) made things "more chill" and "more real" for her and Zach. However, despite her earlier conversation with Zach, Christina didn't get the group date rose. It went to Charity Lawson instead, and Christina didn't hold back her feelings about that. "Maybe I missed something, but I'm just confused," she said, adding that she was "mad it wasn't [her]."
Charity walked away from the conversation in tears, leading several of the women to call out Christina. "Would it have been better for me to just not be truthful?" she asked. It wasn't until Brianna decided to exit the show that Zach heard, once and for all, who was causing "intimidation" in the group — and he ultimately sent Christina home.
Some Twitter users theorized that Zach was struggling with the prospect of becoming a stepfather to Christina's daughter, Blakely, and simply used the drama as a better reason to end things. He did previously say he was "scared" by the idea during their one-on-one date. "I don't know if I'm ready for it ... and I think sometimes, you have to be selfish."
Several viewers thought Christina's villain era wasn't actually that bad.
Others were happy to see Brianna drop the information about Christina on her way out, though.
Meanwhile, several viewers couldn't get over Christina's dramatic final moments with Zach. She told him "it would be a mistake" to believe the reports about her behavior. "This makes no sense to me," she said. "What can help? Please, help me, help me, help me."
However, Christina herself seems to be in on the joke. After her final episode aired, she took to TikTok to respond to a comment criticizing her "fake expressions with [her] good looks."
"Uhmmm. Can someone please #helpmehelpmehelpme figure out the tone of this comment," she wrote in the caption, referencing the tearful breakup scene.