Andrew Garfield Went Viral For The Most Relatable Reason At The Oscars
Another Academy Awards, another meme for the Spider-Man actor.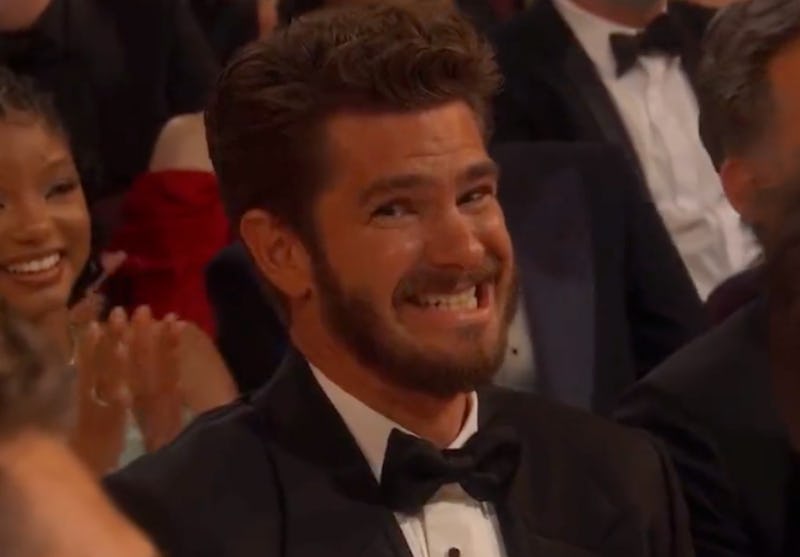 ABC
Not even twenty minutes into the 2023 Oscars, actor Andrew Garfield provided the meme of the night. Towards the end of Jimmy Kimmel's monologue, the host referenced that altercation between Will Smith and Chris Rock at last year's ceremony. Highlighting that the Academy Awards put a crisis team in place for any trouble, Kimmel went on to list a few of his friends who would be on-hand to protect him should anyone try to rush the stage. His list included Michael B. Jordan, Pedro Pascal, and, of course, Garfield, with Kimmel referencing their characters Adonis Creed, the Mandalorian, and Spider-Man.
Garfield, who appeared in 2021's Spider-Man: No Way Home with Toby Maguire and Tom Holland, looked a little nonplussed about his mention. The other actors made amusing nods to the cameras, but Garfield offered an awkward grin. This was even more hilarious, thanks to the added delay in applause and the reaction from the crowd.
Unsurprisingly, Garfield's reaction instantly went viral. Many fans noted that the actor has a penchant for inadvertently creating memes at the Academy Awards. Last year he was spotted scrolling on his phone while Kevin Costner was introducing the nominees for Best Director. During an appearance on the daytime talk show The View, Garfield explained that he thought there was "no way" he'd be on camera during Costner's speech and felt terrible after it started making the rounds online. As for what he was replying to, Garfield explained he was getting a flurry of messages following Smith's altercation with Rock, with many friends asking what the "vibe" was in the room.
Despite feeling regret for the situation, it seems that Garfield is leaning into his meme-able status. Below are just some of the best memes and tweets reacting to Garfield at the 2023 ceremony.