Andrew Garfield & Sally Field Had The Sweetest Reunion At The SAG Awards
Spider-Man's Peter Parker and Aunt May are together again.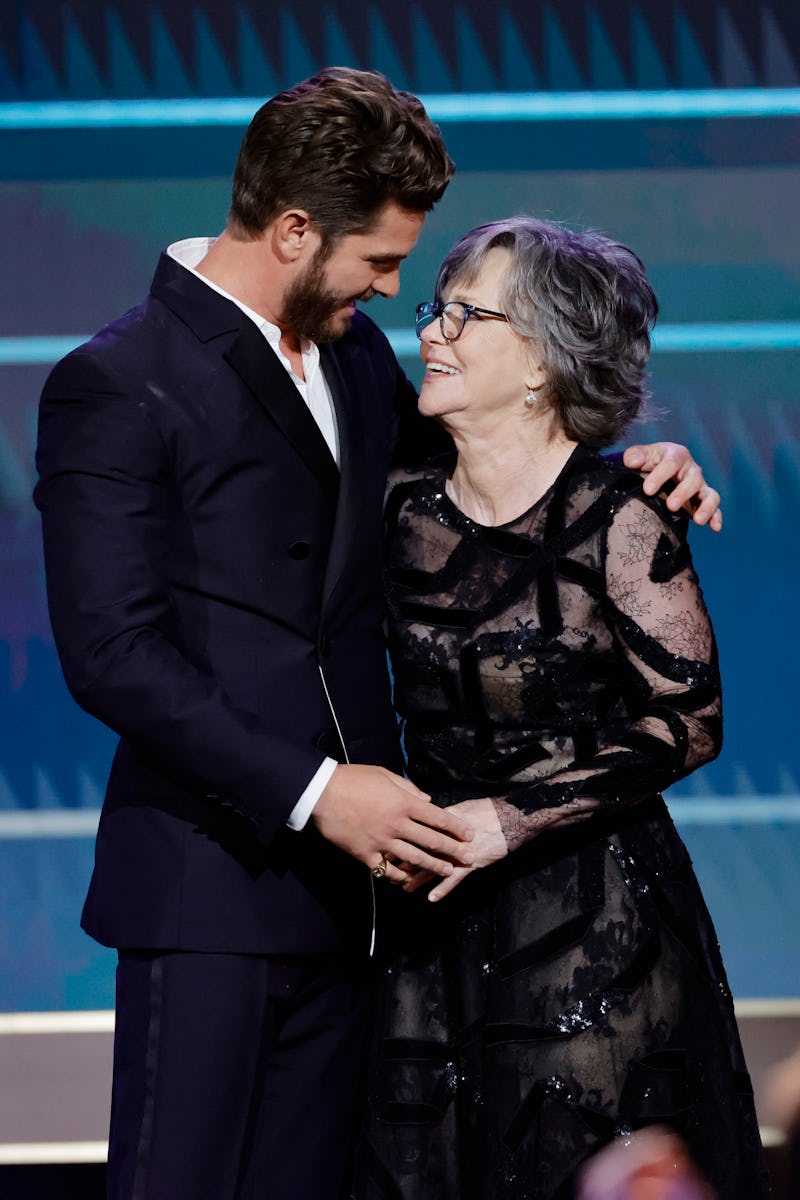 Kevin Winter/Getty Images Entertainment/Getty Images
Among the 2023 SAG Awards winners, Hollywood legend Sally Field received the most prestigious honour of the night, the Lifetime Achievement Award. Andrew Garfield took to the stage to give Field the award, creating the most adorable Aunt May and Peter Parker reunion in the process. Having played the pair in the The Amazing Spider-Man franchise, Field and Garfield share an incredibly close bond, one that the actor was quick to highlight during his speech.
"I got to play Peter Parker to Sally's Aunt May, and any intimidation I may have felt from playing opposite a titan of acting evaporated the moment my eyes found hers," he said. "Her generosity, her sensitivity, her imagination, her playfulness, has seemed to have kept her striving in the pursuit of that ineffable mystery at the heart of every character she plays." Garfield went on to describe Field as the acting world's "North Star" in that she has paved the way for "inspiring, liberating, and empowering women" through her roles, "charting a previously pathless path in an era of unimaginative, one-dimensional female roles." The Under the Banner of Heaven star also highlighted Field's ability to do it all "somehow miraculously with humility."
When she took to the stage to accept the award, Field showcased this aspect of her personality by thanking and applauding her fellow actors for the hardship they've faced to get to where they are. "I was a little white girl with a pug nose born in Pasadena, California. And when I look around this room tonight I know my fight, as hard as it was, was lightweight compared to some of yours. I thank you, and I applaud you. And I know that for you, just like me, it has not been easy," she said before concluding that "easy is overrated."
Later on, Garfield crashed Field's interview with Entertainment Tonight on the red carpet, with Field explaining that he's responsible for looking after her. "She's some kind of surrogate something in my life," Garfield added. In another interview with The Hollywood Reporter, Field shared her love for Garfield calling him "my boy," much like Aunt May tells Peter in the Spider-Man film.