Angela Bassett & Courtney B. Vance's Relationship Timeline Dates Back To Their Yale Days
They even co-wrote a book about their love story.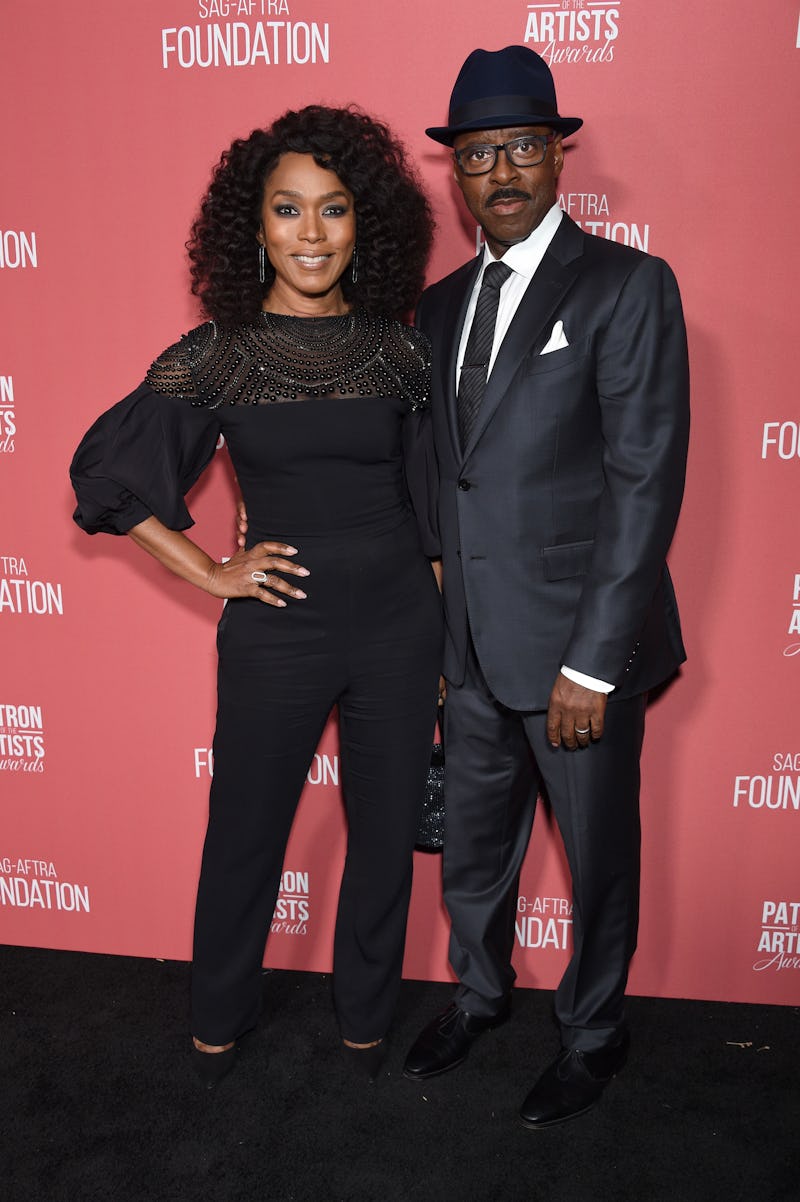 Gregg DeGuire/Getty Images Entertainment/Getty Images
Brad and Jen. Ryan and Rachel. Lenny and Lisa. Some of Hollywood's most famous couples, unfortunately, did not stand the test of time. However, Angela Bassett and Courtney B. Vance's relationship has been going strong for almost 25 years and counting, proving that true love can last in the hectic industry. The power duo dominates when it comes to their enviable acting careers while also raising teenage twins. But before entering married life as A-list actors, Angela and Courtney's love story started with a far cry from a meet-cute as students attending the prestigious Yale School of Drama. As we anticipate this year's Oscars, here's a look at an Academy Award-winner (Angela) and an Emmy winner's (Courtney) epic love story.
How Angela Bassett and Courtney B. Vance Met
Angela and Courtney were first introduced to one another at the Yale School of Drama in New Haven, Connecticut, during the 1980s. But it appears their initial meeting at grad school was not a love at first sight affair. In 2018, the 9-1-1 star told People's Jess Cagle that at the time, her future husband had a "beautiful, beautiful" girlfriend, who was also their classmate. Two years earlier, during an interview on The Wendy Williams Show, Courtney stated Angela was also involved with another person when they first crossed paths.
That said, both had completely different memories of their first meeting, with Angela revealing to Oprah Winfrey in 2007 that she "most definitely" remembered "tall, dark, skinny, alluring " Courtney. Meanwhile, Courtney told Oprah that same year that he didn't remember Angela at all.
Their First Date
After graduating with their MFA degrees in tow, Courtney and Angela took on Broadway and Hollywood, respectively. About 14 years after they met, they had a reunion in Los Angeles, thus beginning their romance. "I was single. He was single. And I had such an appreciation for him over those years — of his consistency, how he treated other people, of what a supporter he is, what a connector of people he is, how passionate he is," Angela said of the Lovecraft Country actor to People.
Angela may have remembered Courtney very well from their initial encounter at Yale, but as further detailed in her sit-down interview with Oprah, their first date was a bust. "Dare I say, it wasn't memorable. He just seemed like a really, really nice guy, which translated to kind of boring. That was it. Wasn't going to give him a second thought," she said. However, their second date — golfing — was an improvement, according to Courtney. He shared, "We had a great time. I said, 'I like her.' Something was happening."
Their Wedding and Children
Angela and Courtney got married in 1997 and had their first children, twins Bronwyn and Slater, in 2006. Angela admitted on an episode of The Late Late Show with James Corden in April 2021 that despite her use of guilt trips, she's the "good cop" to her now 15-year-old children. Meanwhile, Courtney is both "pretty calm" and "consistent." She added, "I tell them, 'I am your good time, so you don't wanna mess with me.'"
Their Friends: A Love Story Book
In 2007, Angela and Courtney were so solid in their marriage and family that they co-wrote a book about their relationship. Titled Friends: A Love Story, the wedded couple discusses their decades-long connection. They both also revealed the difficulties they faced in becoming parents. As described by People in 2006, Angela wrote that she "had faith, so I never really got discouraged" and that she and Courtney eventually decided on having Bronwyn and Slater through surrogacy.
If you're wondering how to get and sustain a relationship like Angela and Courtney's, well, the key has a lot to do with finding someone with like-minded interests. Angela thoughtfully explained that, for them, it was all about marrying the "right person." She added, "Make sure you're both looking in the same direction, basically. You're not clones of each other, but you have similar or closest similar belief systems and, you know, pleasant personalities."