Annie Murphy Experienced Depression After Schitt's Creek & It Worried Her Mom
"My mom was like, 'You're crying 12 times a day hysterically ... where your teeth are chattering. That's not normal.'"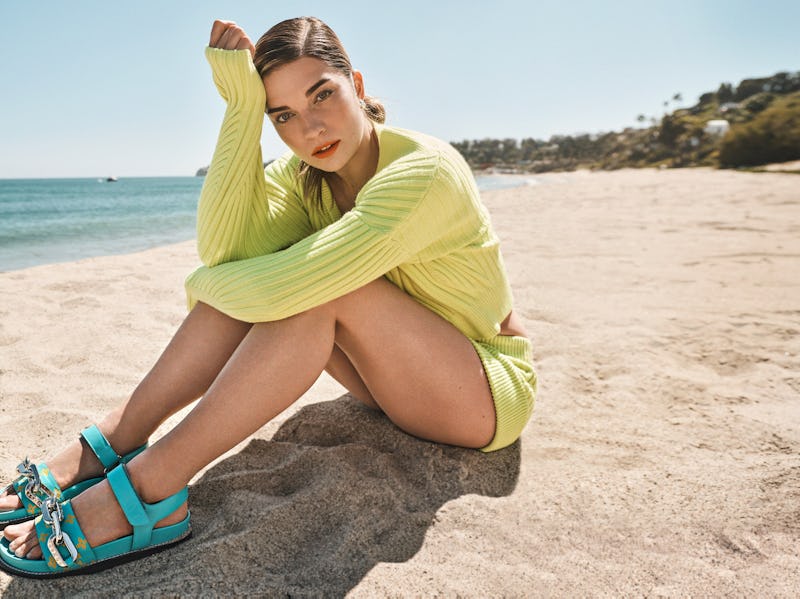 Beau Grealy for TZR/Bustle Digital Group
Annie Murphy will always be "A Little Bit Alexis," but when her breakout show ended, it took her a little while to regain that Alexis Rose spark offscreen. The 34-year-old TV star experienced depression after Schitt's Creek, she revealed to The Zoe Report in a June 29 cover story titled "The Killer Charm Of Annie Murphy." As the show's final season aired in 2020, Murphy said she felt so sad to the point of nearly not being able to perform on the Schitt's Creek cast's live tour, where co-star Noah Reid helped her put on a "brave face" because he's simply the best.
When Murphy went home to Canada before the COVID-19 pandemic, her family checked in on her well-being. "My mom was like, 'You're crying 12 times a day hysterically, to the point where your teeth are chattering. That's not normal,'" she said. Afterward, a therapist diagnosed her with depression. "I was like, 'Damn it, I'm depressed,'" she recalled. "Ugh." It was actually a blessing in disguise that production on her new show Kevin Can F**k Himself was postponed due to the pandemic. "As excited as I was to get this huge part, I do not think if I had gone to work when I was supposed to go to work, I would have been able to do my job," she admitted.
Murphy attributed antidepressants and regular therapy sessions to getting her out of her funk before she started working on her first post-Schitt's Creek project. "I do not cry every single day on the floor 12 times," she told TZR. "I am able to focus on other things in my life ... You don't have to be on drugs for the whole time, but they truly, truly saved my life in the sense that I was not a functional human being and I was able to be a functional human being."
Murphy said she tells this story not for sympathy, but to show that even the brightest and seemingly happiest stars may struggle in private. "A lot of people are going to think that I sound like I'm playing a tiny violin for myself," she said. "'Oh, you're rich and famous. Why the f*ck are you sad? You have nothing to be sad about.' But I'm not going to post photos of me covered in my own snot, lying on the floor, unable to get up. I don't want people to have to see that."
She also says working on Kevin Can F**k Himself made her pour herself into her work and empower her to do better in all aspects of her life. On AMC's new dark comedy, Murphy plays Allison McRoberts, a sitcom housewife who's fed up with her husband Kevin's sexist nonsense and takes matters into her own hands, with the eventual goal of killing him. "Not to toot my own horn because I f*cking hate that, but I do feel a sense of resilience, both from Allison but also being in a real messy mental state going into it," she said.
Another thing that may have contributed to her recovery is continuing to pay tribute to Schitt's Creek, as displayed when Murphy told the story of how she made a fan's day by reusing her iconic catchphrase (which was actually only said twice in the show) when he went up to her at a park. "I was like, 'What's your name?' And he was like, 'Stephen'," she remembered. "And I was like, 'Ewwwwwww, Ste-phen.' And he could not believe what had just happened to him."
For more on Annie Murphy's journey, read the full "The Killer Charm Of Annie Murphy" cover story on TZR, written by author Brennan Carley and shot by photographer Beau Grealy.
Top Image Credits: David Koma clothing, AGMES earrings, Louis Vuitton shoes