Alana & Chris Hung Out Before BiP — With Jessenia
They all took a group trip to San Diego.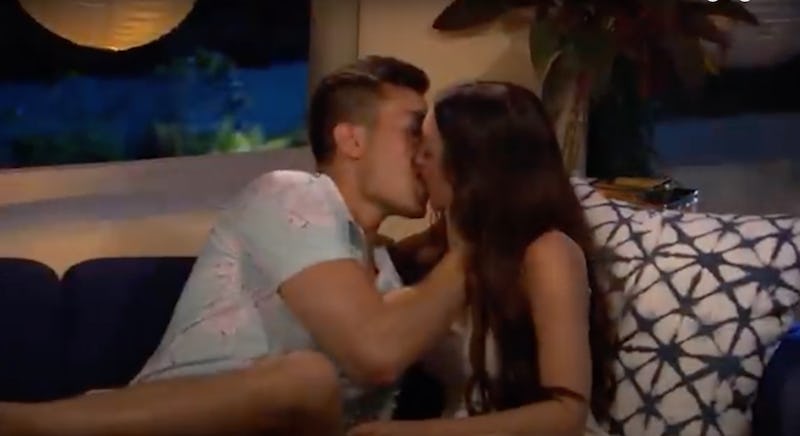 ABC
Despite barely lasting an episode on Clare Crawley's season of The Bachelorette, Chris Conran has managed to create quite the lasting impression on Bachelor in Paradise — and not for the better.
After wooing Jessenia Cruz away from Ivan Hall upon his arrival on the beach, Chris quickly coupled up with Alana Milne from Matt James' season of The Bachelor in the Sept. 7 episode — ostensibly leaving Jessenia in the dust. This led to a lot of drama among the rest of the cast, who confronted Alana and Chris and accused them of dating before the show. Following the backlash, both Chris and Alana decided to leave the beach — with Alana making the decision not even 24 hours after getting there.
So was it all worth it? Are they still together after the show? It seems unlikely. The two do still follow each other on Instagram, indicating that there at least isn't bad blood between them, but they ended things pretty awkwardly. Alana told Chris she couldn't commit to leaving and pursuing a relationship with him so early on, and upon his exit, Chris accidentally put his stuff in Alana's car, leading her to say frustratedly, "This is my car."
What is clear is that the two did hang out before filming Paradise — though, from their conversations on the show, it definitely doesn't seem like they were as serious as Brendan and Pieper were heading in. Ironically, it's Jessenia's Instagram that provides the most context about Chris and Alana's pre-show relationship. In May, she posted a photo dump of a trip to San Diego with multiple members of Bachelor Nation. Two of those alums were Chris and Alana.
It's unclear how strong Chris' connection was with Jessenia or Alana before the show, but it seems like he was interested in both of them. After the season began airing, Jessenia edited the caption of her San Diego post to address speculation that she was dating Chris prior to filming. "This post originally had a cute caption.. But with people coming to revisit it to then accuse me of having a relationship with Chris, it's increasingly disappointing. Some viewers will always prefer gossip over the truth," she wrote. "Katie is our mutual friend, and this San Diego trip was to celebrate her return from filming her season. Chris & I had 0 relationship before Paradise or this trip. I understand this show has a history of contestants attempting to have alliances or are already in relationships prior to coming, but don't mix me in with that bunch... I like being on the shows good side, thank you!"
Alana, on the other hand, hasn't weighed in.