Everything Brendan & Pieper Have Said About Their BiP Drama
The two have issued apologies.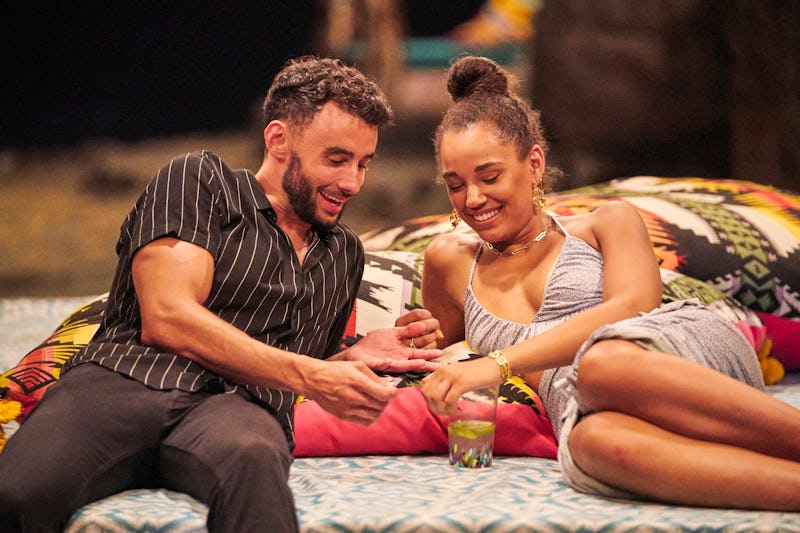 ABC/Craig Sjodin
Brendan Morais and Pieper James' Bachelor in Paradise drama may have been for nothing because, according to multiple sources, they're not even together anymore. Earlier this month, E! News and Us Weekly reported that the controversial couple officially called it quits after facing weeks of backlash for allegedly going on the show after they already started dating.
Since the start of Season 7, rumors had been swirling that Brendan and Pieper were romantically involved before the show. However, Brendan downplayed the seriousness of their relationship to Natasha Parker, who he formed a connection with upon arriving in Paradise. The truth ultimately came out when Pieper arrived and they alluded to planning on reuniting in Paradise. Brendan even hinted that he had to "play the game" until Pieper got there, and Pieper referred to him as her boyfriend.
This incensed both the rest of cast and viewers at home, who decried Brendan and Pieper on social media. Initially, the two were pretty flippant about their behavior. Just before Pieper's arrival aired, Brendan shared a now-deleted photo of him in a pool on Instagram. "Here for the wrong reasons," he captioned the post. Pieper, for her part, shared a picture of her on a cobbled street with the caption, "All's fair in love and war" (but later removed the caption).
In addition to the pair's questionable Instagram activity, Pieper uploaded a since-deleted TikTok video of herself lip-syncing to Lizzo's "Rumors" with the message, "walking into Paradise like…" She also shared a lengthy statement to her Instagram stories reminding her followers that "reality TV isn't real" and "an edited, produced, and cut down show isn't going to show you every single thing said and done."
Since then, the two have issued apologies for their behavior. "After taking time to begin to process the events that unfolded over the past few days, I have realized I was wrong on so many different levels," Brendan wrote on his Instagram stories. "First of all, I removed my last post from my feed. I posted it before the episode aired and had no idea the magnitude of hurt I caused. My approach to many things in life is sarcasm. In this instance with regard to my post, I was completely insensitive."
Brendan then issued an apology to Natasha directly. "I hurt you. I am deeply sorry for doing so," he wrote. "I understand that the damage is already done and all I can do going forward is acknowledge the error of my ways. For those of you that felt my actions triggered certain feelings and emotions I am truly sorry."
Pieper, meanwhile, told Us Weekly that she with friends with Natasha and spoke to her about her relationship with Brendan prior to the show. "I didn't go into Paradise with the intention of hurting anyone, nor would I ever want to be the reason why someone had a bad experience," she said. "I went in excited to see a guy that I had connected with and liked before the show started filming, and was looking forward to seeing if that connection would grow into something more."
However, in another interview with Us Weekly, Pieper claimed that she had "no idea" Brendan would be in Paradise and that they had no pre-existing plan to meet up there, adding that she has "no regrets" about the situation. "What happened, happened, and I'll deal with whatever happens next," she said.
During the Sept. 14 episode — in which she and Brendan decided to leave Paradise — Pieper issued one final point of clarification. "Amidst everything that's been happening on and off screen, Brendan and I were not in an exclusive relationship in any capacity before filming," she wrote on her Instagram stories.
Brendan and Pieper were spotted out together multiple times both before and after filming Paradise, but their recent split isn't much of a surprise considering their recent comments. Brendan referred to having "misunderstandings" heading into Paradise, while Pieper told Us Weekly, "I'm not an extension of Brendan and his actions, and I don't condone dishonest behavior. I got caught up in the moment while I was with Brendan in Paradise, and while I don't fully blame editing, it doesn't always tell the whole story."
In a Sept. 9 interview, Pieper gave Us Weekly another update. "We're working on things," she told the publication. "This obviously isn't something that's super healthy for a relationship either, so it kind of is what it is. Every day, [we're] taking it day by day." She also dished further on the state of her bond with Brendan prior to Paradise, noting that she "had no idea" what she was walking into. "Obviously, [if] you like somebody, you hope that they're waiting for you, but you don't know the circumstances when you walk into Paradise. So, whatever he had to do beforehand, that had nothing to do with me. I didn't tell him to do anything, so that was kind of what it was."
In addition to not knowing Brendan would be in Paradise, Pieper told Us that she didn't know she'd be on the show until "a week" before she flew to Mexico. "It was a very quick turnaround," she detailed. "I was really following my heart, which is something that I'm not used to doing. That being a new territory for me was kind of what took the cake on everything."
Additional reporting by Jordyn Tilchen
This article was originally published on