Kelly & Andrew From Bling Empire Have Broken Up
The split comes several months after fans watched their fraught relationship play out onscreen.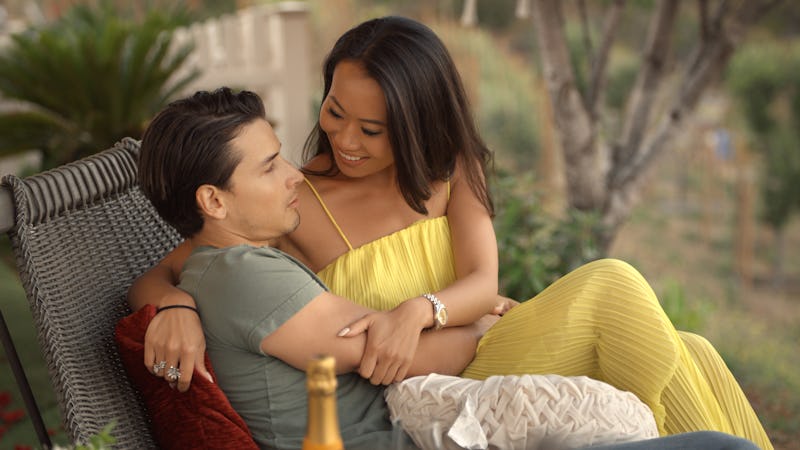 Netflix
Bling Empire stars Kelly Mi Li and Andrew Gray have broken up after five years together. The two announced the news on Instagram on March 9. "Over the past 5 and half years, Andrew and I have shared some incredible times together. I have a tremendous amount of respect and love for him and will always cherish the memories we made," Kelly wrote alongside a since-deleted photo of her and Andrew at the beach, per People. "However, we have made the difficult decision to officially separate at this point in our lives. We are both so grateful to have experienced a relationship that allowed us to grow and learn so much." She added that moving forward, "Andrew and I plan to continue working on becoming the best versions of ourselves individually."
Andrew confirmed the split on his own Instagram page as well. "I want to let you guys know that God is good and he has a plan for us all," he wrote. "I want to give a shout-out to all the people in my life who have done nothing but support me or reached out to me, championed me, championed Kelly, supported Kelly, who supported us in our relationship. I love you, Kelly. I love you, guys. You guys have been unconditional, just like we have to each other. And we're getting ourselves in a good place."
The breakup comes roughly two months after Bling Empire fans watched the two's fraught relationship play out on camera. Though they also broke up at one point in the show, the season ended with Kelly going to Andrew's place after a night of partying. Following the premiere, Kelly told Bustle that they were "working through [their] differences and continuing with therapy." She added that she was used to being in relationships that are "not short on drama," and that Bling Empire caught her and Andrew at a "very difficult and dark time" in their lives. The filming "magnified" their issues, she said, "because there were so many other people in our private life." Still, she said the show had a positive impact on her life, as "she was able to learn things about myself that probably would have taken a lot longer to discover."
Bling Empire set up Kelly and Andrew's volatile relationship from the start. In Episode 1, Kelly's friend Anna Shay invited them on a last-minute trip to Paris to celebrate Kelly's birthday. Things seemed to be going well until Andrew woke up and realized that Kelly let him sleep off the jet lag while she went shopping with Anna. He made his feelings known on an angry phone call to Kelly, which of course Anna and the viewers heard on speaker phone. "What the f*ck is going on? Your lack of effort drives me f*cking crazy," he said. He reprimanded Kelly for not letting him know that she was leaving, and yelled at the top of his lungs that he was "upset" and would never "treat you that way."
"I haven't figured out the exact best strategy to deal with Drew when he gets in these bad moods or episodes," Kelly admitted to the camera. "Unfortunately this is not the first time Drew's yelled at me or spoken to me this way."
Afterward, Andrew tearfully apologized, admitting that he overreacted and was "not happy with [his] actions." The two then attended couples therapy, where they decided it was best to take a break and separate their living spaces. They stayed apart for a while — and Kelly even went on a date with castmate Kevin Kreider — but it wasn't long before she and Andrew wound up in a messy maybe-casual, maybe-something-more relationship that many viewers called out as toxic.
Kelly pushed back on that framing. "At the end of the day, a relationship requires work like everything else in life," she told Bustle. "Everybody's into instant gratification, so a lot of time relationships don't last. People want to be there for the good times, but they don't want to be there for the bad times."
She contrasted Andrew to her ex-husband, who she said pretended he was happy but secretly harbored resentment towards her. "The top quality I really admire about Andrew is that he is very honest and truthful," she said. "So there's never any hiding. If he's angry, he's angry and if he's happy, he's happy."
She added that at the time, she did see small changes in Andrew's behavior, and that their focus was on "being the best versions of ourselves" and doing "a lot of self-care and self-healing."
Moving forward, it seems like they'll be doing that self-healing separately.
This article was originally published on