Are Dom & Georgia Still Together After Perfect Match?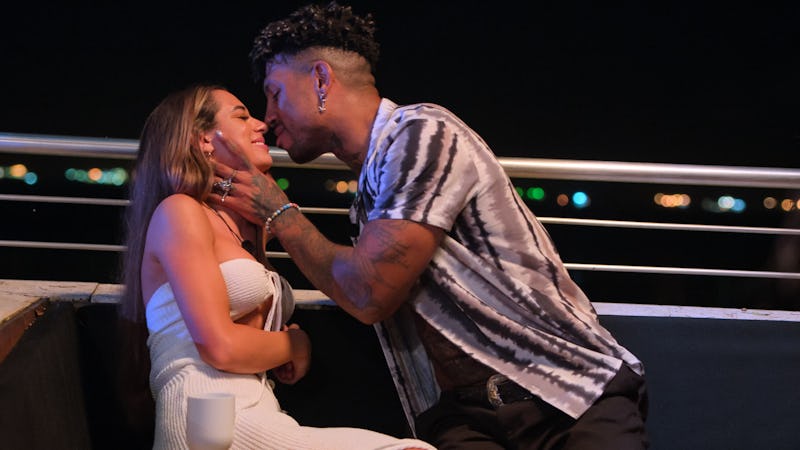 Netflix
Where Love Is Blind tends to be pretty serious about preventing post-production spoilers, the newest member of the Netflix dating family, Perfect Match, takes a more casual approach — making for an even more chaotic viewing experience. For example, contestant Francesca Farago has been in a serious, public relationship well before Perfect Match premiered on the streamer. So while her potential connections on the show are fun to watch, they're ultimately spoiled by social media.
But obviously, it's natural to wonder whether matches from the show make it to the real world. Spoilers for the Perfect Match finale ahead. During the Season 1 finale, which dropped on Feb. 28, Dom Gabriel and Georgia Hassarati were chosen as the show's winning couple and given an all-expenses-paid getaway as a prize. The idea, host Nick Lachey told them, is "to strengthen your connection and jump-start your life together" with a "pre-honeymoon."
So, did it work? Are Dom and Georgia together after Perfect Match?
Apparently, the pair didn't parlay their connection into a real honeymoon. They still follow each other on Instagram, which is often a handy clue for analyzing reality couples — but in this case, there's no sleuthing to be done. Georgia has been in a public relationship with Too Hot to Handle alum Harry Jowsey for a while now. Incidentally, Harry used to date Francesca! So the fact that Georgia and Harry are together is a full-circle moment for Netflix dating shows.
Georgia and Harry even seemed to take a Hawaiian holiday together while Perfect Match was airing.
In an August 2022 interview with Page Six, Harry said he and Georgia had been official for four months — putting their relationship start date around April. This would have been shortly after Perfect Match's reported filming window.
Harry told the outlet that distance was a challenge for the couple. "It's been very testing on our relationship because we don't communicate in the same frequency if that makes sense," he said. "Like, she needs a couple of days to cool off things, and I need to get through whatever the issue is like right away so it can stop being serious."
Harry and Georgia actually broke up for a time in November, he told The U.S. Sun. There didn't seem to be any hard feelings, though. "Georgia is such an incredible human being," he said. "She is one of the most amazing people I have ever met and I am beyond grateful we crossed paths."
As is often the case, those paths ultimately crossed again — and as of their most recent social media posts, the pair seem to be together.
So alas, Dom and Georgia didn't end up together — but Georgia is dating a fellow Netflix star, which seems to be a success story for the streamer anyway.