What Happened Between Francesca & Damian Before Perfect Match?
The Love Is Blind: After The Altar drama continues.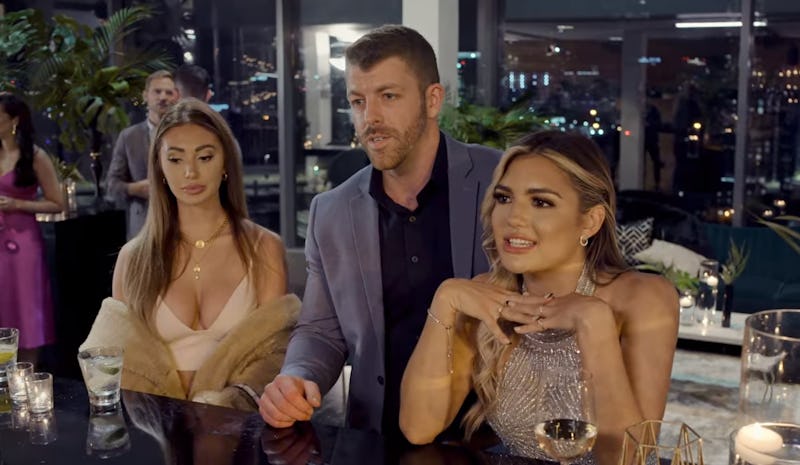 Netflix
"Messy" is the best way to describe Perfect Match, which brings together singles from Netflix reality series like Love Is Blind, Too Hot To Handle, The Mole, and The Circle. The contestants participate in challenges as pairs, and the winners are able to either play matchmaker or break up other couples in order to be the final couple left standing.
While some cast members have played the game more strategically, that's not the case for Too Hot To Handle's Francesca Farago, who immediately pairs herself with Love Is Blind's Damian Powers when she sees him appear on the board as a potential new contestant. That leaves her partner Dom Gabriel on the outs, as Francesca admits she has to go on a date with Damian before she's "100 percent in" with Dom.
But what happened between Francesca and Damian before Perfect Match? Though fans saw everything blow up on the After the Altar reunion, the drama between them started before even that.
To backtrack a little, viewers first met Damian on Love Is Blind Season 1, where he fell for Giannina Gibelli. After meeting outside the pods, the two got engaged and made plans to head to the altar. But their time together cast doubt in Damian's mind, and when Giannina said, "I do," Damian said, "I do not." Giannina tearfully ran from the venue but confirmed to Entertainment Weekly in March 2020 that the two got back together just a few hours after they filmed that scene.
But by August 2020, there were already rumors swirling that Damian had moved on with Francesca, who he was spotted with in Los Angeles. "Over the past week, I have been in L.A. with my attorney, Alex Ion, pursuing new projects and business ventures," he explained to Entertainment Tonight. "Francesca and I both share the same attorney. Alex arranged for both Francesca and I to meet with him for dinner at the Eveleigh in West Hollywood" along with some friends, he said.
He insisted that he and Francesca were "not dating or romantically involved." For her part, Giannina told Entertainment Tonight that she initially thought nothing of the photos. When Damian brought Francesca as his date to Love Is Blind: After the Altar in July 2021 despite still being with Giannina, the meeting between the women was awkward and tense. Giannina was left baffled after Damian said he wanted everyone to see he was "strong enough as a man" to bring Francesca to the party as just a friend.
"Basically, I knew she was in town, but I didn't know that they were planning on going as a date," Giannina said, adding that it made her "blood boil just thinking about that." A scene from Love Is Blind: After the Altar showed how Damian invited Francesca to the party; though he said he was bringing her as a friend, he also hinted at more, saying they could "see where the night goes."
Unsurprisingly, Giannina split with Damian after the reunion. But now that he and Francesca are about to reunite on Perfect Match, which will release its second batch of episodes on Feb. 21, it will be interesting to see how their connection could help or hinder them in the competition.