Gillian & Edgar Are At Least Cordial After Temptation Island
They claimed to have an "unbreakable bond."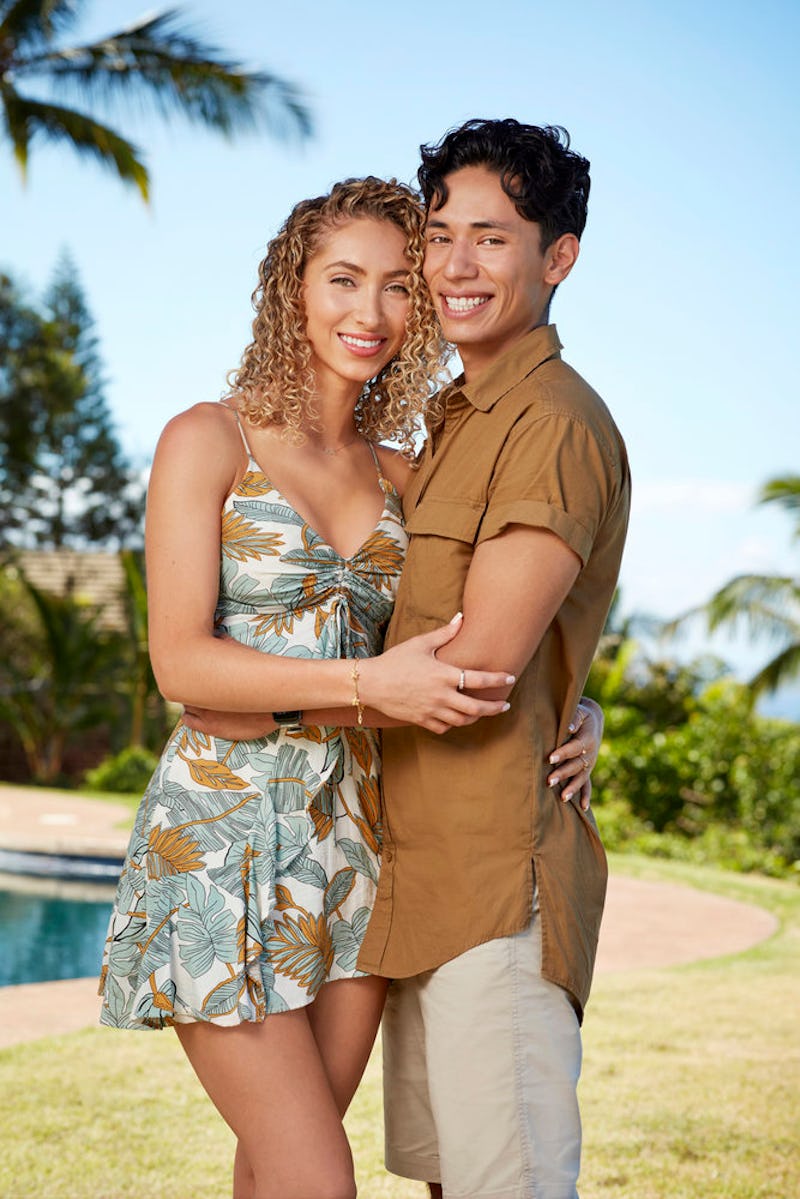 Patrick Ecclesine/USA Network
Going into Temptation Island Season 4, college sweethearts Gillian Lieberman and Edgar de Santiago had some reservations. Gillian, 21, predicted that the journey was "going to be very painful," they would both "make mistakes," and that she ultimately "might regret" signing them up for the show. Meanwhile, her 23-year-old boyfriend of four years added, "I will probably be sad at times." By the final bonfire, all of their predictions had come true when Gillian and Edgar broke up. The good news, however, is that the two seem to be on good terms after filming the USA Network reality dating series.
They certainly kept viewers in suspense, however. After meeting at Indiana's Ball State University, where they both earned bachelor of fine arts degrees in 2021 (acting for him, musical theater for her), Edgar swept Gillian off her feet, and "she instantly fell in love with his old-school charm," per their Temptation Island couples' bio. Once they both graduated, however, they were unsure if they were meant to be together outside the safety of their college bubble. Further complicating matters? They also haven't been able to "shake the uncertainty about their future," after facing "trust issues" with past cheating incidents.
It also appears that they had a long-distance relationship since graduating in May 2021. While Gillian relocated and immediately began working as a Keller Williams real estate agent in West Palm Beach, Florida, Edgar was employed as a customer experience specialist at Dr. Tavel Optical Group in Indiana until that September, per his LinkedIn. As of December 2021, he listed his most recent job as an actor and model with the Chicago-based Gray Talent Group. The distance likely put strain on their relationship, too, particularly given their existing trust issues.
Before beginning the social experiment, Edgar explained to host Mark L. Walberg that they'd decided their rule for each other is that "anything beyond a kiss isn't really necessary." He broke that rule, however, and not only did Edgar and Marissa, one of the island's singles, have sex, but Gillian — who'd formed her own connection with Tommy — also had to watch the footage at the women's bonfire afterward. "I'm like literally shaking," she said during the May 4 episode. "That is crazy. Oh my god, I can't breathe."
In the end, their relationship didn't survive. At the final bonfire, Edgar announced his decision to leave alone first, explaining that he has "a lot more growth to do" on his own. Through tears, Gillian admitted she felt "all the same things" and was "very, very grateful" for Edgar and also decided to leave alone. "I guess we'll talk when we talk," she told him after they hugged goodbye.
After Gillian tearfully departed in a waiting SUV, having decided not to attempt a long-distance post-show relationship with Tommy, a "conflicted" Edgar told Mark that he wanted to talk to Marissa. Once she joined them, he said he wanted to take things as slowly as possible, but asked her to leave the island with him. Marissa accepted, recently telling Distractify that she had "no regrets" about how things played out. "If I had the chance to do it again, 100% I would do it again and do it the same way," she said. "Everything that happens after was worth it. It was fun. And I'll cherish that forever."
Gillian, meanwhile said that she and Edgar have an "unbreakable bond" and "a lot of respect for one another." Another good sign that they stayed on good terms after filming wrapped in October 2021? Edgar's Instagram still features several photos with Gillian, even including some of them kissing. (The most recent one is from September 2020, though, when he thanked Gillian for "two years of sweet love.") Edgar also still follows both Gillian's personal and professional realtor accounts, and she follows him back.
At the reunion, Gillian took Edgar to task for his actions on the show, particularly for breaking their rule and sleeping with Marissa. Marissa, for her part, revealed that her relationship with Edgar fizzled shortly after they left the island together, with Edgar saying he needed time alone to process his breakup with Gillian.
This article was originally published on