This New Dating Show Is Basically 'The Bachelor,' But Times Eight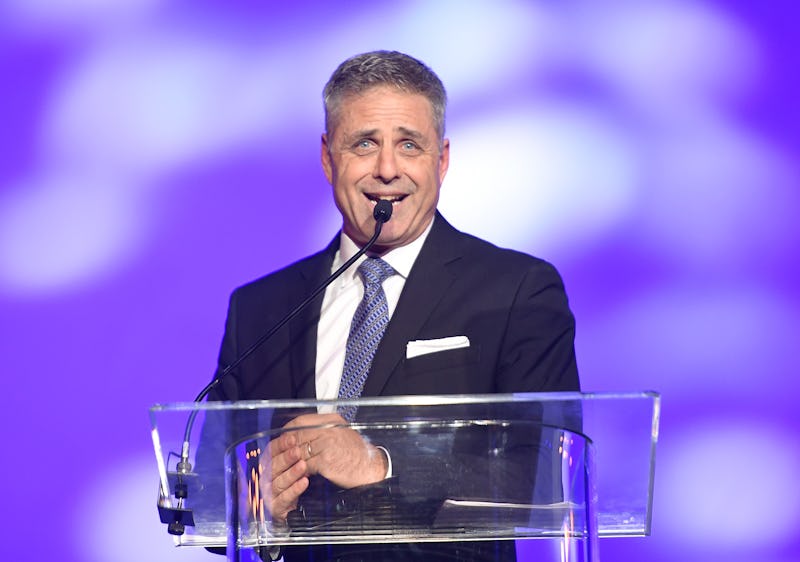 Matt Winkelmeyer/Getty Images Entertainment/Getty Images
With shows like The Bachelor, Keeping Up With the Kardashians, and Vanderpump Rules, there are plenty of ways to get your reality TV fix. But sometimes, you gotta turn to some old favorites. Enter Temptation Island, USA's revival of the 2001 reality series in which couples agree to live with a group of singles in order to test the strength of their relationships. During the original run, Temptation Island host Mark L. Walberg steered the couples through tears, tantrums, and true love. Now, he's back to host the brand new season, but those that didn't watch the show when it first aired might be wondering: um, who is Mark L. Walberg?
No, it's not that Mark Wahlberg. This Walberg has been hosting reality shows since 1991, beginning with Shop Til You Drop, a game show in which couples guessed the values of retail items in the hopes of winning a shopping spree. He also appeared on reality classics like Antiques Roadshow, Moment of Truth, and Joe Millionaire, but is probably most remembered as the one pulling the puppet strings of the lovelorn contestants on Temptation Island.
The original show ran for three seasons before it was canceled in 2003. In an interview with Vulture, Walberg admitted that when Temptation Island first started, they hadn't quite figured out all the details of how to make it work. "Temptation Island was an experiment," he began. "It wasn't even committed to being on the air; it was just cheaper to do the whole series than to do a pilot. So it was pretty free form."
The revival will follow the same format — tempting four couples with 24 new singles — but will change how the singles are portrayed. "We acknowledge their journey more," Walberg said in an interview with TV Guide. "It may have been the case before, but we sort of looked at them as tempters. Now we're really looking at the fact that these people are also at a crossroads. They are hoping to find love, and it's not so much about them trying to just break up a couple. It's also maybe about one of these people is better for them too. I like that it's a two-way street now.
As for Walberg, his role is pretty much the same, but his perspective is a bit different. "I was at a different place in my life back then than I am in now. That's interesting to me, being older than I was compared to their age," Walberg continued. "A lot [of my role] is the same, though... I say to them, 'Look, you chose to come here. But now that you are, let... me be an advocate for whatever you hope to find out of this."
Whether you watched the original Temptation Island or not, Walberg is confident that reality fans will find something to love in the new show. "If you're someone who watched the old show and are hoping that you get the same sort of thrill you had originally, I can promise you it's everything and more," he told TV Guide. "And if you've never seen the show before, imagine The Bachelor and The Bachelorette happening simultaneously — times eight. That's what is exactly going on here."
If that doesn't sound like a recipe for nail-bitingly good reality TV, then really, what does?