Ashley Banjo Hinted At A Potential Project With Prince Harry
"Do you know what? I've heard that Harry can bust a move."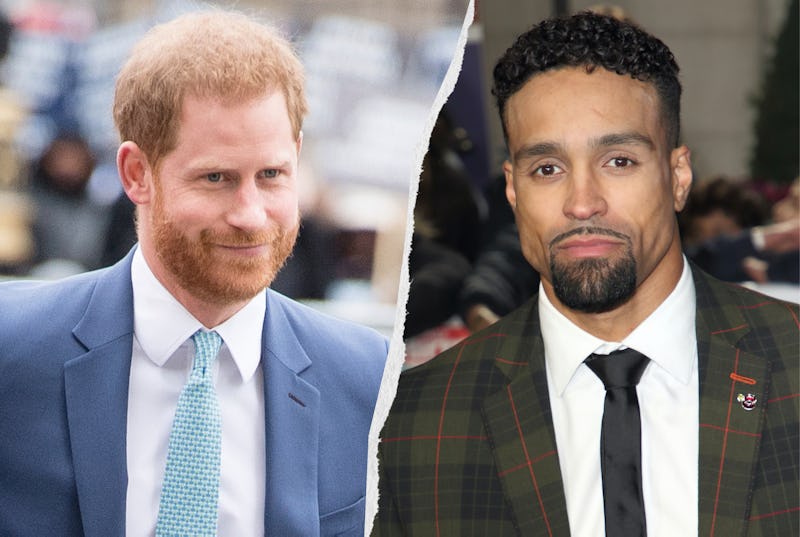 SOPA Images/LightRocket/Getty Images Samir Hussein/WireImage/Getty Images
Fresh from receiving a BAFTA award for Diversity's powerful Black Lives Matter dance performance on Britain's Got Talent, Ashley Banjo has hinted he might be working with Prince Harry on a new project, as they've got "loads of common ground."
Ashley Banjo and the dance troupe caught the attention of the Duke of Sussex when they performed a rousing routine on the ITV talent show in September 2020. The performance featured an artistic depiction of the coronavirus pandemic before exploring the murder of George Floyd and the Black Lives Matter movement, igniting 30,000 Ofcom complaints and racist trolling directed at the dancers.
Following the backlash, Prince Harry revealed he had a "good chat" with Ashley Banjo in October 2020, and publicly supported Diversity's "amazing display". It appears the pair have had more than one conversation since the controversy and Banjo joked the pair have since become "buddies" in the interview.
"There's been a couple of conversations," revealed Ashley Banjo in an interview with TOWIE's Bobby Norris on Fubar Radio this week (June 10). When asked by Norris if he could see himself working with Prince Harry in the future Banjo replied: "Yeah I think so. I think the paths might cross at some point, I'm not sure how. I'm hoping our paths cross. That's all I'm gonna say."
"We've got loads of like loads of common ground, things that we just both relate on," added Banjo."At the time the conversation was really needed. It was just one of many conversations I had that was like, got me through that sort of like really deep, like dark period," he added.
"You feel like when you're on socials that like so many people at you," shared the dancer.
The performer and Dancing On Ice judge explained how Prince Harry related to the intense media scrutiny he was facing at the time.
"So every single message of positivity with people supporting made the difference between me thinking that the whole country was against Diversity to thinking that there was a majority of support," he went on to share.
"That was basically down to the phone calls and the messages and the comments from the people that were there. So I'm forever grateful for them."
Ashley Banjo has yet to reveal what a project with Prince Harry could look like, instead saying he'd keep things "under wraps" for now but here's hoping fans may see Prince Harry dancing.
"Do you know what? I've heard that Harry can bust a move, so maybe," laughed Banjo in the interview "You just know he's a party boy. You know he can get down."