Tamra, Shannon, & Vicki Gave Happy "Tres Amigas" Updates After Their "Nasty" Feud
They whoop it up again in RHOC Season 17.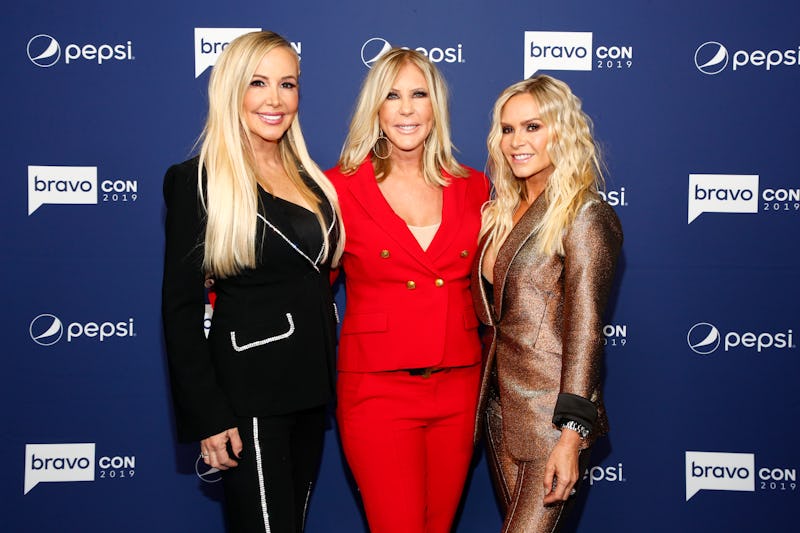 Bravo/NBCUniversal/Getty Images
When Tamra Judge returned to The Real Housewives of Orange County Season 17, she and Shannon Storms Beador hadn't really spoken in over two years. Though the Bravo series has never had a shortage of feuding Housewives, the estrangement was particularly unexpected, given that they were best friends for six years and once part of the tight-knit "Tres Amigas," along with OG Vicki Gunvalson. As the RHOC Season 17 premiere recapped, the women have navigated everything together, from a baptism and divorce to, yes, even administering an enema. While the women finally came face-to-face by the first episode's end, previews for the season tease that they don't completely resolve their feud right away.
Fans won't have to wait for a reunion to find out if Tamra, Shannon, and Vicki repaired their friendship, though. After Tamra shared several photos from a December 2022 "girls night out" with the rest of the Tres Amigas in Newport Beach, she and Shannon previewed RHOC Season 17 in a joint Instagram Live Q&A in April 2023. Admitting that things turn "downright nasty" as they air out their friendship issues on camera, Shannon said she was glad to get the opportunity to patch things up — even if they had the "un-smoothest" reconciliation. As the Season 17 trailer already showed, Vicki also makes a cameo for a long-awaited Tres Amigas onscreen reunion.
"There's just something about it. When the three of us get together, it's just an instant silly crazy," Shannon added on Instagram. "We really have so much fun together. What I love about our friendship is that it's genuine."
During a post-premiere Watch What Happens Live with Andy Cohen appearance on June 7, Tamra also weighed in on Shannon's breakup from John Janssen, given that they were all out together in April. Revealing that they "seemed very in love" while filming RHOC late last year, Tamra said that Shannon did not tell her "things were bad" prior to the January split. "We have a moment that comes up where we sit down in her backyard and she tells me a few things," she added, hinting that their relationship improves this season. "But I had no idea that he was gonna dump her."
As for what happened between the Tres Amigas in the first place, all seem to be in agreement that the falling out occurred when Bravo fired Vicki and Tamra after RHOC Season 14. In the aftermath of their 2019 departures, Peacock's The Real Housewives Ultimate Girls Trip: Ex-Wives Club cast members said they felt Shannon abandoned them, and the onetime inseparable trio's friendship ended as abruptly as their time on the reality series did. After trading barbs in the press with Shannon for years, the duo gave a hopeful friendship status update while promoting RHUGT in June 2022.
"We were on a three-way text, Shannon, Tamra, and I, talking about getting together," Vicki told Entertainment Tonight at the time. "I Facetimed with Shannon the other night. ... She told me she loves me, she misses me, she needs me back on the show... blah, blah, blah. It was great, and then she called me afterward. She goes, 'I really love you,' when she got home. I said, 'OK, I love you, too, but where's the last two years been? Because I wasn't on the show you didn't love me?' She goes, 'I did...'"
Tamra, for her part, re-followed Shannon on Instagram around the same time, sharing that the "Tres Amigas" also communicated via group text on Mother's Day 2022. She ultimately credits her sticking up for her ex-castmate during RHOC Season 16 on her Two Ts in a Pod podcast as opening the door for a possible reconciliation earlier this year. While admitting that they still have "a lot to talk about," the CUT Fitness founder added to ET, "Most of all, our feelings got hurt. It's a hard place to be, where you get fired from a show that you've been on for so long ... and then have one of your good friends not reach out to you."
Prior to their breakthrough, Shannon told Access Hollywood in November 2021 that she didn't want Vicki or Tamra to return to RHOC amid their ongoing feud, however. "[Tamra] was my best friend for six years," she explained of the "sad" falling out. "After she left the show, she's been out there in the press quite often, saying things about me that are untrue. So, I've chosen to not engage and not address it." After catching wind of Shannon's comments, Tamra responded in a since-deleted November tweet, writing, "STFU you victim-liar! Not engaging is 'no comment.'"
The same month, Page Six also captured an Instagram comment in which Tamra reiterated that all she's ever said is that Shannon stopped talking to her shortly after she and Vicki were let go and "how bad it hurt" her when she "needed her most." She continued, "I was always there for you. IF THE TRUTH HURTS SO BE IT! You s*** on me! That's why you can't keep friends."
Meanwhile, Shannon revealed on Watch What Happens Live in March 2022 that she and Vicki had run into each other at a restaurant and exchanged brief pleasantries. Afterward, Vicki reportedly said on a podcast that she considered them to be reconciled. Though Shannon didn't exactly seem to be on the same page, she added that it was "sad all around" because she "had a really fun, great friendship" with the "Tres Amigas."
Now, fans can look forward to them reuniting to "whoop it up" together again on RHOC.
This article was originally published on