Gwyneth Paltrow Says She's "Not Good Friends" With Taylor Swift Amid Ski Crash Trial
"I've taken my kids to one of her concerts before but we don't talk very often," the actor said.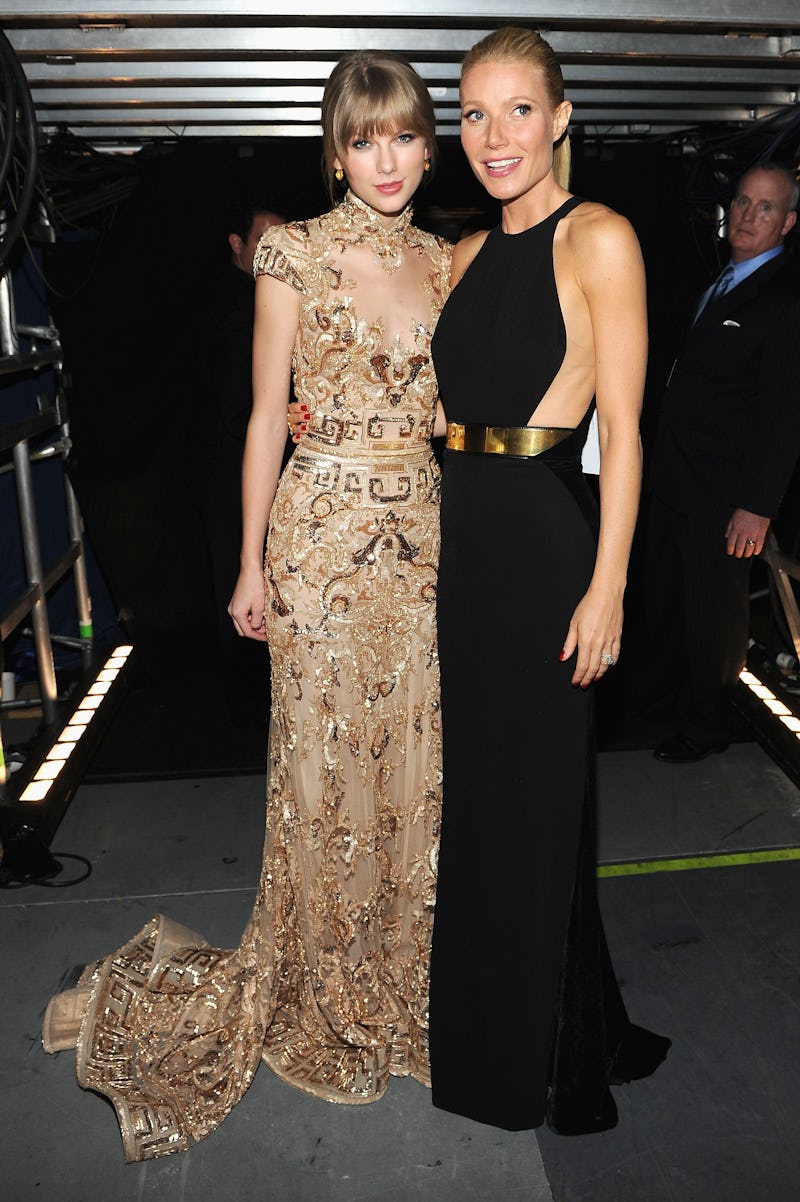 Larry Busacca/Getty Images Entertainment/Getty Images
It's plausible Taylor Swift was asking herself, "Now why am I in it?," this past weekend. Swift was unexpectedly mentioned in Gwyneth Paltrow's ski crash trial on March 24, when the plaintiff's attorney Kristin VanOrman asked if she was friends with the 12-time Grammy winner. "I would not say we are good friends," the Goop founder responded. "We are friendly; I've taken my kids to one of her concerts before but we don't talk very often."
VanOrman is representing retired ophthalmologist Terry Sanderson, who is suing Paltrow for $300,000 in damages over a skiing accident that took place in February 2016, alleging that the actor ran into him from behind and left the scene. In his lawsuit, Sanderson claimed that Paltrow's hit-and-run caused him to suffer a brain injury, broken ribs, and "a loss of enjoyment of life."
So what exactly does that have to do with Swift? The answer lies in Paltrow's response to the lawsuit. She countersued Sanderson for just one dollar in damages, like how Swift successfully countersued former radio DJ David Mueller over sexual assault allegations and received one symbolic dollar. VanOrman questioned Paltrow over the similarities in their trials, asking if she were aware of Swift's case before countersuing. "I was not aware at that time," she responded.
After asking about their friendship status, VanOrman hilariously asked, "You've never given Ms. Swift personal, intimate gifts for Christmas?" She was seemingly referring to a 2021 Goop holiday video in which Paltrow is seen preparing presents for various celebrities, slipping a vibrator into Swift's gift bag. The bit was clearly for a humorous gag, but before Paltrow could give an equally entertaining answer, the judge halted the line of questioning.
Of course, this didn't stop Twitter from laughing about Swift's mention in the trial, creating some hilarious memes while also pointing out the stark difference between Paltrow and Swift's cases.
While there's no proof that Paltrow and Swift are indeed "good friends," they've actually spent more time over the years than her court statement would make you believe, posing for photos together at multiple events. The singer was seen visiting Paltrow's London home in 2013 and reportedly danced with her at a 2016 birthday party. Paltrow even called Swift her "lil bud" during an Instagram Story Q&A in May 2022, sharing a photo of them from the 2020 Golden Globes. "@taylorswift is my lil bud for years but we keep it on the dl," she wrote, complete with a shushing emoji.
Paltrow did indeed take her son Moses to Swift's London concert in 2015 and even gave her a sweet Instagram shoutout. "#taylorswift thanks for giving me and my little man our best date night ever," she wrote, captioning a photo of Swift with her arms around the mother-son duo. Swift has yet to comment on this case, but if her unclear friendship with Paltrow is any indication, she may be rooting for her to get her own symbolic dollar.