Gwyneth Paltrow's Ski Crash Trial, Explained
The actor had to answer questions about her ties to Taylor Swift during her testimony.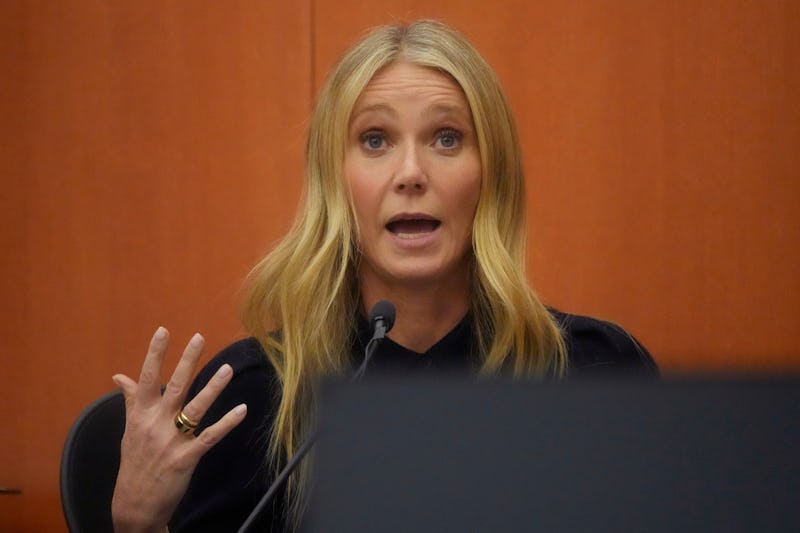 Pool/Getty Images News/Getty Images
Every once in a while, a high-profile trial comes around that celebrity watchers and true-crime enthusiasts alike can't look away from. In 2022, it was the controversial libel lawsuit involving exes Johnny Depp and Amber Heard. Now, it's a civil suit centering on a 2016 ski accident in which Gwyneth Paltrow and a then-69-year-old retired ophthalmologist named Terry Sanderson collided. The two have differing accounts of what happened on the slopes in Deer Valley, Utah, that day, so it's up to a jury to decide who is at fault. Here's everything we know so far, from who's suing whom to how Taylor Swift's name got involved.
What Happened With Gwyneth Paltrow's 2016 Ski Crash?
The specifics of Paltrow and Sanderson's collision are at the center of the lawsuit, but there are some details that the two parties agree on: The accident took place on Feb. 26, 2016 on a beginner's trail called the Bandana Run, per court documents. Paltrow, then 43, was with a ski instructor named Eric Christiansen at the time, and both she and Christiansen interacted with Sanderson after the crash. Both also agree that the skier who was downhill from the other had the right of way — however, they each claim they were the one in that position.
Sanderson's lawyers say that Paltrow was "out of control" and skied into his back, per the New York Times. Meanwhile, the actor testified that he plowed into her from behind on Friday, March 24. "I was hit by Mr. Sanderson and he was at fault," she told the court. Each side has witnesses that will weigh in.
Who Is Suing Whom In Gwyneth Patrow's Ski Crash Lawsuit?
Sanderson was the one who first took legal action. Almost three years after the crash, on Jan. 29, 2019, he filed a lawsuit against Paltrow alleging that she crashed into him and left him "seriously injured," as ABC News reported at the time. He wanted $3.1 million in damages and also included Deer Valley Resort, Paltrow's ski instructor, and two other resort employees in the suit. He claimed that the collision knocked him out, caused a brain injury, and left him with "other serious injuries" such as four broken ribs. The suit further alleged that "neither Ms. Paltrow nor Deer Valley lodge personnel notified emergency responders about the injured Dr. Sanderson. They left him at the scene with serious brain injuries caused by Ms. Paltrow."
After Sanderson filed his suit, Paltrow's rep told ABC News it was "completely without merit." The Goop founder later countersued him, requesting a symbolic $1 in damages, plus attorney fees, per the Associated Press.
Sanderson amended his suit in 2022. He originally claimed he'd suffered emotional distress, but Third District Judge Kent Holmberg decided the evidence wasn't sufficient, according to Insider. Paltrow was left as the only defendant, and Sanderson is now seeking $300,000.
What Witnesses Are Testifying In Gwyneth Paltrow's Ski Crash Trial?
The trial began on Tuesday, March 21, and the first day saw its first witnesses taking the stand. Two doctors, Dr. Wendell Gibby and Dr. Samuel Goldstein, spoke about Sanderson's health before and after the accident, per NBC News. Other witnesses who have testified so far include Sanderson's ex-girlfriend, a friend he skied with on the day of the accident, his daughter, and Paltrow herself. Her children, Apple and Moses Martin, will testify later in the trial, the Salt Lake Tribune reports.
Of the witnesses, the only one who claims to have seen the accident was Sanderson's friend Craig Ramon. He testified on the first day of the trial and claimed that he was uphill from Sanderson when he heard a scream, looked, and saw "this skier slam into the back of Terry," per NBC News. Ramon also claimed that the instructor was "very hostile" to Sanderson and that Paltrow did not provide her name or check to see if help was needed before leaving.
What Did Gwyneth Paltrow Say In Her Testimony?
When it was Paltrow's turn to take the stand on Friday, March 24, she maintained her claim that it was Sanderson who caused the crash. She testified that she felt someone's body "press against" her back while "groaning and grunting in a disturbing way," per CBS News. Initially, she didn't realize what happened and briefly thought it was a "sexual assault" or a "practical joke," she said. Both fell over, she testified in footage available via CourtTV, and then she pushed away, feeling "very upset." She recalled moving further down the hill and confirmed that she had shouted, "You skied directly into my f*cking back," before apologizing in court for her "bad language." Sanderson mumbled, "Sorry, I'm sorry," she said.
Following the collision, Paltrow said that the ski instructor with her, Eric Christiansen, came over, and he was the one who checked in on Sanderson and helped him up. She recalled Christiansen saying he would leave her information and she should join her kids, then 9 and 11 years old, who were further down the run. Of Ramon's testimony, she said she didn't remember him joining the group after the accident and didn't believe "he saw what he thinks he saw," noting that he also said he was "40 feet away and colorblind."
Why Was Taylor Swift Brought In Gwyneth Paltrow's Testimony?
In one of the stranger moments of Paltrow's testimony, Sanderson's attorney Kristin VanOrman started asking her about her friendship with Taylor Swift. The tie-in is the $1 in damages that Paltrow is asking for, as it's what Swift once did in a countersuit against a former radio DJ. The actor said she didn't know about Swift's trial beforehand, and when asked, told VanOrman that they are not good friends, per the Independent.
"I would not say we are good friends," Paltrow said. "We are friendly; I've taken my kids to one of her concerts before but we don't talk very often."
What Has The Reaction Been To Gwyneth Paltrow's Ski Crash Trial?
The trial hasn't reached the same level of intense interest as Depp and Heard's 2022 court battle, but there are people who are following it closely. Numerous fans are following the real-life legal drama via the YouTube livestream, and die-hards have shared a lot of thoughts on Twitter.
When Will Gwyneth Paltrow's Ski Crash Trial End?
After starting on Tuesday, March 21, the trial ran for the rest of the work week. It is expected to finish during its second week, according to the Los Angeles Times.