All The Evidence Thomas May Have Left Temptation Island With Sophia
Things aren't looking good for him and Chelsea.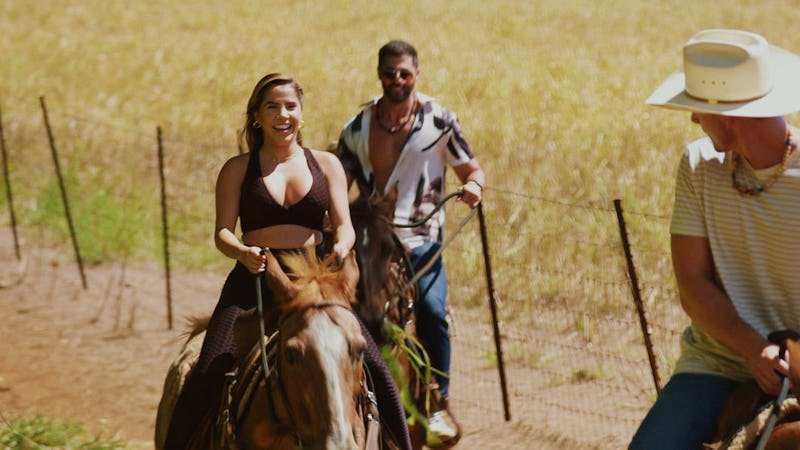 USA Network
With each passing week on Temptation Island, Thomas Gipson and girlfriend Chelsea Orcutt's relationship seems to be crumbling even further under the social experiment's weight. That, in part, has plenty to do with the undeniable connection between Thomas and Sophia Perez. As they continue to grow closer, fans wouldn't be wrong to wonder if Thomas and Sophia are together after Temptation Island. Let's examine the evidence.
First of all, Thomas has made clear that he still loves Chelsea. Heading into the USA network reality dating show, the West Hollywood-based couple had been dating for over a year. An actor, model, and investment trader, 37-year-old Thomas, who's "been commitment-phobic in the past," said marketing coordinator Chelsea, 30, is the first person with whom he's ever been in a "genuinely serious relationship." At the center of their issues: Thomas' "natural charm and flirtatious nature" prompts Chelsea's "jealousy and possessiveness [to go] through the roof." While on Temptation Island, however, Thomas had hoped to "put Chelsea's fears of infidelity to rest."
Enter Sophia, a self-described "feisty Latina" who arrived to "spice up" the men's love lives. She and Thomas quickly hit it off, and he even admitted that the Miami-based Cuban American makeup artist is exactly his type. Though the pair has yet to actually hook up on the show, Chelsea was less than pleased to see footage of her boyfriend happily rubbing a mud mask on Sophia's butt. Despite her hurt, Chelsea has also taken full advantage of her time on the island with dentist Blake Eyres. The difference? Chelsea and Blake actually made out — more than once, while Thomas and Sophia have yet to move past heavy flirtation.
Ultimately, his girlfriend's "cheating" seemed to drive Thomas and Sophia even closer. Although a shattered Thomas reiterated his love for and commitment to Chelsea in his "message in a box," it was Sophia who helped bring him out of his funk. After all, she was fresh out of a relationship herself. Once Thomas finds out just how far Chelsea and Blake have gone physically, their relationship is sure to intensify, too.
As of now, it remains unclear where things stand between the four, though social media has offered some small clues. Thomas and Chelsea do still follow each other on Instagram and occasionally like each other's posts, so, at the very least, they seem to be on friendly terms. On the flip side, however, they don't have any photos of each other on their respective pages, which isn't a great sign for their relationship status.
Meanwhile, Thomas and Sophia have also interacted on social media multiple times since filming Temptation Island. Most recently, after Sophia captioned a March 10 photo of herself, "No bad energy," Thomas commented, "positive vibes only," along with a couple emojis. In turn, Sophia replied to him, "And that's on PERIODTTT." Earlier, Sophia had also commented on one of Thomas' posts with flirty flame emojis of her own, which he also responded to.
As is also the case with Thomas and Chelsea, of course, these things could be interpreted several ways. So fans will have to keep watching to see what happens at the final bonfire.