Tayshia & Zac's Relationship Timeline Has Come To An End
The Bachelor Nation stars called off their engagement after running a marathon together.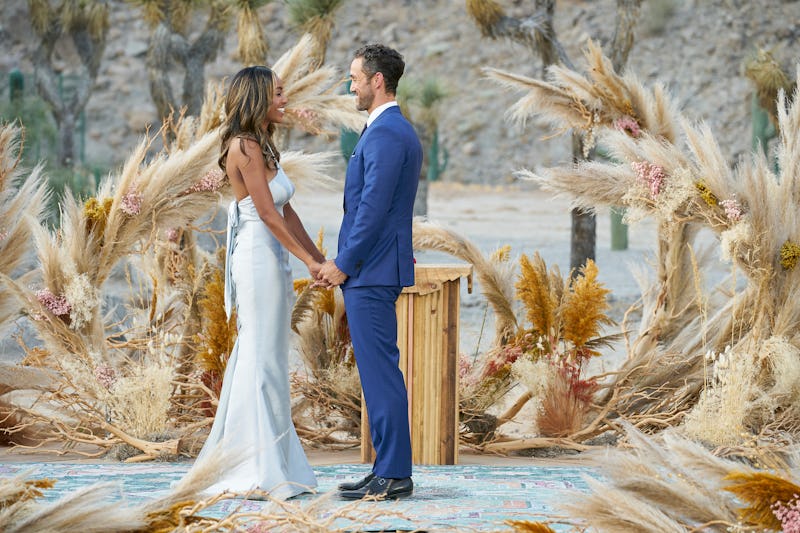 ABC/Craig Sjodin
Tayshia Adams' season of The Bachelorette was different than any other, right up to the final few moments. Instead of an After the Final Rose special or any kind of update segment, the finale ended with her engagement to Zac Clark. Though it took a while for fans to get relationship updates from the couple on social media, the two have since mastered the art of online PDA, writing long tributes to each other and even celebrating anniversaries of cute moments like the first time they met. Recently, however, they've been less active than usual, barely posting with or about each other, which led some fans to wonder whether Zac and Tayshia are still together after The Bachelorette. And it seems fans' instincts were right because Zac and Tayshia called off their engagement on Nov. 22, as reported by People.
Not much is known about what went wrong in their relationship at the moment, but joint Instagram posts will surely follow now that Tayshia's rep has confirmed they "are no longer a couple." While Bachelor Nation awaits more details, here's everything that led up to the split, from their sweet finale moment to her ditching the ring for recent appearances.
"All the reasons I fell in love with her on the show remain true today, just in our daily life," Zac previously said of his then-fiancée. Still, that didn't mean the former couple was ready to rush down the aisle any time soon: "We're just going with the flow at the moment. We're just going to date each other, how about that?" Tayshia said. And while Zac admitted that he does want a big wedding eventually, he was more than happy to take it slow. "I want to date you," he told Tayshia. "I want to take you out, and do all of those things."
They echoed those sentiments during an appearance on the Bachelor Happy Hour podcast the morning after the finale in December 2020. "I think it comes back to what we talked about early on: dating and getting to know each other," Zac explained. "[We will] start spending extended periods of time with each other. You're learning to live with another human being." Tayshia added, "All the big picture things, all the conversations that people have down the road, we've already taken care of a lot of that. Our communication is phenomenal."
During both interviews, Zac and Tayshia talked about the importance of getting to know each other's family and friends, and it seemed like they had already gotten a head start. After the finale on Dec. 22, Tayshia posted a series of Instagram stories with Zac from their watch party with her family. "2021, we ready for you baby," she captioned a video of them dancing and showing off her ring while her younger brother laughed. Zac then reposted the video on his own story, adding, "LOVE YOU." Tayshia's sister Dominque shared a photo with the happy couple on her account, writing that "they lived happily ever after..."
Tayshia and Zac weren't just spending time with her family; during their Good Morning America interview, the former Bachelorette revealed that they were "spending Christmas in New York" with Zac's loved ones as they learn to navigate their new, bicoastal relationship. "I'll have my place here [in Los Angeles], but I'm looking forward to spending some time in New York with him and getting used to being bicoastal."
Ahead of their split, it seemed Tayshia and Zac's love could be long-lasting. As the finale was airing, Bachelor blogger Reality Steve confirmed on Twitter that Zac was Tayshia's final choice and that they were reportedly still together. "Took me a while, and I assumed it was the case as I wrote today, but I can confirm now that Tayshia and Zac get engaged in finale and are still engaged today," he wrote on Dec. 22.
In the weeks leading up to the finale, Tayshia dropped plenty of hints about her relationship status on social media and in multiple interviews. On Dec. 2, she was spotted wearing a diamond ring on her Instagram story, which looked remarkably similar to the emerald-cut engagement ring that Zac proposed with. A few days later, Tayshia described Zac as "future husband material" during an appearance on The Ellen DeGeneres Show before teasing that she was "really blessed" and that she was a "happy girl" following her season of the reality franchise.
That's no surprise considering their romantic engagement in the final moments of the season, where they both began planning their future lives together. "I'm ready to start a life with you," Tayshia — who admitted she didn't think she'd been in "true love" before then — told Zac. "I love you Zac Clark, and I'll do absolutely everything to keep that huge smile on your face because you do everything to keep a huge smile on mine."
Zac spoke about his future with Tayshia during his proposal, when he promised that he would continue to choose her every day. "I can't venture another day — another moment — without you in my life," he said tearfully. "If you'll let me, I'm going to choose you right now. I'm going to choose you tomorrow morning, I'm going to choose you next week, next year, forever."
There were tons of changes since their season ended, including Tayshia's big move to New York to be with Zac regularly. Online, it seemed like the two were such a solid unit enjoying weekend strolls, celebrating holidays, and mostly just being a cute couple.
All seemed well on Nov. 7 when the two ran the NYC marathon side by side. The following day, Zac posted a touching tribute to her on Instagram. "The untold story about @tayshia is one of humility and courage," he began his sweet note. On her end, Tayshia recapped her marathon experience on Nov. 17 and thanked the people who supported her. Shouting out Zac, she wrote, "And for Z, for running with me every step of the way." Accompanying the post are photos of the two of them hugging as well as Tayshia kissing Zac's cheek while she was tearing up.
That said, the following day, Tayshia attended the House of Gucci premiere, and eagle-eyed fans noticed a certain sparkly accessory was missing. She also went sans Neil Lane diamond on two episodes of the Bachelor Happy Hour podcast she co-hosts with Becca Kufrin. Naturally, many wondered if there was trouble in paradise. Bustle reached out to their reps for a comment on the speculations but didn't hear back.
Finally, on Monday, Nov. 22, People reported that the two had split up. A rep for Tayshia told the outlet, "Tayshia Adams and Zac Clark are no longer a couple." It's unclear what caused the breakup, but Zac and Tayshia can now be added to the list of Bachelor Nation couples whose romances fizzled out.
This article was originally published on