Tayshia & Zac Gave A Relationship Update In Their First Interview Since The Bachelorette
"We're just going to date each other, how about that?"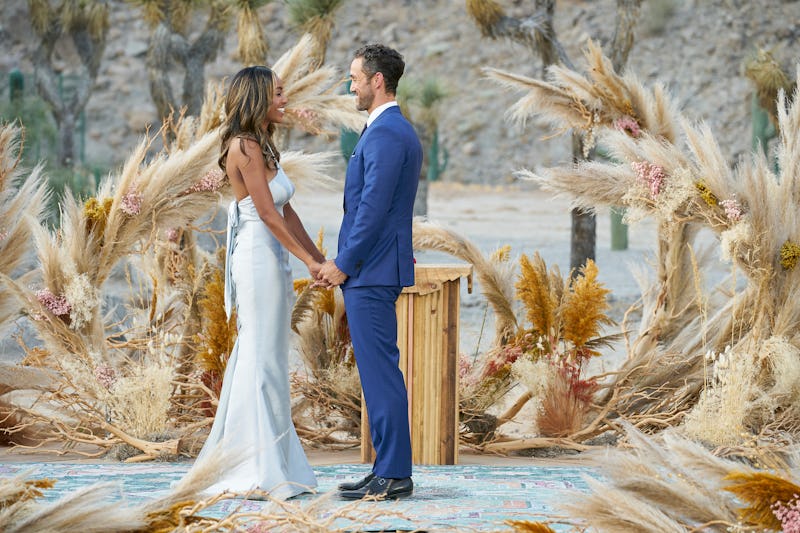 ABC/Craig Sjodin
This season of The Bachelorette was different than any other, right up to the final few moments. Instead of an After the Final Rose special or any kind of update segment, the finale ended with Tayshia and Zac getting engaged. This begs the question: Are Zac and Tayshia still together after The Bachelorette? While it may have taken a little while for fans to get an update from the couple on social media, they reassured Bachelor Nation during an appearance on Good Morning America that they are still engaged and happy.
"All the reasons I fell in love with her on the show remain true today, just in our daily life," Zac said of his new fiancée. Still, that doesn't mean that the couple is ready to rush down the aisle any time soon: "We're just going with the flow at the moment. We're just going to date each other, how about that?" Tayshia said. And while Zac admitted that he does want a big wedding eventually, he's more than happy to take it slow. "I want to date you," he told Tayshia. "I want to take you out, and do all of those things."
The couple echoed those sentiments during an appearance on the Bachelor Happy Hour podcast the morning after the finale. "I think it comes back to what we talked about early on: dating and getting to know each other," Zac explained. "[We will] start spending extended periods of time with each other. You're learning to live with another human being." Tayshia added, "All the big picture things, all the conversations that people have down the road, we've already taken care of a lot of that. Our communication is phenomenal."
During both interviews, Zac and Tayshia talked about the importance of getting to know each other's family and friends, and it seems like they've already gotten a head start. After the finale on Dec. 22, Tayshia posted a series of Instagram Stories with Zac from their watch party with her family. "2021, we ready for you baby," she captioned a video of them dancing and showing off her ring while her younger brother laughed. Zac then reposted the video on his own Story, adding, "LOVE YOU." Tayshia's sister Dominque shared a photo with the happy couple on her account, writing that "they lived happily ever after..."
Tayshia and Zac aren't just spending time with her family; during their Good Morning America interview, the former Bachelorette revealed that they're "spending Christmas in New York" with Zac's loved ones as they learn to navigate their new, bicoastal relationship. "I'll have my place here [in Los Angeles], but I'm looking forward to spending some time in New York with him and getting used to being bicoastal."
Ahead of the official confirmation that they're still going strong, there were plenty of clues that Tayshia and Zac's love was long-lasting. As the finale was airing, Bachelor blogger Reality Steve confirmed on Twitter that Zac was Tayshia's final choice and that they are reportedly still together. "Took me a while, and I assumed it was the case as I wrote today, but I can confirm now that Tayshia and Zac get engaged in finale and are still engaged today," he wrote.
In the weeks leading up to the finale, Tayshia dropped plenty of hints about her relationship status on social media and in multiple interviews. On Dec. 2, she was spotted wearing a diamond ring on her Instagram Story, which looks remarkably similar to the emerald-cut engagement ring that Zac proposed with. A few days later, Tayshia described Zac as "future husband material" during an appearance on The Ellen DeGeneres Show before teasing that she was "really blessed" and that she is a "happy girl" following her season of the reality franchise.
That's no surprise considering their romantic engagement in the final moments of the season, where they both began planning their future lives together. "I'm ready to start a life with you," Tayshia — who admitted she doesn't think she's been in "true love" before now — told Zac. "I love you Zac Clark, and I'll do absolutely everything to keep that huge smile on your face because you do everything to keep a huge smile on mine."
Zac spoke about his future with Tayshia during his proposal, when he promised that he would continue to choose her every day. "I can't venture another day — another moment — without you in my life," he said tearfully. "If you'll let me, I'm going to choose you right now. I'm gonna choose you tomorrow morning, I'm gonna choose you next week, next year, forever."
This article was originally published on