Ariana DeBose & Kate McKinnon Teamed Up For A Hilarious West Side Story Medley
Get Steven Spielberg on the phone.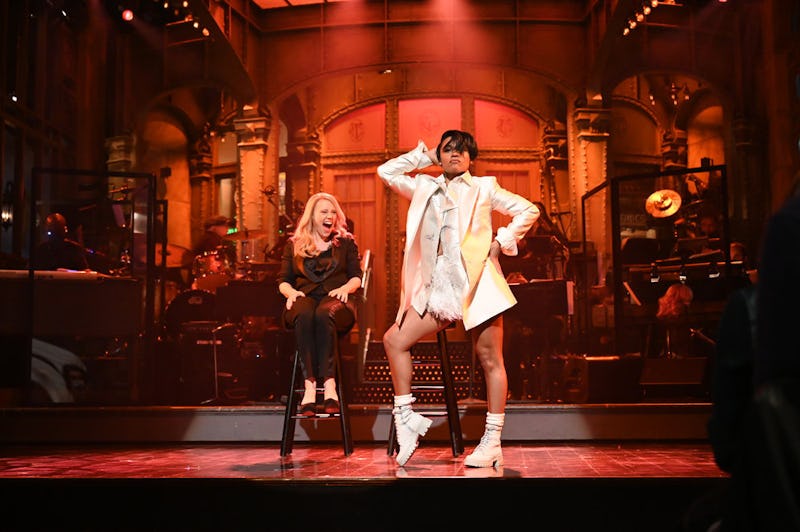 Will Heath/NBC
Fresh off a Golden Globe win for her role as Anita in West Side Story, it seemed like a given that Ariana DeBose's Saturday Night Live debut would feature a musical moment or two. But with the help of Kate McKinnon, DeBose's monologue medley of West Side Story songs took an unexpected turn. "It's my favorite show. I've loved it since elementary school," McKinnon says, before admitting that she hasn't actually seen the 2021 movie — "I don't leave the house 'cause of COVID. And also, 'cause I don't leave the house."
Despite the snub, McKinnon didn't miss a beat as she performed alongside DeBose. She even got the chance to add some artistic flair of her own, including a split from her stool in "I Feel Pretty" that playfully blended choreo and comedic timing.
The medley flitted from hilarious to heartfelt, too — like during another adorable moment in the same song, when McKinnon fist-bumped her duet partner after the lyric, "I feel pretty, and witty, and gay." As DeBose told Out in a 2021 interview, being a "Black-identifying biracial queer Afro-Latina" was an important part of portraying Anita: "I am America. I am damn near a member of just about every marginalized community."
Several Twitter users took note of the meaningful moment — and, naturally, offered up McKinnon as the ideal West Side Story co-star.
Fortunately, DeBose and McKinnon's star power was too great for one medley — later in the show, they got to collaborate on a Sound of Music-esque sketch about a governess who tries to teach her young charges the gift of song, to iffy results.
Sure, there may not be a West Side Story sequel coming to theaters anytime soon — not to movie theaters, that is — but in the meantime, here's hoping for more collaboration between these iconic musical partners.