Ariana Grande Compared Post-Lockdown Plans To "Sex" In This Song Parody
"Making plans is like sex to me," the pop star sings in this Hairspray spoof with James Corden.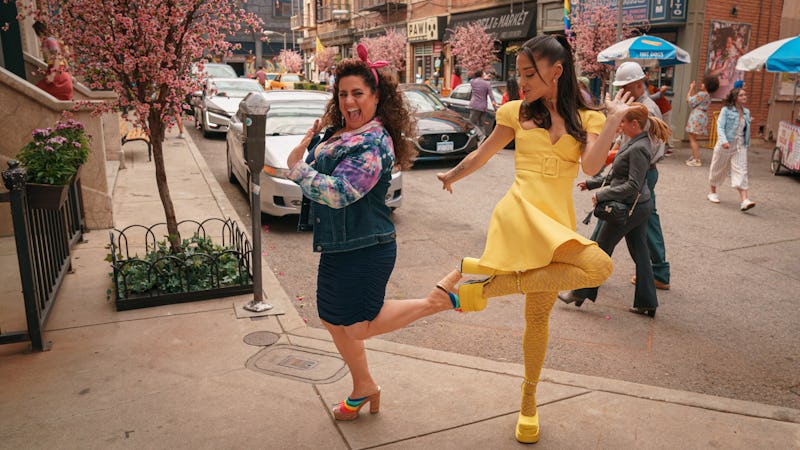 CBS
It's been one month since Ariana Grande tied the knot with Dalton Gomez, and her post-lockdown to-do list just keeps getting longer. The pop star expressed her desires in a parody performance with talk show host James Corden, spoofing the Broadway hit "Good Morning Baltimore" from Hairspray. In their version, aptly titled "No Lockdowns Anymore," the two sing about everything they can't wait to do now that most coronavirus restrictions are being lifted in New York and California, where at least 70 percent of residents have had at least one dose of the vaccine.
"Woke up today, feeling OK, wow this is new," Corden croons while gallivanting around New York City in a bathrobe after finding out the area's lockdown has been lifted. "Got the vaccine and it's been two weeks, there's life in the streets." According to the host, nature is healing, and seeing "hot people at brunch" again is proof. The parody kicks up a notch in the second verse when Grande appears in a bright yellow dress and sings about the joys of doing small things again, such as getting a haircut, going to the gym, and interacting with each other.
"Say hi on the street, air kiss on the cheek, it's been so long since I've put on my shoes," Grande sings with Marissa Jaret Winokur from Hairspray before suggesting that they do something adventurous like "get drunk and get matching tattoos."
Inevitably, there are many other things about post-lockdown life that Corden and Grande are excited for. In the next verse, they sing about going back to the office, finally changing out of sweatpants, and no longer pretending to pay attention to Zoom when they're really binge-watching Bridgerton. They're even excited about sitting in heavy traffic again, which is something that literally none of us ever thought we would miss.
After crooning about spending loads of time outdoors, the "Positions" singer admits that being able to do anything is a turn-on. "Making plans is like sex to me," she sings before encouraging people to embrace life, make new memories, and hug their families after — and only after — they get the vaccine.
The Hairspray parody marks Grande's first TV appearance since marrying the Los Angeles real estate agent in a secret ceremony in May. "It was tiny and intimate — less than 20 people," the musician's rep told People at the time. "The room was so happy and full of love. The couple and both families couldn't be happier." With Coronavirus restrictions gradually being lifted, it's possible that the newlyweds may have a bigger celebration planned. More likely, however, is that they're just looking forward to being able to do things again, this time as husband and wife.