Everything To know About Atypical Season 4
Robia Rashid and Netflix share exclusive details with Bustle ahead of the show's final season.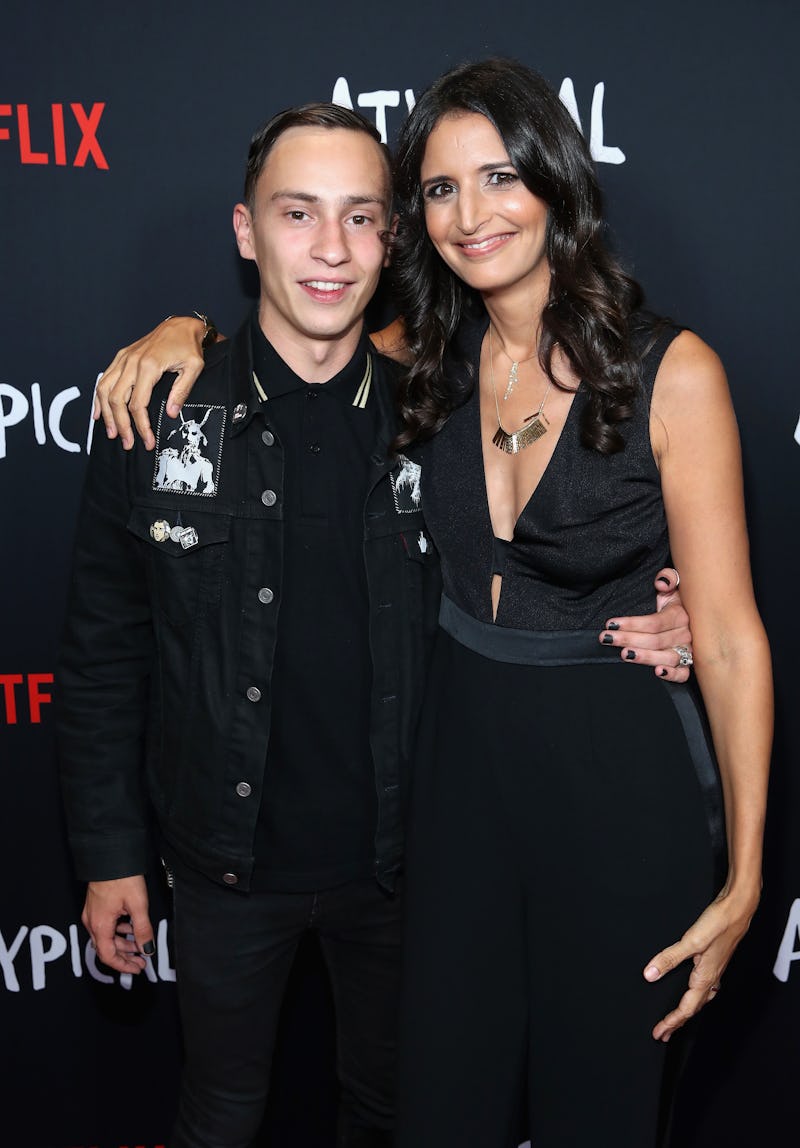 Jonathan Leibson/Getty Images Entertainment/Getty Images
The fourth and final season of Atypical is on its way. In the lead-up to the last entry of the Netflix show — which revolves around Sam, an autistic teenager — Atypical creator, showrunner, and executive producer Robia Rashid is reflecting on the legacy of the series and how it encouraged visibility and representation, both on and off-screen.
"Atypical is better — richer and deeper and funnier and realer — because of the involvement of people with disabilities both in front of and behind the camera," she told Bustle. "In Season 4, our autistic actors really shine. They are hilarious. I really hope they get the attention they deserve for their knock-out performances this year."
Last viewers saw of the Gardners, the family was in a positive place. Elsa (Jennifer Jason Leigh) and Doug (Michael Rapaport) reunited after his almost-affair with Megan (Angel Laketa Moore), so it seems like their relationship is here to stay for the show's final stretch. Another relationship that developed in Season 3 is Casey (Brigette Lundy-Paine) and Izzie's (Fivel Stewart). Even though Casey was advised to give up her personal "drama" while working toward track at UCLA, she seemed game to juggle running and a relationship. And of course, Sam (Keir Gilchrist) and Zahid (Nik Dodani) agreed to be roommates, a major step in their quest for independence.
Just as Atypical's characters are constantly learning about themselves, working on the show has taught Rashid plenty, too. "I've learned it's really hard to make TV during a pandemic, but it also is an opportunity to watch a hundred-plus people being responsible and taking care of each other," she said. As for what Season 4 has in store, Rashid hinted that the show "took a big swing with Sam's goal" this time around, with the series ultimately ending on "a moment of hope and joy that feels inevitable and amazing."
"It's been a hard year," she continued. "A brutal year. And this season of Atypical is full of love and hope. It's about dreaming big with your favorite people by your side. I hope this season is the warm hug every single one of us deserves after the year we just had."
Fortunately, Atypical fans don't need to wait much longer to see their favorite family again. As Netflix exclusively shared with Bustle, all 10 episodes of Season 4 will premiere on July 9, giving you just enough time to sneak in a rewatch and see just how far the Gardners have come since Season 1.
In the meantime, Rashid hopes viewers and the industry come away from Atypical with a new perspective on autism and disability representation in the media. Below, learn more about Rashid's hopes for Atypical's legacy, what makes Season 4 stand out, and using comedy to foster change.
How was your approach to this final season different than previous years?
Season 4 is infused with hope and magic in a way that's palpable, and I think that's because we needed it. We needed to believe in big dreams and positive outcomes. We were all scared and in mourning [during the pandemic], and so we wrote a big joyous story about overcoming your fear. We wrote about loss and grief, all woven together with themes of adventure and community.
What do you hope other industry insiders will take away from the series?
There is no ceiling for how popular or well-loved a show like this can become. So many different types of people watch our show — you don't have to have someone with a disability in your life to relate to these stories. Stories about people with disabilities are stories for everyone. In terms of the impact this show has made industry-wide, I think it's a step in the right direction, but there's so much further to go.
What do you hope Atypical's legacy will be?
I wrote this show alone, just me in a room with some voices in my head: Sam, his sister, his worried mom, his disconnected dad. And now, four seasons later, that universe has grown exponentially — the onscreen universe and the off-screen universe. It's become a show of rich, loved characters and a cast and crew that's respectful and talented and bonded.
It's funny to think of this project, which started in such a personal, intimate place, as having a "legacy," but I guess it will. No, I know it will. Because every day, I get messages from people who tell me about their own experiences, people across the world who have been personally moved by the show. Whether it helped them accept who they are or to gain a greater understanding of someone who's different than them. I hope Atypical is remembered as an extremely funny show that's about something important that people love and relate to. I hope it further normalizes the casting and representation of people with disabilities. I hope it's remembered for making people feel heard. And I hope it reminds people that comedy is a powerful tool for change.
See more exclusive images from Atypical Season 4 and the trailer released on June 14 below.
This article was originally published on