Becca Tilley Confirmed Her & Hayley Kiyoko's 4-Year Romance With A Heartfelt Note
Even Tilley's Bachelor Nation exes supported the couple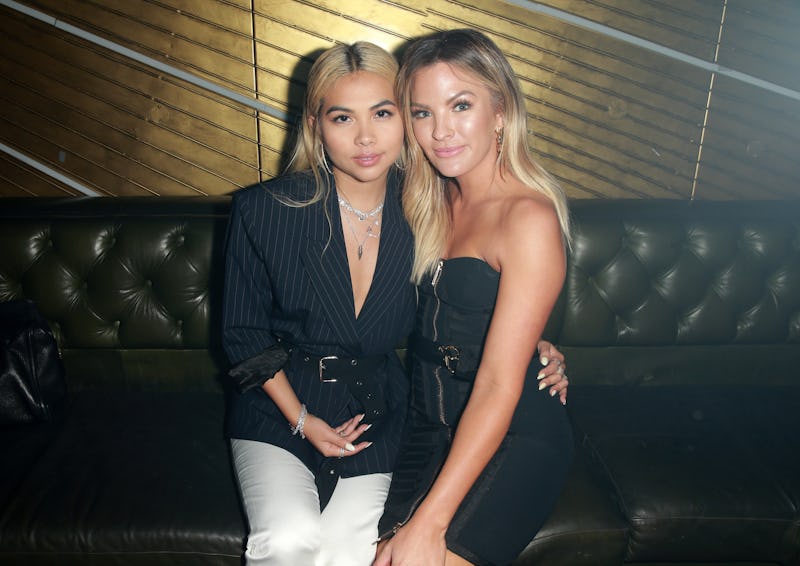 Rich Fury/Getty Images Entertainment/Getty Images
After four years together, Bachelor alum Becca Tilley and Hayley Kiyoko officially confirmed their relationship on May 20. Early in the day, Kiyoko previewed the announcement with her new "For the Girls" music video, playing the lead in a queer Bachelorette-esque reality show which ended with her awarding Tilley the final rose. Following her cameo in the clip, Tilley, for her part, posted an Instagram video montage of her four-year romance with the Jem and the Holograms star, writing, "hard to say if this is a hard or soft launch, but it is a launch."
Their famous friends and Bachelor Nation stars, including JoJo Fletcher, Tayshia Adams, Nick Viall, Colton Underwood, as well as Tilley's exes Robert Graham and Ben Higgins, quickly flooded the comments section with loving messages for the couple. "YESS!!! I love this so much," Bachelorette alum Graham, who dated Tilley from 2016 to 2017, wrote, while Higgins added, "Love you B!!!!" (After finishing as Chris Soules' runner-up in 2015, she returned for Higgins' Bachelor season the following year.) Additional celebrity commenters included Sarah Hyland, Brad Goreski, Brandi Cyrus, Jenna Ushkowitz, and Debby Ryan, among others.
Even Kiyoko, known as "Lesbian Jesus" to fans, joined the chorus, writing, "The best four years ever. I love you Becca." In her reply, Tilley responded that "time flies when you're livinge [sic] laughinge [sic] and lovinge [sic]! I love you."
In fact, none of the love seemed to go unnoticed by Tilley, who wrote in a May 20 Instagram Story that she had been "crying on & off all day" as the messages rolled in. "I don't know that I can properly form adequate words to express how much the love and support means, but I just want to say thank you," she posted for her followers. "And to everyone who has known about us for the last 4 years and gave us the time and space to do it in our own time — the magnitude of that alone is not lost on me. I am so grateful."
To end the post, the Scrubbing In podcast host addressed her partner directly: "Hayley, thank you for showing me how to be brave and how to love myself. I'm so glad I don't have to avoid pronouns on the podcast now. I love you."
Indeed, Tilley has made no secret that she's been "in love" for several years now, though explaining to Us Weekly in September 2019 that she was choosing to keep details of her romantic life under wraps. "I just think that my relationship that I'm in is just, I like that it's private and it's my own," she shared at the time. "I had a public relationship before and it just felt like I had a lot of people involved, which I know that's why they sort of watched me in the first place. I'm really happy and I hope to eventually start opening up about it more, but I'm happy with it being private right now."
Adding that she did not "have a timeline" for when she would disclose her partner's identity, Tilley told the magazine "I just feel if the moment comes where I'm like, 'Oh, I'm just going to say something,' then I will."
Apparently that time is now, and Tilley's gratitude for the public's patience and acceptance is evident.