Barbie's DreamHouse Is Available To Rent On Airbnb — For Free
Life in plastic, it's fantastic.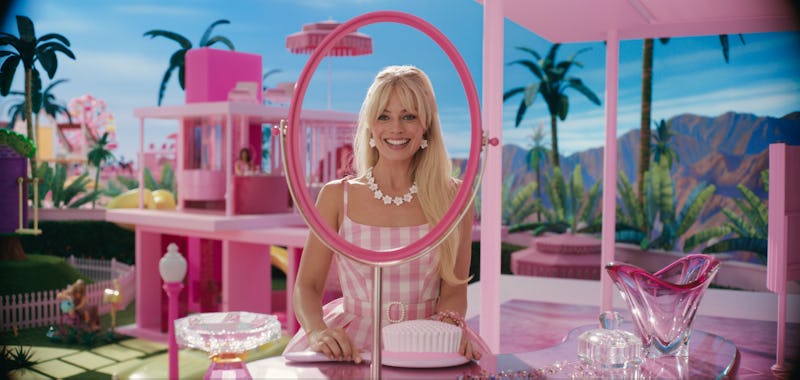 Warner Bros.
They say life in plastic is fantastic, and Barbie fans can now live by that mantra by booking a night at the actual Malibu DreamHouse — for free. On June 26, Airbnb announced that the pink-adorned oceanfront residence is now taking bookings, less than a month before the much-anticipated release of Warner Bros. movie Barbie.
Airbnb has confirmed that the DreamHouse will only be available to book for two one-night stays, for two lucky guests per night, on July 21 and July 22. Fans can request to book a room at Barbie and Ken's pink paradise on July 17 on the official Airbnb Malibu DreamHouse website. As mentioned, stays at the residence will be completely free of charge because "Ken couldn't figure out how to put a price on Barbie's Malibu DreamHouse."
"While everyone's favorite doll makes her live-action film debut in Barbie, Ken is handing over the keys and hosting an overnight stay in the newly renovated and iconic Malibu DreamHouse," an Airbnb statement reads, adding that Ken has "revamped" part of Barbie's pink palace with "everything he loves."
Those lucky enough to secure a night at the DreamHouse can expect to "find their best beach fit" in Ken's wardrobe, bust a move on his beloved outdoor disco dance floor, take a dip in the infinity pool, and take home their very own momento in the form of yellow and pink Impala skates and surfboards.
Barbie and Ken's Malibu residence was previously listed on Airbnb back in 2019 but has since been given a major revamp ahead of the release of Greta Gerwig's Barbie starring Margot Robbie and Ryan Gosling.
Following the exciting announcement, Barbie fans were quick to their thoughts online, with some declaring their "childhood dreams" have become a reality. "They did such a great job with the designing," one enthusiastic fan commented on Twitter, while another user gushed: "Open it up year round! Do you know how many people would pay for this."
This article was originally published on