Based On A True Story Season 2 Was Set Up With *That* Cliffhanger
Fortunately, Kaley Cuoco already has ideas for the next installment.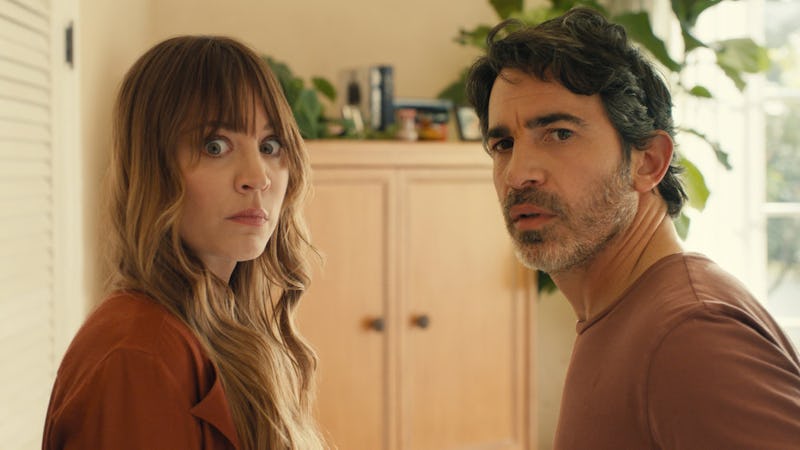 Peacock
Peacock's Based on a True Story follows expecting parents Ava and Nathan (Kaley Cuoco and Chris Messina), who turn to true crime podcasting to escape a financial and relationship rut. The hook? Their podcast doesn't just talk about a local serial killer: they actually work with the man himself to anonymously divulge the dark, twisty tales of his trade — as long as he promises not to kill anyone else, which turns out about as well as you'd expect.
The podcast-meets-murder element will remind viewers of Only Murders in the Building, while the tale of a SoCal couple reconnecting over dead bodies will definitely please fans of Santa Clarita Diet. (There are no zombies in this one, but just as much love.)
So, will there be a Based on a True Story Season 2? Peacock hasn't announced a renewal yet, but the show certainly sets up future storylines. Here's everything to know about a potential Season 2 so far.
Based On A True Story Season 2 Plot
If you've already breezed through all eight episodes of Based on a True Story, you know Season 1 ends on a pretty massive cliffhanger. Spoilers ahead!
After successfully hiding Ruby's body — which serial killer Matt left them to deal with — Ava and Nathan seem to be in a good place, discussing baby names while mopping up their bloody beach home's floor. But then, Ruby's husband Simon shows up and asks about the gruesome scene: "Oh... who's blood is that?"
Of course, he doesn't know that it belongs to his wife (or that his wife is dead at all, for that matter). The show stops there, so we don't see how Ava and Nathan attempt to talk themselves out of the incriminating moment. However, it seems that a potential Based on a True Story Season 2 will explore their cover-up further. "In my opinion, they're as bad as the killer by the end of this," Cuoco said in a recent AP interview — before joking about what the next installment might look like. "So, they both deserve to be in prison for the rest of their lives. And that will be Season 2: us from behind bars. Every scene. It may be a little monotonous."
Another finale twist? The reveal that Matt and Tory (Ava's sister) have been secretly hooking up, which will obviously complicate the group's precarious situation even further.
Based On A True Story Season 2 Cast
In addition to Kuoco and Messina as the husband and wife between the titular podcast, Based on a True Story stars Tom Bateman as Matt: the plumber-slash-serial killer who gets involved in their lives. Priscilla Quintana, Liana Liberato, Natalia Dyer, Alex Alomar Akpobome, Aisha Alfa, Annabelle Dexter-Jones, and Li Jun Li also star. Granted, not everyone makes it out of Season 1 alive — so if there's a Based on a True Story Season 2, expect to see new victims (and likely flashbacks of old ones, too).
Based On A True Story Season 2 Potential Premiere Date
The Peacock series was first announced in April 2022 and premiered the following June. So if it gets renewed soon, you can potentially expect the Based on a True Story Season 2 premiere date as early as summer 2024.
This post will be updated with the trailer, release date, and additional plot details as more information on Based on a True Story Season 2 becomes available.