Kaley Cuoco Introduced Her First Child To The World With An Adorable IG Post
New dad Tom Pelphrey wore a special shirt to welcome their baby girl.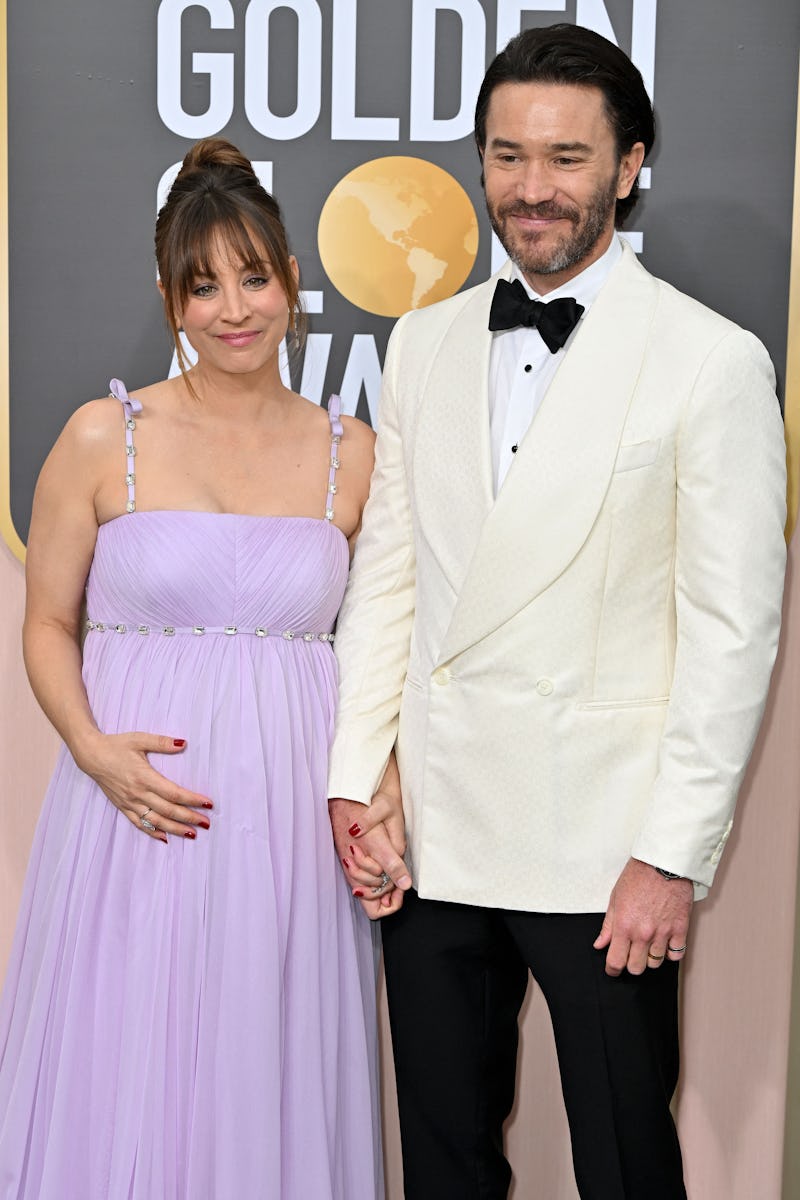 FREDERIC J. BROWN/AFP/Getty Images
First-time parents Kaley Cuoco and Tom Pelphrey could only wait a few days before sharing their "little miracle" with the world. The proud mom and dad both posted about their newborn daughter on April 1, revealing that they'd welcomed her on March 30. And no, the announcement wasn't an April Fools' Day joke from the two actors — they included several sweet photos (many using a vintage camera effect) of their new baby, plus revealed her name.
"Introducing, Matilda Carmine Richie Pelphrey, the new light of our lives!" Cuoco began her post. "We are overjoyed and grateful for this little miracle."
The Flight Attendant star went on to thank the doctors, nurses, friends, and family who helped them in their first days with Matilda, and she called herself and her partner "blessed beyond belief." Before wrapping up her caption, she noted that she's fallen "even more in love" with Pelphrey than she thought she could.
Meanwhile, the Outer Range star wrote a post of his own. He first quoted the poet Rumi: "You are the Soul of the Universe. And your name is Love." Then he added his own words, sharing that his "heart is full of love and gratitude for this miracle." And finally he, too, shouted out his "incredible" co-parent, aka his "soulmate and best friend" Cuoco, for her "strength and bravery."
The couple didn't explain the origins of Matilda's name, but her middle name seems to pay tribute to Cuoco's dad, Gary. His middle name is also Carmine, according to Cuoco's IMDb bio, and he has been known to be extremely supportive of his daughter and her career. When she appeared on The Late Late Show with James Corden in May 2022, she recalled how Gary attended every taping of The Big Bang Theory, per the Daily Mail. "My dad still misses our live tapings at Big Bang," she said. "I couldn't do a show without him at that point."
Pelphrey looks ready to be a supportive dad, too. In some of the photos he and Cuoco shared, he's wearing a "Waltzing Matilda" shirt. He can even be seen in it while they're still in the hospital. The two knew they were expecting a baby girl and announced it on Instagram in October.
The couple was already "ready to build a life together" in May 2022, after meeting at the Ozark Season 2 premiere that April. Cuoco recalled their first meeting to USA Today and called it "love at first sight" after she met him there with their mutual manager Andrea Pett-Joseph. "Tom walked in, and I heard his voice," she said, "and I turned around, and it was like my life was over, or just starting."
As their life as a family of three kicks off, it looks like they couldn't be happier.