Only Murders In The Building Season 3 Welcomes A Grey's Anatomy Star
Hulu's murder-mystery show is bringing extra star power to its new case.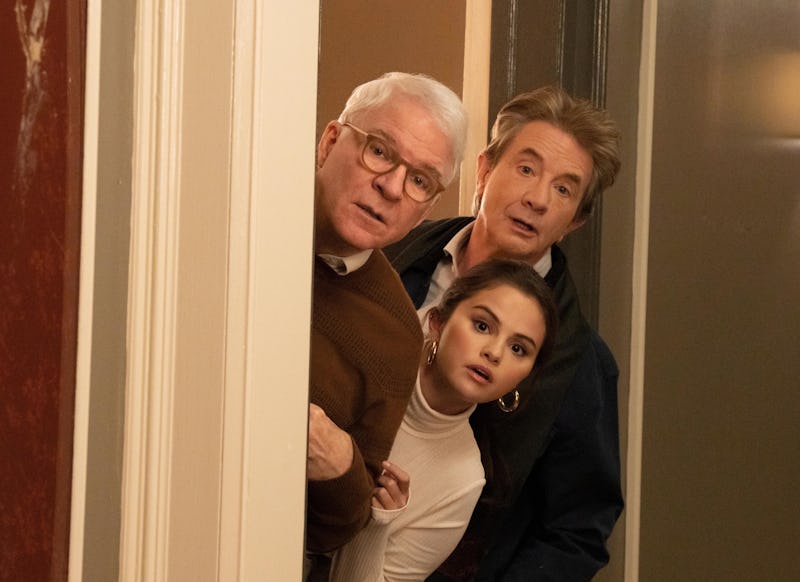 Craig Blankenhorn/Hulu
It's not time to move out of the Arconia just yet: Only Murders in the Building Season 3 has the green light. Hulu confirmed the renewal in a July 11 press release, noting that the murder mystery series was the company's most-watched comedy show in Season 1, with both seasons maintaining a 100% critics rating on Rotten Tomatoes.
Based on its success, it sounds like the streaming platform intends to keep the series around for as long as possible. "Only Murders in the Building is the true crown jewel of our slate. Its appeal across generations, the intersection of humor and heart, and its truly original approach are a hallmark of and testament to Dan [Fogelman], John [Hoffman], Steve [Martin], Marty [Short], and Selena [Gomez]'s work," said Hulu Originals president Craig Erwich. "We are grateful to be able to continue telling the stories of Charles, Oliver, and Mabel to viewers that have consistently shown us they crave more of this story."
The series wrapped up Season 2, which centers on the trio trying to solve the murder of Bunny Folger (Jayne Houdyshell), the crotchety Arconia board president who definitely didn't appreciate that they were snooping around and making a scandalous podcast about Tim Kono's murder. Like the previous installment, the third season is also about another murder, only this time we are not sure if this new victim is an Arconia resident. The finale revealed Paul Rudd's new character, Ben Glenroy, met his demise under suspicious circumstances, and once again, Charles, Mabel, and Oliver will need to kick off a new investigation. No one is truly safe in Only Murders, so let's go over everything else we know about Season 3 so far.
Only Murders In The Building Season 3 Cast
"Guess what? All of your favorite characters are going to be returning for Season 3," Gomez said in an announcement posted to Twitter on July 11. Naturally, that means the return of Steve Martin as Charles-Haden Savage, Martin Short as Oliver Putnam, and Selena Gomez as Mabel Mora. A few months later, on Oct. 25, Deadline reported that Grey's Anatomy star Jesse Williams will join the cast as a documentarian who is interested in following the trio's new murder case.
We can likely expect to see Tina Fey's Cinda Canning (a Sarah Koenig parody character), as Canning will probably continue making her own podcast about the Arconia trio. Detective Williams (Da'Vine Joy Randolph) may also return, and we know that, like Sting and Amy Schumer, Season 3 could feature a new celebrity resident. But what's unclear is which residents will make it to Season 3. Will minor antagonists Uma Heller (Jackie Hoffman) and Howard Morris (Michael Cyril Creighton) return? Or what about Nina Lin (Christine Ko), the new board president who is the current suspect in Bunny's murder? Also, will the show continue Mabel's romance with art gallery owner Alice (Cara Delevingne)? Or, like her relationship with Oscar (Aaron Dominguez), will it be only a short-term thing? Only time will tell where this latest investigation will take the podcasting trio.
One thing's for certain, though, it's likely that we've seen the last of Poppy (Adina Verson) and Detective Kreps (Michael Rapaport), given that the season finale outed them as the masterminds behind Bunny Folger's murder. The finale also ended on a cliffhanger that introduced audiences to Broadway star Ben Glenroy, played by Paul Rudd. Based on his fate in the finale of Season 2, don't expect too much from Rudd; his character is presumably murdered on stage. However, Rudd has been confirmed to star in Season 3, so we can at least expect to see the Ant-Man star in flashback scenes.
Only Murders In The Building Season 3 Premiere Date
Hulu has not announced an official premiere date yet. Given the show's popularity and the creators' enthusiasm, fans might be getting another murder mystery sooner rather than later. The second season premiered about 10 months after the first. If that trend holds, we can tentatively expect Season 3 to have a Spring or Summer 2023 premiere — though shows typically take a year between seasons.
Only Murders In The Building Season 3 Plot
The Season 2 finale includes an epilogue that sets up another mystery in Season 3. After a year of murder-free living, our beloved trio reunited on the opening night of Oliver's new play, one that features Charles in a lead role opposite Rudd's Ben Glenroy. It's clear from the get-go that Charles and Ben don't get along, punctuated by Charles threatening Ben to "stay away from her," before the curtains raise. Ben, unfazed, retorts "Why? What are you going to do?" Only for Charles to respond, "I know what you did."
The show begins as Ben is alone on stage, but as he says his first line, he keels over and begins regurgitating blood before dying on stage. Charles and Oliver clamber to his aid, but Ben has already passed. Mabel, Oliver, and Charles quickly realize that there's another murder afoot, and they'll have to be the ones to solve it. But not before Mabel has time to grumble, "You've got to be f*cking kidding me."
Since the finale suggests that Charles has a motive for taking out Ben, we can expect Season 3 to dig deeper into their relationship and Charles' animosity toward his co-star. It's also likely that this death might also be the killing blow for Oliver's show, keeping his bad luck streak alive. The trio might have to resort to reviving their podcast for another season.
This post will be updated as more information about Only Murders in the Building Season 3 becomes available.
This article was originally published on