Erin Doherty's Creepy New BBC Thriller Is A Far Cry From The Crown
It's a "mystery about obsession, deceit, identity, and grief" told through the lens of social media.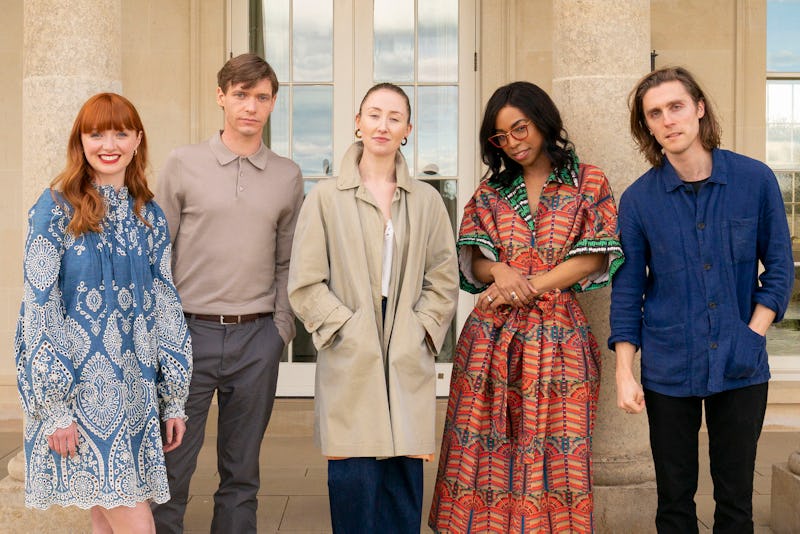 BBC/Mam Tor Productions/York Tillyer
Upcoming BBC One series Chloe has been tipped as a psychological thriller for the social media-obsessed generation — and signs say it'll be worth putting your phone down to watch. Starring a host of British rising stars, including The Crown actress Erin Doherty, the six-part series is described as "a mystery about obsession, deceit, identity, and grief" which challenges how we view picture-perfect lives on Instagram. Filming on the series is said to have started in Bristol, here's everything you need to know about Chloe.
Chloe is being created by Sex Education director Alice Seabright and the series will be released on BBC One, BBC iPlayer, and Amazon Prime worldwide — although a release date has not yet been confirmed. Bustle has reached out to BBC and will update as soon as we know.
From the first look, the plot is somewhat relatable. Fresh from playing Princess Anne in The Crown, Erin Doherty stars as Becky, a temp. worker still living with her mum, who compares her life to the picture-perfect ones she sees on Instagram. Per the synopsis, Becky compulsively returns to one account: Chloe's (played by Poppy Gilbert).
'Becky obsessively watches her seemingly flawless life through social media," details the synopsis. "But when Chloe dies suddenly, Becky's need to find out how and why leads her to assume a new identity and engineer a "chance" meeting with Chloe's best friend, Livia (Pippa Bennett-Warner), and infiltrate Chloe's group of close-knit friends."
Alice Seabright, who created the series alongside talented British writers Kayleigh Llewellyn, Poppy Cogan, and Bolu Babalola, says she can't wait to bring the "show to life."
"Becky is a complex, courageous heroine and there is no one better to play her than Erin. All these characters have been a dream to write, and it now feels like they've found their soulmates in our amazing cast," said Seabright in a statement.
As well as Doherty, Gilbert, and Bennett-Warner, the Chloe cast also features The Serpent's Billy Howl, Jack Farthing (Poldark), as well as Poppy Gilbert (Stay Close), Akshay Khanna (Grace), Brandon Micheal Hall (Search Party), and newcomer Alexander Eliot.
"I can't wait to start bringing the show to life with them, and with our wonderful crew," added Seabright. "Thank you to the BBC and Amazon, to our brilliant writers, Kayleigh Llewellyn, Poppy Cogan, and Bolu Babalola, and to my partners in crime – the powerhouses Tally Garner and Morven Reid."
The new series is currently being filmed in Bristol and, per Variety, will feature the work of artists local to the region, including an original score composed by Will Gregory of the music duo Goldfrapp.