James McAvoy's New BBC Drama Is All About The Perils Of Lockdown Love
And everything else we know...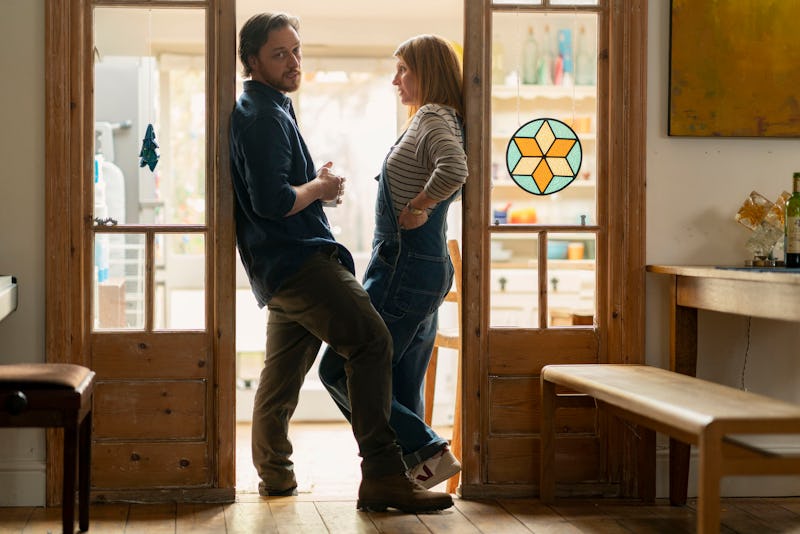 BBC / Arty Films Ltd / Peter Mountain
TV and film heavyweights James McAvoy and Sharon Horgan are gearing up for a new BBC drama, Together. Described by the BBC as a "funny and painfully poignant" look at the harsh realities of the lockdown we have all experienced during the pandemic, the film looks to be a completely relatable watch (albeit a tad triggering).
While McAvoy's credits include action-packed Hollywood films such as X-Men, Together will see the Scottish star take on a more familiar role as a father and husband struggling, alongside his wife (played by Catastrophe star and Motherland writer, Horgan), with the day-to-day, as they are driven to the brink of separation.
Written by Utopia's Dennis Kelly and directed by the award-winning Stephen Daldry (The Crown, Billy Elliot), the trailer for the "hilarious and heartbreaking" Together was released on June 9. In a statement sent to Bustle, the BBC bills it as a film that "tells the story of us all" – expect an "uncomfortable whilst warm and deeply moving" watch.
Here's what we know so far:
When Will BBC's Together Premiere?
Good news, there's not long to wait before Together debuts on BBC Two and BBC iPlayer – it is released on June 17. Filmed in just 10 days, per to Radio Times, it's been a fast turnaround for the film's cast and crew, which Horgan has described as a "beautifully stressful" experience.
What's The Plot Of Together?
The plot of Together is one that many can relate to. It's opens during the first week of the national lockdown in March 2020, and runs up until the present day – a period of time that most will agree is worthy of a screen adaptation.
Per the synopsis sent to Bustle, Together is the story of a family, like so many, who found a way to survive, together. It adds: "It is the hilarious and heart-breaking story of a husband and wife who are forced to re-evaluate themselves and their relationship through the reality of lockdown."
The film's creator and writer Dennis Kelly explains further: "Together is about a couple who totally hate each other, but have somehow found a way of existing together by not talking to, thinking about, noticing, communicating with or being in the same room as each other – then lockdown happens."
He adds: "It's about how humans negotiate their shared experiences when they think they have nothing in common other than staying alive, and it's about how you can hate what you love and love what you hate. And Sharon Horgan and James McAvoy are brilliant in it."
Is there a trailer for BBC's Together?
McAvoy and Horgan look ever the fed-up couple in the trailer for BBC's Together, which recently dropped on June 9. In the short clip, the evidently strained couple question their relationship, while their son looks on.
Who's In The Cast Of BBC's Together?
As the film is set in lockdown, and with social-distancing rules still heavily in place, it's understandable that Together's cast members are few and far between. James McAvoy and Sharon Horgan star as a nameless husband and wife, alongside their son, 10-year-old Arthur.
Horgan's character is a co-ordinator for Europe at a refugee charity, meanwhile McAvoy's character is a "self-employed, self-made man" who runs a boutique computing consultancy. Per the synopsis, "he's been forced to furlough his staff and take up growing vegetables – something he's very proud of."
Horgan has said she had "no intention" of doing a COVID-related drama until she read the script. McAvoy was also drawn to the powerful writing: "It's a hilarious, heartfelt, entertaining, and unconsciously funny exploration of a relationship, and a couple facing real tragedy across a year we have all lived through."
On Instagram, McAvoy said: