BTS Announced An Indefinite Hiatus & The ARMY Is Freaking Out On Twitter
"I've been crying all day."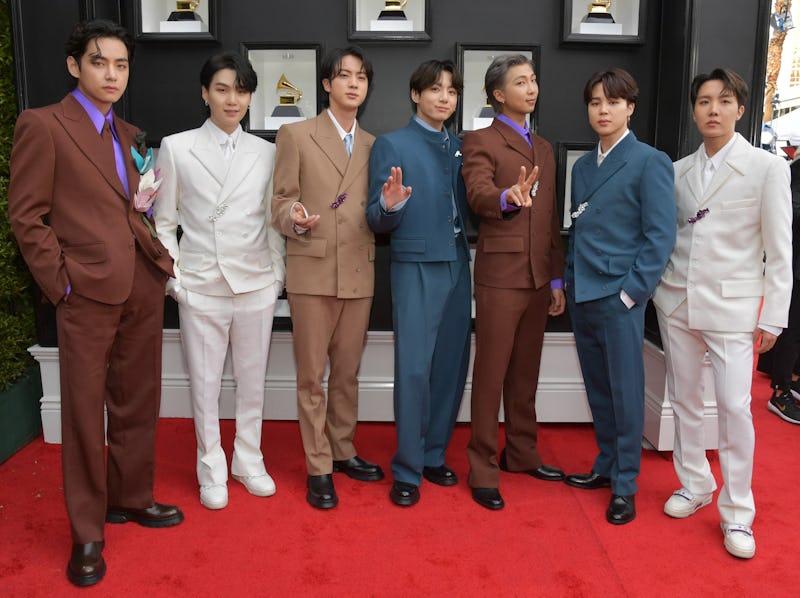 Lester Cohen/Getty Images Entertainment/Getty Images
For many in the BTS ARMY, the band's latest shock announcement still hasn't quite sunk in. The K-pop sensation BTS confirmed they would be going on an indefinite hiatus during their 2022 Festa dinner - an annual anniversary dinner that this year marked the band's ninth year together. During the pre-recorded clip, the group's leader, RM, stated there was "something we wanted to talk about," before announcing that BTS will be taking a temporary break to pursue solo projects and to focus on themselves as individuals.
"It's not that we're disbanding; we're just living apart for a while," Suga explained in the Youtube clip, while Jungkook promised fans that BTS "will return someday." He continued, "We're each going to take some time to have fun and experience lots of things ... So I just hope that you could give us your blessing."
Meanwhile, J-Hope explained how a BTS hiatus could help the band "become a stronger group." He added, "This is a very important time for us and for BTS' second chapter."
Naturally, the BTS ARMY had a lot of thoughts on the band's newly-announced break on social media, and some fans are not at all here for it. "This BTS thing feels worse than my breakup. I've been crying all day," one fan wrote on Twitter, while another added, "BTS going into indefinite break..this is one of the saddest months ever... I feel sick."
Many other fans, however, were more supportive of the band's decision. "BTS really deserves this break. they've done nothing but work hard for the army ... I'm always here to support them for whatever decision they make," one user commented, while another fan added, "BTS is taking a break, It is okay to find themselves, they can do whatever things they want to do."
For more fan reactions, find some of the very best memes and tweets reacting to BTS' hiatus below.