Twitter Is Losing It Over That BTS & Olivia Rodrigo Grammys Moment
At the beginning of BTS' performance, V was seen whispering in Olivia's ear.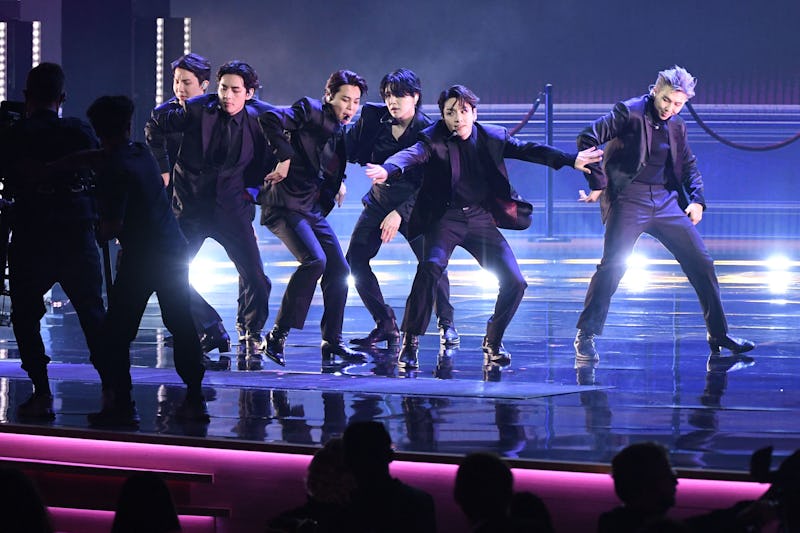 VALERIE MACON/AFP/Getty Images
Superstar K-pop group BTS took the stage at the 2022 Grammys to perform their hit single "Butter," which began with a jazzy introduction that featured the members of the band sitting among the nominees in the audience. One band member, Kim Tae-hyung (aka, "V") shared an intimate moment sitting next to Olivia Rodrigo, in which he appeared to whisper something into her ear. Needless to say, BTS ARMY was here for her cameo.
The moment was made even more exciting given the fact that when asked on the red carpet about his dream collaboration hours earlier, V said he'd want to collaborate with Rodrigo. While the "Drivers License" singer didn't fulfill the internet's dreams and take the stage with BTS, her moment with V was enough to send fans into a tailspin. The on-screen moment sparked commentary about V's friendship with Rodrigo, as they were seen chatting earlier in the night, and seemed very comfortable with each other in the intro.
Considering BTS and Rodrigo are two of the hottest acts in music right now, Twitter couldn't decide whose presence they'd rather be in. Others were impressed that BTS seemingly included her in their performance as a way to quell a small minority of their fans who dislike the young pop star after her song "Good 4 U" got more U.S. streams than "Butter" in its first week of release.
If you're still obsessing (or turning green with envy) over the moment, here are the best memes and tweets about BTS' 2022 Grammys performance to relate to.
Some users literally couldn't handle the seemingly flirty moment that kicked off the performance.
V's eye contact, in particular, made Twitter swoon.
People *needed* to know what he said to her in that quiet moment.
Grammy winner H.E.R. could be seen smiling behind the duo, and Twitter was excited for the Asian representation in one frame. The moment even sparked a meme.
It's safe to say the ARMY won't forget this moment for a long time.